Top Restaurants Nearby Fort Lauderdale Hollywood International Airport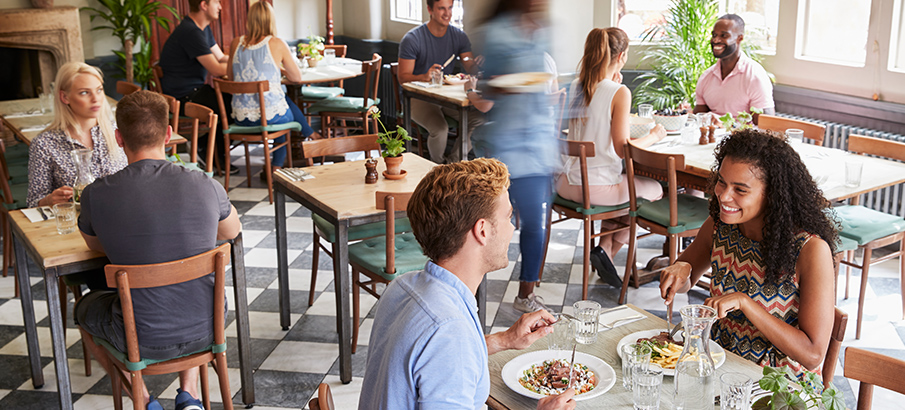 Seafood, seafood, seafood, and a few burgers and sandwiches, Fort Lauderdale and its area has so many options for food, going to just a few places may be too difficult. Here are 10 options that are more worthy than the previous one and that will satisfy any hunger.
100 Terminal Dr, Terminal 3 - Concourse F, Fort Lauderdale, FL 33315-3627
A newer option at FLL Terminal 3, in Concourse F, is Aroma Market a Kosher food hall inside the airport that offers plenty of options, all kosher, all delicious, and available to go making it a great place to grab something to eat on the plane or on the way to the hotel is you land with an empty stomach. The full deli will definitely have something that you will like and want to come back to the airport for.
100 Terminal Drive, Terminal 3 - Concourse F, Fort Lauderdale, FL 33315
Great prices for great burgers is what you will find at Steak 'n Shake and the dessert options are a yummy addition to any meal with them. Located in the airport, in Concourse F, Terminal 3, it's easy to access for flights from that Terminal and a few others if given ample time. When a few hours are available, it's a great option to go eat tasty burgers and spent a bit of quality time.
620 E Las Olas Blvd, Fort Lauderdale, FL 33301-2235
The lobster dishes at Indigo Restaurant is to die for so a trip to the Riverside Hotel is a must to go try out this specific restaurant. A well loved location for locals and tourists alike, this is a great place for a meal between friends or a date night special. The service is highly attentive and the waitstaff will keep you well cared for all through your meal. The high quality of this location makes it an unavoidable stop while in town.
100 Terminal Dr, Terminal 3, Concourse E, Fort Lauderdale, FL 33315-3627
Take out food that is the best option to take on the plane with you and eat something so much better than the cardboard-flavored airplane food served on most airlines. Located in Terminal 3, they are very easy to locate and visit. Picking up a sandwich or other prepared snacks will get you something on the go that is delicious and healthy while being fast and practical. When traveling with kids, this is a great way to get the extras for the flight that you may not have had time to pack before leaving.
723 E Broward Blvd, Fort Lauderdale, FL 33301-2015
With an appealing name and loads of positive reviews, The Foxy Brown is a must visit in Fort Lauderdale whether in town alone or with friends. Their classics are tasty and some of their originals are downright fascinating and sound a bit off until you have tried them. The Grilled Cheese Banana Bread may sound like an odd combination, but it's worth a trip there alone. Try the food here and see why everyone love The Foxy Brown and add you love to everyone else's.
2000 N Ocean Blvd, Fort Lauderdale, FL 33305-3727
With an absolutely stunning ocean view, OCEAN2000 earns its name. Located inside the Pelican Grand Beach Resort, this restaurant is worth the detour and worth getting reservations for well in advance. The porch tables book up fast so don't hesitate or you might miss on one of the best tables of your life in a perfectly romantic setting with some of the best food in the area.
429 Seabreeze Blvd, Fort Lauderdale, FL 33316-1621
One of the busiest places in town, this restaurants is renown for its coconut shrimps and its other seafood dishes are not to be ignored. Crab everywhere, some of the best oysters in Florida, an ambiance that's just perfect and right near the Water Taxi. It's a perfect place to have lunch and go for a leisurely stroll in the area after.
620 E Las Olas Blvd, Riverside Hotel, Fort Lauderdale, FL 33301-2235
Also located inside the Riverside Hotel, this restaurant is another seafood place that is worth the stop on the way to your vacation on the beach or midway through your vacation. The variety is perfect for groups with gouda grits, monkfish, beignets, and chicken on the menu, there truly is something for everyone at Wild Sea.
1818 E Sunrise Blvd, Fort Lauderdale, FL 33304-3040
A seductive restaurant with a great attention to details, flavors, and customer service, Canyon Southwest Cafe offers a pleasing array of foods prepared fresh and perfectly paired with drinks from their bar. The Prickly Pear Margaritas are particularly tasty and work great as a conversation starter or as the beginning of a night out to remember.
600 Terminal Dr, Fort Lauderdale, FL 33315-3618
A coffee alternative to the usual while still having the safety of a chain coffee house. The quality of the service and coffee drinks will keep you coming back, the practicality of getting good coffee at the airport will make you wish they were in every airport you travel through from now on.
So much great food and seafood in Fort Lauderdale, our guide should help you choose!