M&M Port Of Miami Alt Parking - 680 NW. 24th St. Miami
M&M Port Of Miami Alt Parking - 680 NW. 24th St. Miami 680 NW. 24th St., Miami, Florida United States 33127
Nearby parking lots

Location

680 NW. 24th St., Miami, Florida United States 33127

Area

.
Port Of Miami - Downtown Miami

Phone

Shuttle
Parking lot information
M&M Port Of Miami Alt Parking located at 1849 NW 1 AVE is just a short distance from the port of Miami, this is one of the closest Off-Site Parking Lots to the port of Miami.
M&M Offers Cruise parking customers an affordable alternative to parking at the port just blocks from the port at a fraction of the cost of parking at the port.
This is a huge surface lot thats gated and secure.
The shuttle is operated by an independent shuttle company and offered as a free courtesy to M&M cruise parking customers, we take no responsibility for the shuttle or items left on the shuttle.
Shuttle Hours of operation From 8 AM - 2 PM
Note: This lot is independently Owned by:
M&M PARKING & Valet Services, LLC - MIAMI BEACH InstaPark takes no responsibility for the lot or items left in your car or damages caused by this lot, we urge you to ensure that you are comfortable with this lot before parking here and do NOT leave any valuables in your vehicle.
InstaPark is a Parking booking facilitator only, we take no responsibility for any incidents, theft, and or damages caused at this parking facility, we urge you to check the lot facilities before parking here.
If you are looking for great parking deals, click here to Compare and Reserve parking at Port of Miami.
Shuttlefare.com is the #1 resource for finding and booking shared rides and private airport transfers around the World. You can pre-book / schedule a pickup at over 1000 airports and 10s of thousands of locations easily on your phone or desktop. Sort by vehicle preference, whether you have 100 people or it's just yourself, Shuttlefare can make travel so much easier and save you money by comparing top operators before your trip.

Q: How far is the parking lot from the Port?
A: 2.5 miles or 10 minutes in the shuttle
Q: Upon arriving what do I need to do?
Reservation must be presented to the attendant upon arrival to the lot
A: pick up In front of each terminal, instruction are given to the customer upon arrival to the lot.
Q: Will the shuttle driver help me with my luggage?
A: Yes
Q: Will the shuttle driver pick me up from the Port?
A: pickups are done In the front of each terminal, detailed instruction are given to the customers upon arrival to the lot.
Q: when I return from my trip what do I need to do?
A: Wait for the shuttle in front of each terminal or contact the shuttle driver for instructions 1-954-549-8963
Find nearby parking in Miami
Key Details
Location 680 NW. 24th St., Miami, Florida United States 33127
Area .
Port Of Miami - Downtown Miami
Customer Support 1-800-851-5863
Shuttle Pickup Hotline 1-954.549.8963
Nearby attractions Port of Miami cruise port parking - 2.3 miles
Parking Type Parking lot
Spots Total 150
Max height none
Local time Aug 18, 2022 10:08 PM
Guarantee Your Spot Free + Easy Cancellations
How to park at this facility
ENTRY PROCEDURES
We advise you to call the shuttle dispatch 30 minutes before your arrival at the lot, let the shuttle dispatch know your estimated time of arrival.

Shuttle Dispatch Jose: 1-954-549-8963

Upon arrival at the lot. Please show your InstaPark reservation confirmation to the lot attendant.

The Lot and the shuttle are operated by two independent companies, the shuttle is offered as a free courtesy. first 2 passengers are free, $5 for each additional passenger in your group, paid to the shuttle driver).

Note: Shuttle Hours of operation From 8 AM - 2PM.
EXIT PROCEDURES
When You return from my trip please contact the Shuttle Dispatch Jose: 1-954-549-8963 and wait for the shuttle in front of each terminal.

Shuttle Hours of operation From 8 AM - 2PM

We hope you had a great trip! see you again soon!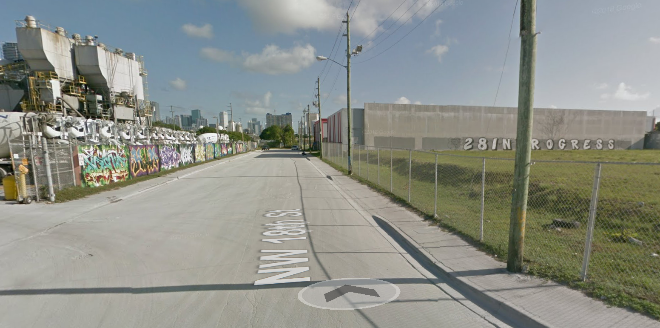 Services, Amenities, Features and Add-Ons
Port Access Fee
Oversized Vehicles
Processing Fee
Shuttle Seat - 1 Person
Shuttle Seat - 2nd Person
Shuttle Seat - 3rd Person
Shuttle Seat - 4th Person
Shuttle Seat - 5th Person
Shuttle Seat - 6th Person
Parking location and directions
680 NW. 24th St., Miami, Florida United States 33127
M&M Port Of Miami Alt Parking - 680 NW. 24th St. Miami prices and rates
Daily rate
Day rate
$8.75 / day
Grace period: 3 hours
Add-ons
Port Access Fee
$5.00
Oversized Vehicles
+ $10.00 / day
Processing Fee
$1.00
Shuttle Seat - 1 Person
- no charge -
Shuttle Seat - 2nd Person
- no charge -
Shuttle Seat - 3rd Person
$5.00
Shuttle Seat - 4th Person
$5.00
Shuttle Seat - 5th Person
$5.00
Shuttle Seat - 6th Person
$5.00
Other charges
Miami Tax
+7.00%
Customer Reviews
Customer Reviews (37)
Margaret E.

Nov 04, 2018

We were booked at a location that having been a former Miami resident I knew was not the best location so I was well pleased when we arrived in Miami, we had been moved to the SE2 Ave location. It was great, hope we can arrange for the same location for our next cruise which we are planning for April, 2019. The employees were terrific.

Jorge S.

Jul 23, 2018

The address given was the Police Dept pound for stolen or found vehicles. No one picked up when I called any of the numbers provided. I left two messages on the toll-free number and tried Carlos 10 times that morning. I had to park at the Port. This was fraud all the way!!!

Jorge S.

Jul 23, 2018

The address given was the Police Dept pound for stolen or found vehicles. No one picked up when I called any of the numbers provided. I left two messages on the toll-free number and tried Carlos 10 times that morning. I had to park at the Port. This was fraud all the way!!!

kurtisha b.

Jul 22, 2018

There is no m&m parking lots. Prepaid for parking and when I got there there was no place to park or attendant. Called customer service and was told there was nothing she could do. They fraudulently took my money do not use this service.

Goeto V.

Jun 18, 2018

I arrived two and one half hours early, only to find out the address listed was not the actually the parking lot.The address listed is a POLICE IMPOUND LOT. The agent didn't know where the actual parking lot was located,We made many calls to the phone numbers listed on the paper work, finally after driving around for an hour, we were able to contact some one named Jose, who told us where the location was, an indoor parking lot next to Avis rental car location. I am traveling in September, on another cruise from Miami, I will be looking for parking near the terminal, this parking issue caused our traveling party too much STRESS, going on our vacation. Instapark should have had an Agent at the address listed to escort your guess to the replacement parking location.I hope this feedback gets the attention and the situation is rectified. The pick up for the Return trip to the parking lot WAS not a problem, we made the call to Jose and with in five minutes, the van arrived.

Patrick C.

Apr 16, 2018

You had the wrong address for the parking garage so we spent another 20 minutes trying to track down where to go. Main number did not answer, but at least the drive did. When we were picked up, you should let us know the name on the van and the color as we tried to get into the wrong van.

Leonardo R.

Apr 14, 2018

Great service from Jose, he will help you to get to the parking in case you get lost and will explain everything you need to know. Thanks Jose

Douglas S.

Apr 09, 2018

Great people handled my pick up from my ship rite on time will use and recommend your service every time I'm in Miami

Joette N.

Mar 25, 2018

I called your number, never got a response, tried to cancel sand couldn't get a response. Drove around for parking area for a half hour still no response. I never used your service sad would Luke My money back

Jeff R.

Mar 03, 2018

Bad experience from the beginning but it was so unnecessary. First my confirmation email had 2 addresses, when I called to find out which was right I couldn't get any help. I finally got the shuttle driver who gave me a third address that wasn't even one of the ones listed. When we arrived at the "lot" it was shared with best cruises.com and so they didn't have any record of our reservation, but at least they did let us park and then shuttle us to the port, though that was only after a long wait because they only had one van for a shuttle. You really need more than one or a much bigger vehicle. Then the driver took us to the wrong dock so we had to unload and then reload to get to the right one. The return trip was worse. We stood in the sun for an hour waiting. I called the 800 number and the shuttle drivers number but no one would even answer the phone. I left messages but no one called back. Finally the best cruises.com van came by and I flagged him down but then he wouldn't take us because he said we were reserved with M&M and that shuttle was only 3 minutes behind him and would be right there. So he took other passengers and left us. About 20 minutes later the M&M van came by, but he didn't recognize the flag that the other van had given us to show to flag him down. He didn't even have a list of people to expect and had to quiz me to make sure we really were reserved with M&M. Finally we did get back to the lot and get our car but wow, what poor service. Won't be reserving with M&M again, or Instapark.

MARK S.

Mar 03, 2018

Was a new lot, very disorganized, we had no idea whether we were coming or going. Just hoping for the best. Vans were not marked very well, we almost had to guess who would pick us up.

tiffany u.

Mar 03, 2018

Correct address would have been great...

Rowena C.

Feb 25, 2018

No communication was sent that the parking location changed from 680 NW. 24th St. Miami to 2451 NW 7th Ave. Found out when I call to advise I was arriving. This new location was not easy to find,there was no indication the lot even existed, no sigh at the street entrance. With constructions going on at the head of that street, a sigh indicating Cruise Parking that would have been ideal. The parking lot was fill of holes

Nanette R.

Feb 19, 2018

They brought us right to the port when we got there, and we didn't have to wait long for them to pick us up on our return.

Ray P.

Feb 18, 2018

Very dirty lot in a not so nice area. Van not timely and took too long to pick up.

Martha O.

Feb 11, 2018

Parking lot awas a dirt lot in an undesirable neighborhood. van was poorly marked and difficult to find upon return. car was filthy from concrete plant next door. never again.

Bernard S.

Feb 08, 2018

Took a little longer than we liked for shuttle to come but there were many other people waiting for shuttles so it must be the norm. Driver was very courteous and helpful.

Dawn C.

Feb 04, 2018

Pick up was extremely fast and driver was very friendly.

Rebecca Y.

Feb 03, 2018

the easy of parking n getting on and off the boat was wonderful.driver was very friendly and helpful

ronald s.

Jan 27, 2018

Excellent service close Miami cruise port and 1/3 the cost of terminal port parking.

Roberta L.

Jan 26, 2018

Awesome would use again. Jolly on the spot. Fast and easy.

Michael W.

Jan 11, 2018

1. The lot was in a bad area of town and we were worried about the lot's security. 2. The transport van was very old and overcrowded. 3. We waited almost 1 1/2 hours to be picked up from the cruise terminal because the first group had to wait at the lot as there was no one there to open it.

Margaret H.

Jan 11, 2018

I was picked up at the dock a few minutes after 8:00 AM, (timely) and driven to the site which was locked, with no attendant. We all called the contact number, and waited for quite a while, then my driver was directed to return to the ship to pick up additional passengers. There were only three of us, and I did not want to be abandoned in the middle of Overtown, a very dangerous part of Miami. My driver was fantastic, but the facility did not open timely, and the owner was irresponsible. I was also distressed that the lot was dirt, and next to a construction site. My driver, again, was great; the overall experience less than optimal.

Irene F.

Jan 03, 2018

Divers on shuttles were great. But there was no service at lot.

Praveen N.

Jan 02, 2018

The parking location mentioned while booking was one and when I went at that place there was none to address. It was locked. Later on, waiting for 15 min, after calling to a number mentioned, the guy mentioned another address to park. So ridiculous that they do not simple sense to call and update the address

Mark W.

Dec 31, 2017

The cruise ships allow early departure from ship at 7:00 am. The parking lot gate opens at 8:00 am. As a result, we had to stand by the gate in a bad part of town for 30 minutes. Is it too much to ask for you guys to open the gate at 7:15 on days that you know ships are arriving. I literally stood there with a big rock in my hand ready to defend myself against a potential thug.

Amrit H.

Dec 28, 2017

The parking lot is in a very bad part of Miami. When we called for pickup at the port, the shuttle service manager came by with an empty van and then left saying he had to pickup other passenger. Our wait time was about 45mins before we could get a ride back to our car. Will definitely look somewhere else next time.

Allan B.

Dec 26, 2017

Easy to find and very close to the dock. We took the shuttle from the parking lot to the terminal, about 20 minutes, because of various other stops. We took Lyft back and made it in under 10 minutes. Excellent location to the cruise terminal. We would park here again and the price is right!

Margie R.

Dec 25, 2017

Easy to park. Shuttle is fast and driver is nice and easy to contact. This is our second time using InstaPark and both times were a great experience.

Heather K.

Dec 23, 2017

We waited an hour and a half for a ride from the port to our car. We ended up paying for a cab because the driver advised he was not sure when he could get us back.

CYNTHIA H.

Dec 23, 2017

When I arrived to the parking lot, I had to wait over 30 minutes for shuttle to cruise port. No shuttle to pick me up on my return trip back to my car. I had to pay $22 to taxi driver to bring me to my car on 12/18/17.

Eva C.

Dec 21, 2017

First the lot is very hard to find and when you do find the lot it is a dirt lot. The shuttle service they use it even worse, when we got back from our cruise we called to be picked up and then we called them another 6 times to get picked and an hour and a half later we took a cab to the lot so we could get on the road and go home...I would never park here again!!!

JUAN L.

Dec 19, 2017

Will be back, gracias Jose,, tu compatriota

Carlos F.

Dec 17, 2017

Car eded up full of dust from nearby quarry. No covered waiting area.

Robert W.

Dec 17, 2017

Parking lot is not paved a d a little messy when it was raining upon arrival. Not bad for offsite parking it not fantastic. Parked in the covered garage last time and was much better but waited too long and sold out this time. Need to plan better, would rather not park here again but will in a pinch.

Gerald S.

Dec 17, 2017

I would never come back to your facility!!! We had to stand out in the rain for an hour and fifteen minutes waiting for the bus to take us to the ship. Couldn't the bus drive around the lot to the customers car's to pick up the passengers, instead of making them stand in the rain? We took a taxi back to the lot when our cruise was over rather than wait for ever for your bus that takes forever! You do a lousy job of running a business!

Robert L.

Dec 16, 2017

Shuttle was timely - everyone courteous - no suprises
Best Price Guarantee!
Book Now
Free + Easy Cancellations