Four Points by Sheraton Boston Logan Airport
Four Points by Sheraton Boston Logan Airport 407 Squire Rd., Revere, Massachusetts United States 02151
Nearby parking lots

Location

407 Squire Rd., Revere, Massachusetts United States 02151

Area

Northgate Shopping Center


Phone
Parking lot information
If you are looking for great parking deals, click here to Compare and Reserve parking at BOS Airport.
Shuttlefare.com is the #1 resource for finding and booking shared rides and private airport transfers around the World. You can pre-book / schedule a pickup at over 1000 airports and 10s of thousands of locations easily on your phone or desktop. Sort by vehicle preference, whether you have 100 people or it's just yourself, Shuttlefare can make travel so much easier and save you money by comparing top operators before your trip.
Find nearby parking in Revere
Key Details
Guarantee Your Spot Free + Easy Cancellations
How to park at this facility
ENTRY PROCEDURES
Please show your InstaPark Pass to the attendant for validation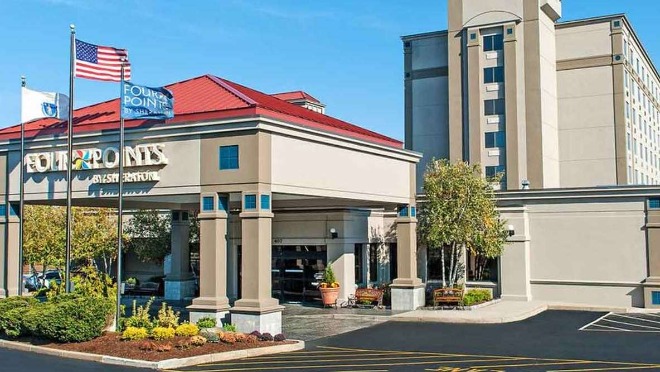 Parking location and directions
407 Squire Rd., Revere, Massachusetts United States 02151
Four Points by Sheraton Boston Logan Airport prices and rates
Daily rate
Day rate
$7.95 / day
Grace period: 0 hour
Other charges
Sales Tax
+6.25%
Customer Reviews
Customer Reviews (16)
Emily B.

Jun 02, 2021

The hotel parking lot is self-park and appeared secure. I parked briefly at the front door while going inside to fill out the parking form. I had to supply my instapark confirmation number, car make and model, and tag number. I received a parking pass to display on my dash and was instructed to park in the back lot. The Sheraton is about 10-15 minutes from the airport. I will use again if flying from Logan ($34 at Sheraton vs. over $100 at airport). The shuttle was very timely on the way to the airport and on my return. Within 10 minutes of my arrival, the shuttle driver met me and three other guests at the hotel. I believe it may run only every half hour though, so it might be best to call ahead and confirm what time you will need to be at the hotel to avoid waiting a while for another shuttle. On the return trip, the shuttle arrived within 20 minutes of my phoning the hotel to request pickup. It was a bit difficult to locate the shuttle, as there was a lot of traffic. It's important to realize that the driver will pull into the car lane NOT the bus lane (which is closest to the airport exit doors). You have to be vigilant to make sure you see the shuttle, due to all the traffic. I got the impression that the driver doesn't wait around very long if you aren't outside waiting. However, the dispatcher will likely call if the driver is unable to locate you (I overheard the driver asking dispatcher to call when it appeared we were missing someone).

Alan S.

May 27, 2021

Had to wait over 30 minutes before being picked up at the airport on our return.

rochelle h.

May 17, 2021

We've used them 3 times so far. Love the price and closeness to Logan. Only downside is the wait for pick up once you get back to the airport. Generally 25-35 minutes. Not too bad for the $ savings.

Alexander K.

May 07, 2021

You need to add phone number to the email confirming the order to call the driver

Karen P.

Apr 10, 2021

No parking spaces available when I got there, coming back waited over 50 mins for the shuttle after calling several times.

Sheila M.

Apr 06, 2021

Making reservations was easy, quick & convenient. Parking spaces were readily available. The front desk & shuttle drivers were professional & personable. Even the wait times for the shuttles were short! I would highly recommend.

Lexi H.

Apr 02, 2021

It was pretty affordable however after leaving my car there for 8 days I have 2 giant scratches on both sides of my car so it will end up costing me a lot more.

Zoe G.

Mar 09, 2021

Great price, easy to do. 20 min pick up time from call felt a little long, but understandable process.

Katherine F.

Mar 03, 2021

Easy and convenient! The staff was helpful and accommodating.

Stephen L.

Mar 02, 2021

When you are told in advance when we are arriving back in Boston, and then we call you when are flight arrives, there is NO excuse to be picked up 45 mins. later. Nobody in our completely full van returning from the airport was very happy.

K F.

Feb 09, 2021

Great, safe, convenient location! Shuttle drivers are very helpful and friendly as well!

Steven K.

Jan 04, 2021

Great service for hassle free airport parking

Sal I.

Dec 01, 2020

It is quite a distance from the airport (20 minutes). So, if you miss the one shuttle they have, you must wait more than 40 minutes for the driver to get passengers and return to the airport. On a more aesthetic note, the shuttle van smelled of scented trees they had strewn on the floor, trying to mask an even more offensive smell. Rather than drop me off at my vehicle in the back of the hotel, they dropped me off at the front desk, which would not have been bad, except that it was pouring rain. However, what more should I expect from $7/day?

Pradeep A.

Nov 30, 2020

Shuttle was not prompt and has to wait for 30 more minutes

Michelle B.

Oct 28, 2020

The whole process was smooth. The checking in process was quick and he even offered us coffee while we waited for the shuttle bus. The shuttle driver was so kind and I was impressed by his driving skills. We would definitely park there again.

Kristine C.

Sep 24, 2020

The shuttles were timed great for us and the drivers were courteous. Thank you.
Best Price Guarantee!
Book Now
Free + Easy Cancellations