Chicago Midway Int Airport - Airport Park MDW
Chicago Midway Int Airport - Airport Park MDW 4909 W. 47th St., Chicago, Illinois United States 60638
Nearby parking lots

Location

4909 W. 47th St., Chicago, Illinois United States 60638

Area

Cicero and 47th St
Midway Airport

Phone

Shuttle
Parking lot information
Chicago Midway Airport Park is a private, family-owned-and-operated Long Term Parking lot at MDW Chicago Midway int. focused on customer satisfaction.
Rates starting to $12.75 a day including tax you cannot do better!
MDW Chicago Midway Airport Park is securely fenced-in open surface lot just 8 blocks from Chicago Midway International Airport.
HOURS OF OPERATION
24 Hours a Day, 7 Days a Week

Chicago Midway Airport Park offers free complimentary shuttle service to and from the MDW airport.
And a free 45-minute grace period before and after your reservation period.
Please Note: oversized vehicles will be charged an oversized vehicle fee at the lot, this lot considers any vehicle greater than 104 inches long to be considered oversized.
The Lot cancellation policy: "we require at least 24-hour notification prior to your scheduled parking arrival (date/time) in order to provide a full refund, this is because 24hrs we commit to the lot operator to pay for this spot and reserve it for you. If you need to cancel your reservation please notify us as soon as you can so that we can notify the lot operator and release your spot, and issue a refund."

Oversized vehicles like big trucks and extended SUV's will be charged at the lot (about $10/a day)
Find nearby parking in Chicago »
Key Details
Guarantee Your Spot Free + Easy Cancellations
How to park at this facility
ENTRY PROCEDURES
Upon arriving please give your reservation number to the lot attendant.
EXIT PROCEDURES
Upon Returning From Your Trip Please Call Chicago Midway Airport Park Shuttle Pickup line 1-773-585-0200

For your complementary free fast and friendly shuttle pick-up.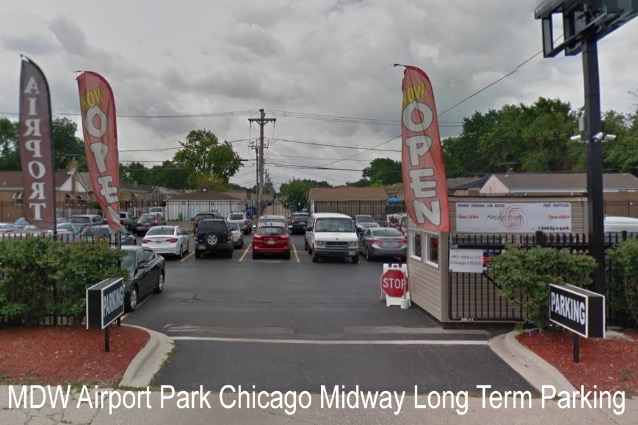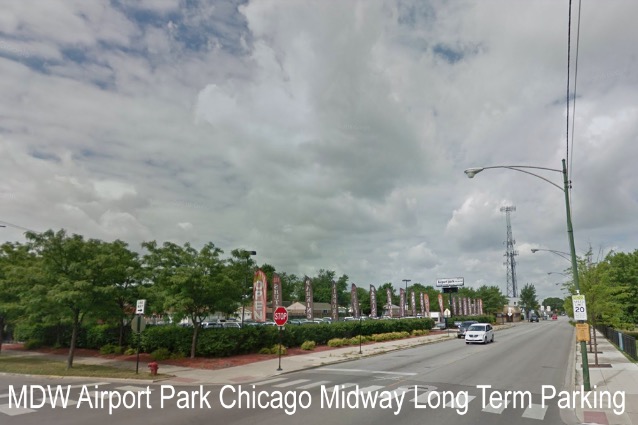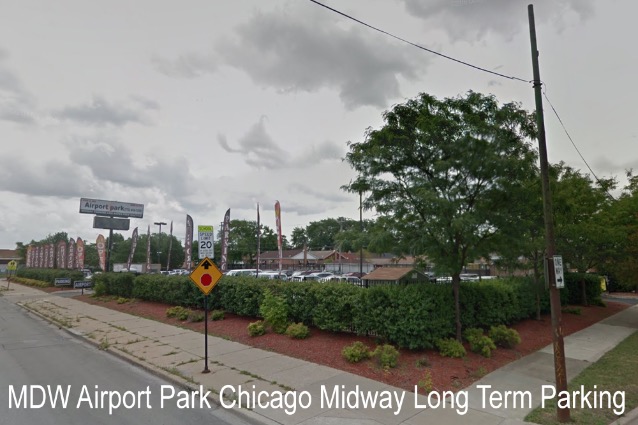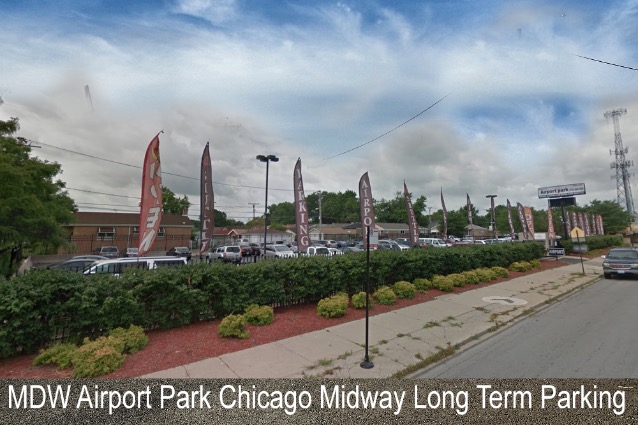 Services, Amenities, Features and Add-Ons
Security guard
Video surveillance
Valet
Offer day parking
Offer night parking
24 hour access
Parking location and directions
4909 W. 47th St., Chicago, Illinois United States 60638
Chicago Midway Int Airport - Airport Park MDW prices and rates
Daily rate
Day rate
$12.75 / day
Grace period: 1 hour
Add-ons
Security guard
- no charge -
Video surveillance
- no charge -
Valet
- no charge -
Offer day parking
- no charge -
Offer night parking
- no charge -
24 hour access
- no charge -
Customer Reviews
Customer Reviews (133)
Kendra T.

Jan 20, 2019

I got to the lot at approx 7:20AM to be informed by the attendant that all spaces were full and that they "had told them to stop taking online reservations a while ago." I was left to frantically find alternative arrangements and nearly missed my international flight in the process. I will be calling for a full refund upon my return to the states. This was absolutely horrible and unacceptable!

Calvin F.

Apr 06, 2018

That girl, Louise at the check-in attendant booth was definitely the person MDW should have at the entrance. She was bubbly, off the cuff, but funny, knew a lot about the services and was helpful. I found her attitude so captivating and still professional. Louise, you are it girl! They need to raise your pay. I am gonna have to let the manager of MDW know how awesome you are!

Jada J.

Apr 05, 2018

Security was a make or break deal for me when it came to parking. And so I do my research before I choose a lot. I look for not only the cheapest price, but also security. I have to park in a lot with several security cameras and security guards too. MDW had both the cheapest price and the most video cameras and guards. So that is why I made that choice and I was not disappointed! ????

Mitzy Y.

Apr 04, 2018

Parking is not something you think about everyday and so when I was confronted with that choice, I was very anxious about it. My friend Jade suggested I try MDW and that is what I did. My goodness, these people don't seem realy. I have never found people who gave their hearts to the job of pleasing the customer. It was obvious that the staff all loved being there and it was not just a weekly paycheck. I would park at MDW any day.

Lee J.

Apr 03, 2018

Yeah the daily rate was what motivated me at first when I booked a reservation with MDW parking lot. It was not an afterthought. I was looking for the best rate and $12.75 per day was the lowest in Chicago. So of course, I grabbed it right away. No use procrastinating. You snooze. You lose!

Gloria B.

Apr 02, 2018

There were a couple of other parking lots that I was looking at when I knew about my business meeting that I had to fly out to attend in Naples, Florida. MDW caught my attention because it was the most affordable daily rate at $12.75 and so I decided to just go ahead and book it. Glad I did because later I found out that the service was also great. ???

Yana A.

Mar 31, 2018

My son is very impatient and when he did not show any impatience during the parking lot check in at MDW and getting the shuttle bus to the airport, I had to feel his forehead if he had a fever…lol! But, he said, "Mom, these people are fast!" I knew at that time that MDW would be the parking lot for us.

Don E.

Mar 31, 2018

I didn't know where that damn receipt was. I looked for it all over the house. So I decided to go to the parking lot without the receipt to see what happened. Pauline was the check-in attendant that day. She explained how important the receipt was so I could keep it safe the next time but she went ahead and looked for my name in the system, asked for my ID to verify and let me go park my car. It was that easy and simple, but I promised her to keep the receipt in a safe place on my next trip. ??

Ray H.

Mar 29, 2018

I cannot say enough about MDW parking. They were nice to my mom and I both when we checked in and checked out. From the check-in attendant to the security guards, they treated us like some kind of family members and I didn't know that this kind of humane treatment existed again. I would strongly recommend that you choose this parking lot.

Amy D.

Mar 28, 2018

Because the parking lot is run by a family, the service is down to earth and quite helpful. The staff is overly friendly. Tiffany, for example, checked us in and called for the shuttle bus as well. She gave us the pick up number for the shuttle bus so that when we came back, we didn't have to wait too long. I thought that to be a nice gesture.

Bradley W.

Mar 27, 2018

That 24 hour access to the parking lot got me. Most of my travels is at night when I am returning from a trip. So immediate access is important so I can get my car when I return. I had to find out about this before booking with MDW and the nice agent on the phone reassured me that they were open 24/7. That's what I wanted to hear.

Mildred I.

Mar 25, 2018

This was the best price for parking in the city of Chicago. I don't know where you would find parking at $12.75 in this city. It just aint possible. So I am glad when I found this cheap price and you bet I was gonna secure it by booking my reservations for MDW immediately.

Kyle K.

Mar 24, 2018

The proof is in the pudding they say and MDW has proven that they can be trusted with taking good care of my car. There were no dings and scratches and the valet parking guy did not steal anything out of my car like another valet parking guy did when I parked over at that other place.

Melissa Q.

Mar 23, 2018

A friend of mine was telling me to park my car at another lot and I decided at the last minute that I would try MDW. I am glad I did because I heard a few days later that they stole someone's car over at the other lot. With all the security cameras at MDW, no wonder car was safe and not stolen. ????

Joyce F.

Mar 22, 2018

When I found out that this was a family run business, I then figured out that this might be why the staff treated me so humanely. I had a good experience everytime, but on this particular day, Henry, the valet parking attendant brought my car to me and told me that I didn't have enough gas to get home. He asked his boss to let him go buy gus at a nearby gas station and I gave him the money and did you know he went and got me the gas. I couldn't believe it. MDW is in my heart now everytime, I think about parking.

Larry I.

Mar 21, 2018

It can be quite a nightmare to park in the city of Chicago so I didn't want to park on the roadside. So, I found MDW and it worked out fine. I was only going to be gone for a day, but I wanted to make sure my car wouldn't be towed. MDW provided a safe place to park and at a low cost of only $12.75 before tax, which was really cheap for a place like Chicago.

Briana C.

Mar 20, 2018

I thought my elderly mom couldn't deal with parking at a lot and waiting for a shuttle bus to take her to the airport. So we drove our car and parked at the lot with her car in tow. We helped her to check in and get on the shuttle bus, but after a while, we realized that she could have done it without us cause the folks at MDW could have done a good job without us.

Julia G.

Mar 18, 2018

I drive a large bus and didn't know if MDW would allow me to park there. But, I was wrong. They accommodated any vehicle as long as it was not a tractor trailer or something like that. I left my bus on a Tuesday and went back on the Thursday of that week and everything was the way that I had left it. Highly recommend this lot1

Pamela E.

Mar 18, 2018

No two parking lots are alike, but MDW is far above any lot that I have come across. The rate is lower at $15.75 total including tax and a staff that helps with luggage and parking. The valet service and shuttle service are both free add-ons, which is also a cool thing. I am definitely putting MDW on top of my list of parking spots. ????

Winsome D.

Mar 16, 2018

I don't know about you, but I am very particular about where I leave my car and how much I pay. So this parking lot took care of both those things fo rme. The $12.75 daily rate was an attention-grabber. Then the security cameras and security guards sealed the deal for me.

Jessica L.

Mar 16, 2018

It was easy to reserve parking at this lot. I could do everything online. So convenient. And the form was so short. All they asked for was the check in date, check out date and the payment details. That's it. Other parking lots ask for so much information. I don't have time for that.

Chad L.

Mar 15, 2018

I can't wait for my next trip to France cause now I know I have a parking lot I can depend on. On my last trip to France, I had the best experience at MDW. The staff helped me with luggage and assisted me with a fast check in and parking. I would recommend MDW to anyone else.

Jacob F.

Mar 13, 2018

My husband is in a wheelchair. So it was important to find a lot where the staff would care and do what it take so we could have a good experience. Frank, the valet parker helped my husband out of the car and into his wheelchair. He parked the car for us and waited until the shuttle bus came. The driver of the shuttle bus also went out of the way to help my husband out of his wheelchair and onto the shuttle. What human actions! You be I will park here again.

Melvin J.

Mar 12, 2018

I couldn't find a parking lot for the life of me until I stumbled upon MDW parking while searching for hours online. The first thing that caught my eye was the rate. Damn! $12.75 a day was all I could think about when I immediately booked the reservation for two days, but it was when I experienced the high level of customer service that I knew I had made the right choice.

Rose K.

Mar 11, 2018

It probably was no coincidence that Freddy was the shuttle bus driver when I left for my Tahiti vacation. He was also the driver when I returned. We even made a joke of it. I love Freddy. He is so witty, friendly, on time and just plain nice. I would definitely use this parking lot again.

Helen K.

Mar 09, 2018

I was a little nervous about leaving my ride at this lot, but I took the chance, went on my five day trip to Louisiana and came back with my car intact as I had left it. There was actually nothing t worry about. I guess I am always gonna be a worrier when it comes to my car. They had enough security cameras and guards to do the bidding for me! Lol!

Claude L.

Mar 08, 2018

I didn't remember the pickup number for the shuttle bus, but I knew the number for the office. So when I arrived late one night and wanted shuttle bus pickup, I called the office number and they were nice enough to call the shuttle bus driver to come and get me. I thought that was neat!

Jimmy C.

Mar 06, 2018

I felt so much better leaving my truck at MDW. When I went there, it seemed like the whole staff were there that day. The security guards and security cameras were there to watch my car. I have always been protective of my truck. So all of this was important to me, especially security and staff interaction. ????

Stanley P.

Mar 04, 2018

I realized that MDW was the best parking service when I had to park at another lot because my wife wanted to try it out. Wrong idea! I quickly returned to MDW with its lower rate of $12.75 lower and its friendly staff and my shuttle bus drivers, all of whom, I have come to know by name since I am such a frequent traveler.

Karl G.

Mar 04, 2018

The lines were long when I got there and the check-in attendant was so damn slow. By the time, it was our turn, I was already pissed with her nonchalant attitude. We asked her to hurry up cause she had taken so long already. The only thing that has me hooked on MDW parking is the rest of staff. The valet guy and shuttle bus driver showed more patience and was more helpful to us than the attendant.

Ruth R.

Mar 02, 2018

Lagunitas Taproom was 5.8 miles from the MDW Airport and Tony O's Studio 31 Lounge was only 1. miles so we chose the latter to stop and have a few drinks. After leaving the lounge, the MDW parking lot was easy to find. We didn't have to use our GPS. We loved the fact that there was an ease in finding this location because we didn't have time to drive around. Also, the attendants of the lot were particularly helpful and friendly to us.

Danielle E.

Feb 28, 2018

I can only say nice things about MDW parking because after using their service several times, I have always had the same good experience with the staff. They are always helping to unload and load my luggages onto the shuttle and parking my car when I am running late for my flight.

Deidre S.

Feb 27, 2018

This is no play thing. MDW is serious about pleasing their customers and that is what I found out when the security guard Carl helped me to change my flat tire. He didn't have to do this. When I got back from my trip to New York, I noticed the flat tire and then saw Carl coming towards me to find out what was up. I owe it to Carl for getting home at a decent time to see my family.

Jerry M.

Feb 25, 2018

If you live in the city of Chicago, you should know that parking is expensive. So when I found $12.75 plus tax for a daily rate, you know that I am gonna grab this before it goes higher. And that is what I did at MDW parking. I was so happy that I had secured such a low rate since I was traveling to Fort Lauderdale for a few days to visit my mom.

Charmaine T.

Feb 24, 2018

The daily rate grabbed my attention. At $15.75, you cannot beat the fact that this is cheaper than most parking lots. Moreover, for that low price you get valet parking and free shuttle bus service. Some lots charge for those additional benefits. So I was glad this one didn't. ??

Nina E.

Feb 23, 2018

I didn't find anything particular unique about MDW, but I loved how the staff went out of their way to give us assistance when our car wouldn't start. That was a deal maker for me and so I would park here again because I like to be treated well as a human being. Who doesn't?

Shawn D.

Feb 22, 2018

I had no issues with this parking lot company. They made the check-in process so smooth and effortless. All you need to show is your reservation receipt and nothing else. They let you into the parking lot after that and you are good to go from there cause you can park your car and jump on the free shuttle. Simple as that!

Douglas L.

Feb 21, 2018

We booked our parking online. In fact, it was about two hours before we needed the service. When we arrived and checked in, the shuttle bus was full so the driver, Fred reassured us he would be back in less than ten minutes and he did and he went as far as to help us with our luggage.

Peter I.

Feb 19, 2018

The shuttle bus runs all day long, 24 hours a day, 7 days a week. That is convenience and that is what I like about MDW parking. I don't' have to worry about how I will get to my car or get to catch my flight. All of that is taken care of and I love it!

Gladys W.

Feb 18, 2018

I like that MDW parking lot bent backwards to ensure the safety of their property. The lot was well-lit and well-maintained but also very secure with all the video surveillance cameras that were obvious to us and the security guards that drove around to check on the cars. I would recommend this lot any time.

Clara W.

Feb 16, 2018

We had a late night flight, so a few buddies and I stopped by Mr. C's Bar on our way to the airport. It was just 0.8 miles away and we had a few drinks then drove over to MDW parking to check in and park. Everything worked out so smoothly as we were processed right away and grabbed one of the free shuttle buses to the airport.

Pauline J.

Feb 14, 2018

When I got there, the parking lot was full. At first the attendant did not want to accept my reservation receipt, but wanted to give me a refund. When I told them I had to catch this flight, they said that if I used valet parking and left my keys, they could move my car from blocking other cars until I got back. That is exactly how it worked out and my car was OK when i got back. Thanks MDW!

Ronald C.

Feb 13, 2018

I haven't used parking in years until a few months ago. So I was worried about my car, but MDW lived up to its reputation, keeping my car safe. I guess with all the security monitors and security guards they have, no wonder, this is possible. I would keep leaving my car there from now on.

James C.

Feb 13, 2018

When I was changing flights, I didn't remember that I should have also canceled my reservations with MDW. I didn't show up the day when I was supposed to park and you bet they charged my credit card. So I called the office and explained my mess up and the manager was kind enough to give me a full refund. I thought that was so nice of them. ????

Sheila L.

Feb 12, 2018

The girl at the office was so argumentative. I didn't get her name, but thought she could have handled the situation better. Anway, on other occasions, I had never had that problem. So I didn't let that bother me. I still continued to leave my car at MDW because most of the staff is nice. ?

Eddie E.

Feb 10, 2018

I was on a budget and so when I looked for parking, I tried to find the cheapest rate, hoping that I wouldn't have to give up quality for price, but that wasn't the case with MDW. They both had the cheapest rate, but with the highest quality of service. ??

Kate N.

Feb 08, 2018

I am uncomfortable when a parking lot is not as clean as I think it should be and if it is not securely run. I don't think I could keep my car at MDW if that was the case. Their lot showed that it was well maintained and well secure. I was very impressed and very pleased. So I will keep my car here again.

Jerry I.

Feb 06, 2018

There are so many pluses when it comes to MDW Airport parking. The airport is just a few minutes away. The price is amazing - only a little over fifteen bucks. The check-in process was smooth and easy. The attendant made it easy for us to catch the next shuttle bus to the terminal so we could make our flight.

Maria S.

Feb 05, 2018

If I am not mistaken, the $15.75 a day rate is the cheapest in the city of Chicago. Moreover, the location is convenience since it is just five minutes from the MDW Airport. The other parking lot that I would have chosen charges a higher daily rate and was five miles away from the airport, which was not good for me.

Clara F.

Feb 04, 2018

The lot had a modest size. It was big enough to fit my car in the parking space, but it was small enough to have the security cameras in the right places and to have the security guards man the property so that I could feel safe leaving my car while I travel out of the city for a few days.

Carole J.

Feb 04, 2018

I would defintely recommend parking at this lot because the spaces are wide, sufficient enough to keep your car safe from scratches and dinges. That is important to me cause I have had my car scratched up before at another lot and I wasn't a happy camper.

John Y.

Feb 03, 2018

This is the easiest place to park if you are flying out of MDW Airport because the lot space is huge and the valet attendants know how to space the cars for every one of them to fit. I also liked the fact that this lot had a valet parking service. It saves us time and since it is a part of the daily rate, it works out as a saving.

Ella J.

Feb 01, 2018

Let's just make one thing clear. If the price is right, I am game. And that is why I love MDW. $15.75 daily rate was the eye catcher for me. I am a cheapskate, you might say and I have no problem with anyone knowing this. I will always choose, MDW for their affordable daily rate.

Shirly B.

Jan 31, 2018

Nothing beats a discount to me. I was happy to see that MDW was charging only $15.75 total for daily parking. But I was also happy to know that I could park here whether I am catching a day flight or a night flight. The parking lot had 24 hour access, which was so cool!

Raymond A.

Jan 31, 2018

Shelly checked me in at the front gate and did so really quickly I thought seeing that she had a long line. There was no unusual hold up. I love that because we were running out of time and had to get to the terminal in ten minutes. Between Shelly and the valet parker and shuttle bus driver, we made it. So we are gonna park here in the next few days when we travel to Cuba. ???

Angela E.

Jan 29, 2018

I couldn't make reservations online. So I had to call the number and speak to one of the staff. I think her name was Opal. She took care of me and made sure I understood how everything worked. The communication over the phone was professional. I got all my questions answered and my experience was very good. I would park here anytime.

Jane H.

Jan 28, 2018

Between the time it took to check into the parking lot to getting on the shuttle bus and going to the terminal, it took less than 15 minutes. I was really shocked at such efficiency and this is not just hit or miss, but it happened every time, I checked in.

Amos D.

Jan 26, 2018

In the entire city of Chicago, this is the best service I ever had at any parking lot. The check in person was very professional and aware of all the services the company offered. In fact, she is the one that told me about the valet parking service, which I used to make it easier for myself. I will park here whenever it is necessary. ????

Dahlia W.

Jan 26, 2018

I didn't have to pay an arm and a leg to park at MDW parking lot. That is a relief from what used to happen when I used other parking lots. The $15.75 I paid after tax was well wroth the money. I felt I got a bang for my bucks since they also offered free shuttle service and free valet parking service.

Dawn I.

Jan 26, 2018

The shuttle bus was always prompt the four times I used the MDW parking lot by the airport. I never missed my flight and I always got help with my luggage. I would do business with MDW anytime because of their prompt and efficient service.

Holly K.

Jan 24, 2018

Deal or no deal? I would say MDW is a big deal when it comes to pricing and service. One price gets you onto the lot and the same low price of $15.75 gets you valet parking and free shuttle service that makes it convenient to get to the airport for any flight. ????

Wayne Q.

Jan 22, 2018

I stopped leaving my vehicle at parking lots a long time ago, but since I changed jobs, I have to travel a bit and so I chose MDW for being the lot that offers a low price at a greater value than the rest. I paid $15.75 for four days when I went out of town and that was under $70 bucks. So I think I got a bargain.

Alfred F.

Jan 21, 2018

There are times when I have left my car at some dingy parking lot and regretted that shit, but this time MDW was not dingy and it was clean as a whistle. I hear it is run by a family and that may be the reason why they try to keep it up as they compete with other big parking lot companies.

Shawleen I.

Jan 21, 2018

I wanted to leave my car somewhere that took security as seriously as I did and that is why I went to MDW. I checked out the lot with the manager's help and he showed me all the security cameras and security guards that patrol the property. I had no reservations then in making a reservation! ??

Rod C.

Jan 20, 2018

I felt good about leaving my car overnight at MDW parking lot because of the reputation that it had in the community and the parking rates were also lower, but with high quality service from all the staff members, from the check in attendant to the shuttle bus driver.

Joel G.

Jan 19, 2018

MDW parking has made my top list because of the daily rate of $12.75 plus tax, which is the cheapest rate locally. The parking spaces are wide enough to fit my vehicle. The staff tend to be very helpful answering questions, helping with luggage and parking my car.

Warren E.

Jan 17, 2018

My experience with MDW was good. I checked in late, but the process was quick so I could go wait for the shuttle bus, which came within 10 minutes. That was OK too cause I was late, but not that late enough to miss my flight unless the check in and transportation process at the parking lot was long and it wasn't. ???

Millicent D.

Jan 17, 2018

The manager of MDW was one of the nicest person I have ever met. He answered all of my questions wihtout letting me feel like I was stupid or somethng. I just wanted to make sure that I had all my T's crossed and I's dotted. And the manager helped me do just that!

Brenda L.

Jan 15, 2018

I parked at MDW when I was going to go on an expedition with my college buddies to Niagara Falls, Canada. We were goofing around as the check-in attendant was trying to get us processed. I guess she didn't like that and so she shouted at us to cut it out. One of my buddies too offense to that and started and argument,but she got the better of him by explaining that she was only doing her job and what was best for us so we could go catch our flight. From that moment, we acted like civilized people to make her job easier. so I gave it a low score only because I didn't like how she was shouting, but the overall experience was OK.

Ralph L.

Jan 13, 2018

I wanted a place where I could park at night to catch that red eye flight to Hawaii and I found MDW. Moreover, it was only 5 minutes from the airport and offered a complimentary shuttle bus service, which was even better since it ws so late at night. Thanks, MDW! ????

Marlene F.

Jan 12, 2018

The 12.75 rate plus tax totaled $15.75, which was still a cheap daily rate. So I was good with that. I thought that it ws reasonable since with that daily rate you also get free shuttle service, valet parking and 24 hour access to the lot.

Jill C.

Jan 12, 2018

I had to go out of town for a month overseas and needed a parking lot that I could trust to keep my car safe and secure until I got back. MDW was the real deal. I got back from Thailand and my car was just like I left it - with scratches, but those were already there before I left...lol!

Roy T.

Jan 11, 2018

When I arrived at the MDW Chicago Airport, I waited for three minutes and didn't see the shuttle bus and so I called the pickup line at 773-585-0200 and the shuttle bus driver arrived in less than 2 minutes after that. So, it wasn't a long wait. At least, there is a number to call, if you arrive and not see the bus at the pickup area.

Bridgett T.

Jan 10, 2018

The MDW parking lot attendant only needed my reservation number when I was checking in. Other parking lots want an arm and a leg, sometimes asking for a receipt, which I sometimes forget. As long as I can remember, my reservation number, I don't need a receipt, which is pretty cool, I think.

Reginald T.

Jan 10, 2018

Before I made my reservations, I called the office and learned that they give customers a 45 day grace period to cancel our reservations. I think that is really cool cause anything can happen between the time, you make the reservation and actually use the parking services. I haven't had to do any cancellation yet, but it is good to know.

Lauren M.

Jan 09, 2018

I was glad to hear that MDW offers free shuttle bus service from their parking lot to the airport because I was bent on finding a lot where it was convenient and didn't cost any additional fees. Well, that is exactly how it turned out for me and my family as we were traveling to New York.

Trenton I.

Jan 07, 2018

I don't see which parking lot can top MDW cause they come through for me everytime. I wouldn't park anywhere else. In addition to the low daily rate of $12.75, the check-in service and shuttle service were above standard. I guess these people take their job more seriously than some parking lot employees do.

Enid I.

Jan 05, 2018

It is apparent that this family run parking lot is gong ho on customer satisfaction cause all the staff exceeded my expectation, from the girl in the office that I called with questions to the check-in person, Jen who took time getting me processed and showing me exactly where I can go find the best parking to the security guard Thomas who made sure tofollow me to my car when I returned. ????

Paul I.

Jan 04, 2018

Who would have guessed that $12.75 a day would be cheap enough to get me the kind of top quality service I received from Mandy, the check-in attendant and Charlie, the nice little shuttle bus driver. I smile when writing this review cause it was an overall good experience.

Vincent S.

Jan 02, 2018

I have heard bad stories about parking lots before and so I was a little careful choosing this lot. The daily rate of $12.75 is what first caught my eye. I decided to try them and was pleasantly surprised that they had such low rates and such good service. I would definitely be parking here in the near future. ????

Nora S.

Jan 02, 2018

I have a personal duty to write this review to tell you how much I appreciate the staff at MDW parking for getting me checked in quickly, getting me on the shuttle bus in less time than normal and driving me to my terminal so I could catch my flight to New York without any delays. I would not have done that without the extra help from Peter and Samantha. Thank you guys!

Theresa M.

Dec 31, 2017

MDW is opened 24 hours a day and 7 days a week. I had to find a parking lot that did cause I was going away for a long period and wanted to make sure I could access the parking lot when I returned from my vacation in Puerto Rico cause my flight would come in late that night.

Marsha T.

Dec 31, 2017

The cheap rate of $12.75 plus tax drew me in and so I decided to park at MDW when my flight arrangement forced me to go to Miami to finish a real estate deal. This was an important trip and also one that I wasn't sure when I would get back. So the fact that I could pick the long term parking option was key for me. ??

Simon E.

Dec 30, 2017

I like that Airport Park MDW is run by a local family of Chicago and for that reason, I will support my own rather than the big corporation that sometimes don't do enough for our little community. That is the most important reason for me parking at MDW.

Christina H.

Nov 13, 2017

It would be helpful to have someone in the office at all times as it is anxiety provoking to have no one there when you arrive with no directions other than 'someone will be here soon(<15 min)'. There at the very least should be a click with a time of return indicated.

Alyssa S.

Oct 04, 2017

Super easy and quick. Thanks so much. I felt safe and I felt comfortable that my car was safe as well.

Agnes S.

Sep 18, 2017

The attendance was unprofessional and very abrupt. He didn't seem to work well under pressure. A few customers come in at the same time and it took him some time to get his composure. Although he explained my reservation had not appear in the database at the time I arrived, he left the premises without giving me the option to stay or leave. He just left me inside the locked gate until he returned. He also pointed out that it was my fault for getting to the parking lot so close to my departure time at the airport. It wasn't necessary to make the comments when I was already aware. The only good note I was able to make my plane.

Kim P.

Aug 09, 2017

The price is great and very friendly and prompt shuttle drivers. I would use them again.

Dennis V.

Mar 15, 2017

This is a top quality lot that doesn't cost you an arm and a leg to park in. Definitely coming back here!

Ali K.

Mar 11, 2017

Some of the best service I've had anywhere in Chicago!

Fred E.

Mar 09, 2017

One of the best prices you're going to find anywhere in the city.

Josiah N.

Mar 03, 2017

Was really glad that this lot was so close to the airport and that the shuttle bus came back and forth regularly. Between the time I got out of my car to the time I got to the airport was about 15 minutes in total. Really efficient and great service!

Trevor L.

Feb 27, 2017

Checking in to the lot was really easy, I just had to bring my confirmation receipt and my car obviously and the valet took car of the rest for me. After that, I just had to get my luggage into the shuttle bus (which they helped me with) and I was then on my way to Chicago midway International. I made it with tons of time to spare!

Brenton W.

Feb 20, 2017

I had to make my reservation over the phone and I had a hard time finishing it because of static on the other line but it got done. I was worried they didn't catch the dates correctly but I pulled up on the day I mentioned and everything was just fine which was cool.

Eli W.

Feb 16, 2017

Probably the best price you're going to find in Chicago! The only place I found cheaper was 5 miles AWAY from the airport and would have taken way too long to travel back and would have defeated the purpose. This was a great compromise!

Rowan W.

Feb 15, 2017

The lot is modestly sized and just large enough to have plenty of room for the valet to park but also small enough that I know the security has no issues keeping the lot under control even when it's at full capacity. I was so delighted to see that my car was going to be safe while it was here!

Kasey E.

Feb 13, 2017

I was really blown away by how well this MDW lot is maintained and kept. Right away I noticed how clean it was, how well-lit it was and how much the staff looked and sounded like they actually wanted to be there. The valet was very courteous about parking my car in a convenient spot, and helped me with all of my bags before I even had to ask. They helped me onto the shuttle bus and the ride itself was only about 10 minutes. You can't exactly see the airport itself from the parking lot, but you definitely know that you're close by when you get there. I was truly blown away by the exceptional level of service that I got in this lot, and it's definitely a place I would recommend to other people and park here again in the future. As someone who flies in and out of MDW on a regular basis, this is a great lot to park in simply because of how close it is! Really a great place to park.

Joanna N.

Feb 12, 2017

Definitely one of the safest lots I've ever left my car behind. I was gone for about 3 weeks and felt more than comfortable with the whole thing. There's cameras and a security guard so I knew they had it all under control.

Marlene W.

Feb 08, 2017

PERFECT experience. Couldn't have asked for a better lot to park in!

Aria M.

Feb 05, 2017

Staff were so nice to me! They were helpful and sweet.

Keon B.

Feb 02, 2017

When my trip was over and I went back to pick up my car they had it waiting outside for me, which was so fantastic! This was quality service right here!

Harry X.

Jan 30, 2017

Looking for parking in Chicago is ALWAYS so expensive so when I found this lot for $12.75 a day I jumped on it right away. This is for sure one of the best prices I've seen in the city. The closer you get to the airport, the harder it gets to find parking so I really lucked out with this place. I'm really glad that I chose this over the one I've been parking at for years before this. A much better choice!

Trystan P.

Jan 23, 2017

Would for sure park here again in the future! Really great lot, they did a great job with the service.

Clinton K.

Jan 17, 2017

I felt really safe leaving my truck here especially since it's something I'm normally so protective of! I saw all of the staff on site including security, all of the cameras they had and just the care that they took in maintaining the lot and even in answering my questions and I knew that my car would be in good hands while it was here for a week. The manager was willing to answer some of the questions that I had about how the whole thing worked, and that made me feel much better about everything too! It was really great.

Maritza E.

Jan 11, 2017

This was definitely one of the better lots that I've used in the past and this is definitely somewhere that I would park again in the future. I've been telling anyone that will listen about this place because experience was just so awesome. First of all, when I pulled up there was a valet attendant ready to take my car and park it for me which was really awesome. Then, someone even helped me take my luggage out of my car because it was a bit heavy. Once the shuttle bus came about 5 minutes later, they helped me get my stuff onto the shuttle bus with no issues which was really helpful. The shuttle bus ride itself was maybe 10 minutes, and I got the MDW with lots of time to spare before my flight which was awesome.

Morgan H.

Jan 07, 2017

Might be the cleanest lot I've seen anywhere in Chicago.

Gina O.

Jan 06, 2017

Getting my reservation in online was so easy I was shocked. I just had to put in my check in date, and when I wanted to leave, then my payment information and that was it. Plenty of other lots make you put in way more information so this was kind of refreshing.

Leo I.

Dec 31, 2016

The staff here was so nice and so helpful! That was so awesome!

Stephen E.

Dec 29, 2016

Finding parking that's close to the Chicago airport can be so hard sometimes so I was really happy about finding this place. It was close enough that my shuttle bus ride was honestly so quick. I have absolutely no complaints about it

Reid H.

Dec 25, 2016

The shuttle bus was great! Really quick trip and the driver was really nice!

Brooke A.

Dec 19, 2016

Might just be the best parking price of any of the lots in the area. I was glad that I picked this one since it ended up working out really well for me. $13 a day is honestly a really good price so it's a good thing that I booked it when I did.

Jason B.

Dec 16, 2016

This was a really safe lot and an excellent parking option from all the other options I was finding in others places in Chicago. I was very close to Midway International Airport so it was really easy to get over there. Overall, a really great experience and I have absolutely no complaints about it!

Kelsie B.

Dec 14, 2016

The lot is fenced in so I already felt way better about it than I have about other parking places in the past. I knew right away this was a perfectly fine and safe place to leave my car for a few days. It was really great to have that confidence in a service. I pulled up and the valet took my car and parked it for me right away. It's not a huge lot, so I was able to easily see where it was parked while I organized myself and my luggage to wait for the shuttle bus to be on its way

Corbin K.

Dec 08, 2016

Definitely one of the cleaner lots that I've used in Chicago. It's like the close you get to the airport, the more these lots and service just kind of let themselves go! It can be hard to maintain a lot that's really busy all the time, but they did a great job of keeping up appearances and making sure the service was also on point.

Gwenyth R.

Dec 08, 2016

Shuttle bus service was really quick and convenient. The staff even helped me get my bags out of my car and onto the shuttle so I didn't have anything to worry about! Great experience overall and I'm definitely parking here again in the future when I'm flying out of MDW.

Marie T.

Dec 06, 2016

The lot is around a few other lots, but this is one of the closest to the actual airport. Plenty of others are just close to a bunch of shuttle buses. This was a really great option and I'll be telling everyone I know about it too. Perfect if you fly in and out for business a lot.

Braxton C.

Dec 04, 2016

The process of checking in was so much simpler than I thought it would be. I got there with my car and right way a valet parked it for me and brought my bags out to me. The shuttle bus comes on a regular schedule so they waited with me for a few minutes until it came and then put my bags into the shuttle too so I didn't have to. I thought that was really nice of them especially since they didn't really have to do that. I was already a customer of the lot anyway but they did a lot to go above and beyond and I really appreciated it. The shuttle bus didn't take long at all, maybe another 10 minutes and I was already at the airport hopping out. This time, the driver got out and was helping me and the other passengers get our bags out of the car. Overall, it was just a really good experience here and I'm glad that I found out about this lot before booking the one I usually do.

Karley J.

Nov 29, 2016

EXCELLENT lot, I even had a pleasant phone experience which I usually never do. I had to call to make a change to my reservation and it was really easy to do, they didn't give me any hassle to do so and overall it was just really great. They made the switch for me. Even after I came a little bit late (about 15 minutes) my spot was still there for me, the valet took my car and parked it for me and it was still all good. I was worried but the service was really awesome!

Hamza B.

Nov 29, 2016

At $12.75 it's really hard to beat a parking lot price like this anywhere in Chicago. I was searching for a while to find a similar price with all the same features and came up short. You really get a great bang for your buck here!

Lincoln A.

Nov 25, 2016

Lot was a good decent size so I wasn't worried about losing my spot or over booking or anything like that. The valet parked my car for me and parked it in a spot I could see from where I was standing. It was just nice because it gave me a bit of extra time to organize myself and my bags before getting onto the shuttle bus which was super helpful.

Tyree A.

Nov 18, 2016

Staff here was just lovely, and very helpful so I was really excited about that.

Wesley A.

Nov 15, 2016

My flight landed late so I was worried about picking up my car late but I was happy to find that they actually had a 45 minute grace period window for you to pick up! I was so worried I would get charged a late fee or something like that but they completely understood, handed my receipt and I was on my way!

Junior G.

Nov 11, 2016

The PERFECT price for this place. Definitely gave it 5 stars.

Jean W.

Nov 09, 2016

I was worried about the safety of my car at first, like anyone would and I was concerned about it being close to the highway, close to the airport and close to other lot. I did a bit of research and the lot has never had any reported thefts or other problems which is why I picked it. Some of the other ones in the area have had issues before though they claim to be safe. This one has plenty of cameras and security so I knew I would be fine.

Sofia E.

Nov 08, 2016

A really lovely experience and I'm for sure parking here again! Best parking in Chicago hands down!

Brian N.

Nov 07, 2016

I had to pull up here at night so I got to see how well-lit it was. It made me feel way more comfortable with leaving my car here because I was a little bit apprehensive at first but it was perfect.

Amiyah U.

Nov 05, 2016

The lot was really clean and it gave me a great first impression! Really glad I parked here!

Hayden F.

Oct 31, 2016

Booking online was so easy to do, I just had to put the date I wanted to drop off my car and the date I wanted to pick it up and everything was really simple from there, which I appreciated! Lovely experience!

Mylee F.

Oct 31, 2016

EXCELLENT staff they were so friendly and helpful. It made me so much more comfortable after they clarified quite a few things for me before I got settled. Awesome work.

Linda C.

Oct 25, 2016

MDW was less than 2 miles away (felt like) and it was so convenient to be right there. After parking my car and taking out my luggage, the last thing I wanted to do was go on some long journey before I even got on my flight. The whole process was really great and the attendants at the lot were really eager to answer all of the questions I had that day.

Destiny D.

Oct 22, 2016

Shuttle bus was so fast and easy! Loved it!

Audrina J.

Oct 16, 2016

In a city as big as Chicago it's going to be hard for you to find a price this good. Under $20 is already a miracle so for this lot to be $12.75 is really quite good!

Jaslene M.

Oct 09, 2016

Parking in Chicago can be a bit of a nightmare so I was glad I found this lot right next to MDW. It's such a busy area so it's normal to have safety concerns but believe me when I say this is one of the most secure places to leave your car. They even have valet service!!
Best Price Guarantee!
Book Now
Free + Easy Cancellations