Quality Inn Buffalo Airport Parking
Quality Inn Buffalo Airport Parking 4217 genesee st, Buffalo, New York United States 14225

Compare rates
Nearby parking lots

Location

4217 genesee st, Buffalo, New York United States 14225

Area

Genesee St
Buffalo Niagara International Airport (BUF)

Phone

Shuttle
Parking lot information
Quality Inn at Buffalo Airport is located directly across the street from BUF the Buffalo Niagara International Airport (BUF).
Quality Inn at Buffalo Airport offers Free 24-hour Airport Shuttle Service for Short and Long Term BUF Airport Parking.
You can also find other reliable BUF Airport Parking on Instapark.
Find nearby parking in Buffalo »
Key Details
Guarantee Your Spot Free + Easy Cancellations
How to park at this facility
ENTRY PROCEDURES
Please show your InstaPark Pass to the attendant for validation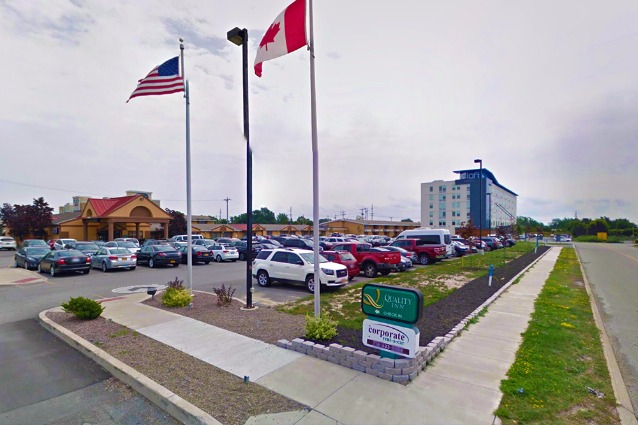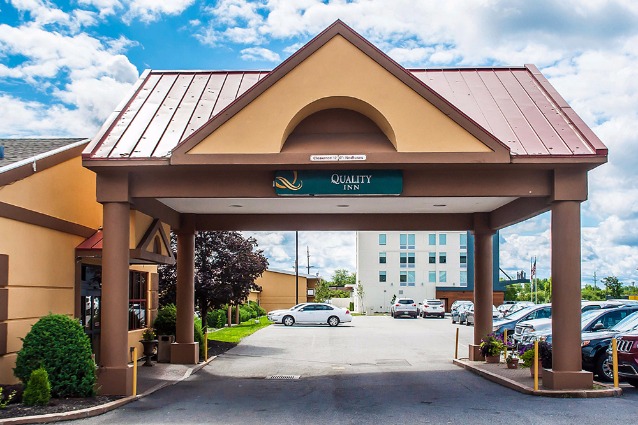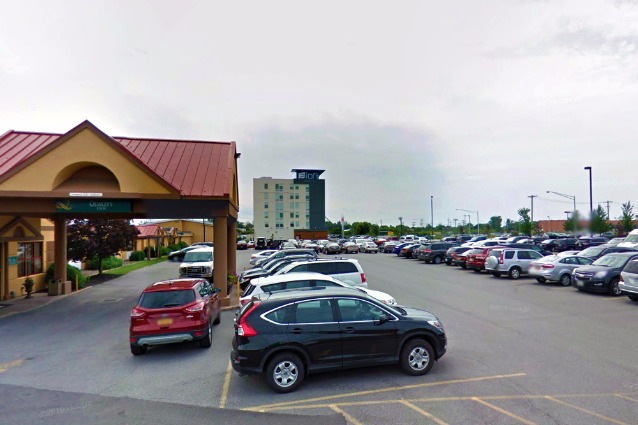 Services, Amenities, Features and Add-Ons
Security guard
Video surveillance
Offer day parking
Offer night parking
Offer monthly parking
24 hour access
Parking location and directions
4217 genesee st, Buffalo, New York United States 14225
Quality Inn Buffalo Airport Parking prices and rates
Daily rate
Day rate
$6.75 / day
Grace period: 0 hour
Add-ons
Security guard
- no charge -
Video surveillance
- no charge -
Offer day parking
- no charge -
Offer night parking
- no charge -
Offer monthly parking
- no charge -
24 hour access
- no charge -
Other charges
State Tax
+8.75%
Airport fee
+11.00%
Customer Reviews
Customer Reviews (205)
Chantal F.

Feb 04, 2020

Great check in. Driver and service with no problems. Will use again in the future.

George E.

Nov 06, 2019

Hotel was easy to get to. Staff were friendly, helpful. Parking area was safe, well-lit . Shuttle service was timely, short wait at both ends of our trip. Thumbs up recommendation!

James S.

May 29, 2019

I liked having a handicapped parking spot available for our use. I was a bit dismayed when there was no driver there for the shuttle at 4:45AM, but the desk man did drive us over.

sal m.

May 05, 2019

Excellent staff and very quick pick up once we arrived

Bihag K.

Apr 23, 2019

During departure, the front desk person was adamant that the shuttle only leaves every 30 minutes and it'll leave after 20 minutes from the time we were having a discussion. I told him that I'll most likely miss my flight if that is the case and his response was "you can either uber or walk to the airport then". Why would I pay for a service(the shuttle) and then uber to the airport????

Jay F.

Apr 20, 2019

There was some kind of problem with the hotel when it came time to pick me up. I called at 10:40pm they said they were a little behind and it would be 15-20 minutes. I called again after 25 minutes and they said they would be right out which they were. The drivers very apologetic and said somehow my call fell through the cracks. I did get picked up and all is well. I suppose those things happen sometime.

Pauline S.

Apr 03, 2019

Everything was great! Our shuttle drivers were terrific and helpful, took us to and from the airport promptly and the front desk was easy to access and the attendant was efficient and cordial. This is the second time we have used the service and will certainly use it again.

Linda S.

Mar 22, 2019

The experience was easy and the staff were very accommodating and friendly.

Natasha L.

Mar 19, 2019

Safe parking and quick shuttle. Thanks!

Passang T.

Mar 17, 2019

Great service.easy to park. Shuttle on time.thank

Teisha G.

Mar 17, 2019

Easy smooth check in. No hassle check out. Driver at night was especially patient as we had an issue with our seat seat.

Shelly G.

Mar 15, 2019

Friendly, on time, reliable service

Noreen M.

Mar 12, 2019

Always convenient parking, and courteous employees to great you

Ronald S.

Mar 11, 2019

The driver was at the Airport in 3 minutes of us calling. Great service!

Sailesh K.

Mar 06, 2019

Quality Inn Service is great. Instapark no customer service

Timothy L.

Feb 22, 2019

Good service and very convenient. The only issue was on our return flight, we had to call 3 times and wait 40 minutes for van to pick up at airport.

Sailesh K.

Feb 12, 2019

Quality Inn folks are great !! Instapak has no customer support and can't get to talk to them.

Valarie M.

Feb 05, 2019

Easy and right on time!! Great Rates!!

Andy George B.

Jan 15, 2019

The parking is Very close to the airport and $5.99 USD per day. The service is very nice and strongly recommend to anyone. Thank you.

Lisa M.

Dec 29, 2018

Parking and pick up was simple and easy

Mary C.

Dec 18, 2018

It was easy to book. My driver was courteous, efficient, and arrived in a timely fashion. I was very satisfied!

Fred M.

Dec 03, 2018

Very good service. Welcoming, conversant and friendly. Thanks for the great experience.

Gonzalo G.

Nov 23, 2018

Close to the airport, excellent, fun and professional staff.

marjory c.

Nov 06, 2018

supervisor had to check reservation w/ desk clerk . Both staff were great

Marianne R.

Nov 06, 2018

Great way to park for your trips to the airport. Staff is always friendly, courteous, and on time.

John P.

Nov 04, 2018

Very close to airport, shuttle service was great and very affordable

Rocco D.

Nov 04, 2018

Very convenient and quick transport to and from terminal. Will definitely use again.

Meexay N.

Oct 23, 2018

We are very happy about your service and hopefully we will book with you in the future.

Bob W.

Oct 21, 2018

although it really made no difference to my experience the instructions on what to do upon arrival was totally wrong and so we went into the check in office of the hotel to find out what to do.

Ned w.

Oct 17, 2018

It was the best choice I made. It was fast and simple. The convenience versus doing long term parking at the airport was great. Will do the same the next time I fly.

Elizabeth B.

Oct 14, 2018

The phones were down at Quality Inn and there were no arrangements made to contact them so we could not get the shuttle back to our vehicle. That was pretty annoying!

YASMIN P.

Oct 11, 2018

The staff was friendly and Nice. Car was safe. Charge me a extra $6 when I returned, bur i had already paid in full prior. Didnt say why either. but paid it.

Marianne R.

Oct 09, 2018

Easy affordable and wonderful way to get to the airport

Margaret G.

Oct 01, 2018

failed to pick us up at the airport so we walked over to get our vehicle

Brian S.

Sep 30, 2018

Great place to park, fast shuttle service.

Alina P.

Sep 24, 2018

Really great. Will use again. The shuttle was quick on drop off and pick up.

Alyson M.

Sep 11, 2018

Great service and directly across the street!

christine w.

Sep 09, 2018

Everyone very friendly and helpful! I did have a little trouble finding it, but once I realized I was looking for the Quality Inn sign and not an Instapark sign I found it! Will be using again! and recommending!

Jameel M.

Sep 05, 2018

Park here. Period. These guys are better than 5* service! I've never experienced so much care for a simple parking lot reservation. My car battery died and I had 4 guys come out to help me give a boost with their own vehicles. It took a while to start, but they were more than happy to help. Thanks to all the staff at Quality Inn. Stay blessed.

Owen L.

Sep 04, 2018

The process was seamless end to end, prompt courtesy shuttle to the airport, all at the best pricing I could find.

Natisha G.

Aug 29, 2018

The process was quick n easy n shuttle service provided . My car was parked for 8 days. No issues

ANGELO R.

Aug 27, 2018

Easy to do. Airport waiting area had limited shelter. Bad weather would have made the wait terrible but this day was enjoyable.

Piotr R.

Aug 26, 2018

Everything was great, easy booking, shuttle service. One thing that was confusing was finding the right stop at the airport for shuttle pick up. When we left the airport in Buffalo, we saw many signs shuttle pick up but didn't indicate which way to go for hotel shuttle. So we went to wrong stop at first and had to ask around if this was the right one. Otherwise it was a great experience and everyithing went smoothly.

Paul C.

Aug 22, 2018

Great staff good location nice shuttle

YVES D.

Aug 20, 2018

Safe place with security and respect. May thanks.

Jason N.

Aug 18, 2018

I parked here for approximately 6 days while away on a trip to Orlando. We took a complimentary shuttle which was nice but not necessary as the airport is directly across the street. This was by far the best park n fly experience I've ever had. I'm from Toronto and this proved to be a lot easier and cheaper than flying out of my hometown airport. It's Police patrolled as well so there were no issues with vandalism or theft. I would not hesitate to use this service again in future.

Wolfgang W.

Aug 07, 2018

I don't have time for narratives.

Michael O.

Aug 07, 2018

Great location and an easy check in/out made for a stress free experience. I will be parking there from now on when I fly out of BUF.

Carly M.

Jul 24, 2018

Parking here was exceptionally easy. The staff was great. From getting on the shuttle to getting through security (with TSA PreCheck) it took 11mins.

John S.

Jul 17, 2018

Shuttle was fast and efficient. You need to provide directions on the pickup points at airport. A secured lot would set you apart of the competition.

Nima M.

Jul 10, 2018

Great service easy shuttle friendly staff

Stachen F.

Jul 10, 2018

It was great but I think the closing off process could have been done better such as providing a receipt onsite or via email right away S

Noel F.

Jul 10, 2018

Instapark will definitely save you money. We just parked at Quality Inn and flew. Shuttle to the airport was a convenience you can never beat.

Olivia C.

Jul 07, 2018

Service was really great we will park here again for sure.

Segun B.

Jun 25, 2018

The drivers were fantastic. The customer service person at the front desk on Saturday early am was horrible.

pat g.

Jun 25, 2018

Helpful efficient and pleasant

Anthony S.

Jun 21, 2018

I have always parked at Fast track Parking, I was impressed by your service and better rates. When we returned back to the airport , shuttle picked us us in minutes . Great job , keep it up. Your newest customer !

Ashley Z.

Jun 12, 2018

Fast and quick shuttle service

Laura M.

May 22, 2018

It was easy and painless. I really enjoyed the experience.

John R.

May 15, 2018

Fast drop off and pickup by airport shuttle.very reasonable pricing..

Pauline S.

Apr 23, 2018

Shuttle service was great and the people at the front desk of Quality couldn't have been nicer. We will definitely use their services again!

Nancy G.

Apr 11, 2018

Excellent service. Will definitely recommend!!

Jaime S.

Mar 19, 2018

I have seen lower price for parking, but at Ace Rental Car and Airport Parking lot, the $9.95 was worth the quality service I received from the check-in agent, valet parker, security guard and shuttle bus driver. It is just a hell of a lot that they do for customers like us. As a frequent flyer, I have come to appreciate that!

Nigel S.

Mar 17, 2018

Although, I would have liked to be picked up and dropped off after I went and got off the shuttle bus so I could get closer to my car, I still think the service overall was good enough, not to hold the Quality Inn responsible for that one thing I had noticed. I guess it's no big deal really because they provided quality customer service. And I would park here again for sure! ???

Cleo M.

Mar 16, 2018

I work somewhere as a customer service manager and I know good customer service when I see it. I so happened to fly out of BUF Airport and had to use the Quality Inn parking lot for a few days. I saw customer service at every level. The attendants, security guards and shuttle bus driver Harry were all amazing! ??

Peter S.

Mar 16, 2018

Great spot. Picked up quick.thanks

Becky T.

Mar 14, 2018

If you can explain to me why anyone wouldn't grab the chance to pay $5.99 a day for parking, then I will believe that they are not insance But, this low price is something that anyone would want. I know I did. When I saw it I thought it was a joke, but it isn't. I paid that cheap price for parking at Quality Inn.

Barry E.

Mar 13, 2018

Back in June, I had to fly to Greece for a month and needed to find cheap parking and long term parking. Guess what? Quality Inn fit the description. Not only is the price 5.99 per day, but they had a discounted rate for monthly long term service and I got to pay under $200, which ws amazing to me. I will always park here. ??

Hannah A.

Mar 13, 2018

Quality Inn has a soft spot in my heart because of how well I was treated by the attendants including the Kim at the entrance, and Matt, the shuttle bus driver who went above and beyond to assist me. I am blown away by the quality of their customer service and will park there every time! ???

Caleb H.

Mar 12, 2018

Johnny was a security guard at Quality Inn and he kinda manned the parking lot. On the I was traveling, the lot was full and I wasn't so happy about it. So, Johnny helped to find a spot out of the range of other cars, even though it wasn't real parking space. I was only going to be gone for the day and so that is why I guess he allowed me to do that. I appreciated that.

Charisse T.

Mar 11, 2018

Kudos to the shuttle bus driver, Al at the Quality Inn parking lot. He picked me up on time to go to the airport terminal and he loaded my baggage onto the bus for me and he didn't have to. He also unloaded the damn bags and kept reassuring me that I wouldn't miss my flight and I didn't. Al is now someone I look forward to see when I go there. ????

Gwendolyn L.

Mar 09, 2018

I am going to be the voice of recommendation for Quality Inn parking lto cause they are just amazing when it comes to service. Everytime, I park here, I am taken aback by how these people go to lengths to make sure I feel at home and feel secure about leaving my vehicle in their care. If you want parking, choose Qualty Inn.

Harold P.

Mar 09, 2018

Got a flat tire when I got back to pick up my car from Quality Inn parking lot and so it was a relief to see the security guard Montey drive up to help me. We both put on the spare tire in minutes and I was on my way out of the lot, thinking that I was gonna make this a permanent choice for parking.

Fabian R.

Mar 09, 2018

Missing a flight was not something that I wanted to do that day on my way to Instanbul for 7 days. This was a business flight and I had not choice but to get there. From the check-in attendant to the shuttle bus driver, it took roughly 8 minutes to get me from the Quality Inn parking lot to my airline check-in counter. It was amazing. I love the effort.

Adia R.

Mar 07, 2018

Jill was my check-in agent at Quality Inn parking lot and she was amazing. I had forgotten my physical receipt and she accepted my email receipt. She went out of her way to contact the shuttle bus to get me taken quickly to my terminal. I know she didn't have to do that. So I was grateful and so darn impressed. Thanks Jill. I will be back.

Earl M.

Mar 07, 2018

I am not saying I wouldn't park somewhere else, but why would I go out of my way to do that when Quality Inn charges only $5.99 and still provides a high level of service? I would be a mad man or you probably would have to check my mindset to think I am losing it. This parking lot has enough space, lower price and a hell of a staff! Not too much to consider here! ????

Aron G.

Mar 06, 2018

Quality Inn is a major player in the local parking lot industry, even though, they are not as large as some lots. I say that not just a joke. It is the truth cause that's what I feel. From my experience, everyone is helpful, go out of the way to help and provide good customer service. That's important to me.

Gabriel N.

Mar 06, 2018

The price is what got me! $5.99 is really a low ball figure for any parking lot, let alone Quality Inn and then after the price came the security cameras and security guards that kept my car safe. I just love that the two work well together, price and safey! I would think so. That is why you should park here.

Dale C.

Mar 05, 2018

I think I wouldn't have found this parking lot if I had not dropped off a friend there one day. I rememered it when I got ready to plan my flight to Boston. Sure I went online and booked my space, arrived and checked in at the gate, didn't have to drive around to find parking. It was right there. Got the shuttle bus on time to my terminal. It was so easy man! ??

Abigail L.

Mar 05, 2018

This parking lot is just what I been looking for. The agent Millicent was all smiles when I drove my car in and checked me in quite fast. It took her less than a minute to have me driving to my parking space. And the security guards were welcoming, helping me to find a parking space. I would park here again.

Sheila B.

Mar 03, 2018

Travelled out of BUF Airport one time and couldn't do better but to find parking for my ride. So, a friend of mine told me about the Quality Inn parking lot and I tried them. Check this out! They lived up to what my friend told me about it. The price was low for one and the service was up there. Down to the shuttle bus driver was great!

Jerson P.

Mar 02, 2018

Called the shuttle bus to pick me up after arriving at the airport at 12:30AM. It took about a minute for someone to answer the phone, but it was no big deal. The shuttle bus driver, Andy took about three minutes to get to me. I was tired and irritated and that was the only problem I had that early morning. I was just so happy to be home. Not gonna complain.

Charlie K.

Feb 28, 2018

This lot did not have valet parking and that was the downside for me because sometimes, you are in a hurry and need the extra help, especially when you are running late for a flight. But, they made up for it with pricing of only $5.99 and lots of surveillance video cameras. That kinda made me feel a little better.

Bula G.

Feb 27, 2018

I broke my ankle while on my Mexico vacation and when I got back to retrieve my vehicle, I was on crutches. I didn't expect any sympathy from the folks at Quality Inn, but everyone pitched in. The shuttle bus driver, Bobby helped to put my luggage in and out of the shuttle. The security guard helped me get in my car so I didn't hurt my ankle. I was so taken aback by the show of care that I felt.

Marilyn A.

Feb 27, 2018

Glad I created an account at the Instapark website cause I got to update my reservations, adding two extra days to it without any hassle or stress. That is one of the features that I like about making the reservations online. You can always log in and make changes!

Winsome J.

Feb 26, 2018

I had a sudden emergency and had to change my flight. I called Quality Inn parking lot to see if I could reschedule for another date and still keep my reservation for the future date. I was told that I could and was so happy about that. So now I have to wait to see which date and time I will use the parking services.

Lincoln N.

Feb 25, 2018

The lot sent my reservation receipt by email when I booked online. I had printed it out and expected to take it with me when checking into the lot, but I forgot it at home. So Christy, the attendant asked me to pull up my email to verify that I had a receipt. She confirmed it and let me through to find parking. That was so simple and easy! ????

Hope N.

Feb 25, 2018

Didn't know they allowed large vehicles in this parking lot. I drive a luxury sedan and I didn't want to get it scratched or stolen either. I also wanted to make sure that the space was big enough for my vehicle and all of those things were pleasantly addressed at Quality Inn and I will always park here.

Petra J.

Feb 24, 2018

I didn't want to make any alternative arrangements when I arrived at the BUF Airport. I parked my car at the Quality Inn and wanted to make sure it was accessible to me no matter what time it was. So I called ahead to find out so I could be prepared. Lucky for me, the lot had a shuttle bus that picked me up and took me to an area where I could go get my ride.

Rachel P.

Feb 23, 2018

My story is simple. I just want to pay less for more and so $5.99 per day is it in a nutshell I don't have time to beat around the bush. I just want to earn discounts and save money any chance I get and Quality Inn is where it's at! Yaasss!

Harold E.

Feb 23, 2018

I had never gone to a parking lot before so this was kinda new for me, but lucky for me, I stumbled upon this lot and it was the best thing that every happeed to me. I struck gold and it felt good that I could find a price so cheap. At $5.99, it is a steal and as a college student, this aint no joke to me! This is now gonna be my parking spot!

Winston I.

Feb 21, 2018

It was helpful to know that the shuttle buses ran every five to ten minutes, depending on the pick up and drop off load. So I through that was good enough for me as long as I didn't have to wait over that time. The shuttle bus driver didn't just drive up and expect us to hop in. Jim came of the shuttle and helped load our luggages for us. I thought that was really sweet.

Montey E.

Feb 21, 2018

When I checked into the parking lot, I asked the attendant what the return procedures were so I could know what to do. The attendant, Mark explained what I had to do to et my car and it was easy as 1, 2, 3. Quality Inn certainly makes it real easy.

Hilda L.

Feb 20, 2018

Quality Inn made it easy to contact them once I returned from my flight. Other than having a designated spot to get picked up by the shuttle bus, there was a number to call on my reservation receipt. I used the number to call and the shuttle bus driver was there in less than five minutes!

Fanny G.

Feb 19, 2018

Although, the office opens at 9AM and closes at 5PM, the parking lot is opened all day long so I was able to access it to get my car when I got back from my late night trip. And as a single woman, I was concerned about safety walking to get my car, but a security guard, Thomas was there to help me. I would park at Quality Inn again! ???

Miguel B.

Feb 18, 2018

I liked the idea that the parking lot address was on my receipt or I may have had to use a GPS because I wasn't all too familiar with that part of town. So Quality Inn makes it easy to find them at that location. I was also surprised to see how close the airport was, which even sweetened the deal more!

Maria N.

Feb 17, 2018

You don't have to wait in a long line at Quality Inn, especially when you have a flight to get on. The cashless entry is the way to go. Just get in and get out and be on your way to the shuttle bus to get to the terminal. It is that easy and smooth with no headaches or hassles. I love this option!

Clive T.

Feb 16, 2018

I was really hoping to find a place that would accommodate my big truck when I had to go out of town for a weekend and Quality Inn parking lot fit the bill. The parking spaces are wide enough to fit the kinda truck that I drive. That was the most important thing for me!

Nadeen S.

Feb 16, 2018

It's frustrating for me when I have to search for parking when I have to catch a flight. So I make sure not to park in lots that are small or crowded. When I found Quality Inn, I was happy that it was so close to the airport, but I was most blown away with how spacious it was. They kinda sold me on this one feature!

Rex T.

Feb 15, 2018

Other than the state tax of 8.75%, I still think $5.99 per day is cheap for parking in such a huge, clean and well-secured lot. Quality Inn has done it for me. Now that I have found this good deal, I aint parting with it ever! I recommend it to anyone who is looking for a bargain! ????

Maureen L.

Feb 13, 2018

I was looking for a spacious parking lot to leave my car and Quality Inn added up. I called and found out it could fit up to 200 cars. So that was a plus for me. In addition, the lot was clean and manned by security guards as well as video security cameras. So it everyhing going for it in my eyes and that is why I chose it!

Keisha Q.

Feb 12, 2018

Where would you find a charge of $5.99 per day for parking and receive so many perks like free video surveillance cameras, security guards, 24 hour access, large parking lot with hundreds of spaces and free reservation cancellation? No where else, but Quality Inn and that is what I enjoyed.

Ben T.

Feb 12, 2018

The location and the price are the ideal combination for me. The airport is just across the street from the Quality Inn and the price to park is just $5.99 per day! The location is well kept and there are enough spaces to leave your car. I would definitely use them again!

Natasha S.

Feb 12, 2018

There could be nothing cheaper than $5.99 a day and that is what I love about this parking location. And on top of that, if you park on a monthly basis, you pay a discounted price. Who or what could beat that? I am so shaking in my boots, happy that I found this deal!

Aldon A.

Feb 10, 2018

The shuttle bus arrived on time and it took only a few minutes to get to the terminal where I had enough time to check into my flight, go through the TSA point and even stopped by the restroom and restaurant to get something to eat! Everything was smooth sailing! ??

Lawrence O.

Feb 10, 2018

I work for a company that needs me to go to their other location a month a time throughout the year. I cannot afford the high priced parking lots and so I chose Quality Inn because it was cheaper and it was closest to the airport. Moreover, the shuttle bus service was available 24/7!

Janel G.

Feb 09, 2018

The security guard helped me with getting my luggage up on the shuttle bus while the shuttle bus driver was helping some other woman. I think that was great teamwork and they didn't even have to do it for us. That is one reason why I will definitely use Quality Inn parking lot all the time!

Tom A.

Feb 08, 2018

I was surprised when I stumbled upon this parking lot for just $5.99 per day. Get out of here, I thought! Damn str888 I am gonna book this baby and that is what I did. I was going away for 10 days so of course, I was happy to save money parking my car at the Quality Inn Parking Lot! You could too!

April J.

Feb 07, 2018

Let me give you some food for thought. Park at Quality Inn parking lot if you want to save money and get good customer service. That is what I did. I paid only $5.99 a day for 3 days when I was going to visit my uncle in New Orleans. And when I came back, the shuttle bus driver and the security guards were on par, helping me with my luggage and getting me back to my car safely! ????

Chastity T.

Feb 06, 2018

Marty was my shuttle bus driver and he was so sweet. He picked me up in less than 7 minutes and even went about helping me with my heavy bags. I felt so bad, but he insisted. I was surprised with how much these people want to help you. True customer service. I am totally satisfied!

Leo P.

Feb 05, 2018

Hats off to Quality Inn parking lot! I am blown away with the price y'all. $5.99 for one whole day! Man! That is insane y'all! I am so so happy to have found this joint. It will save me so much money in the long run. I am already seeing the savins!

Ivan J.

Feb 05, 2018

I am so glad I parked here cause I have had my car stolen before in an open lot and so security was important to me. To be honest, I worried about my car while I was away and was so relieved when I came back and saw it all intact and in the same place I left it. Quality Inn parking lot really earned a new customer!

Ernest D.

Feb 03, 2018

If I knew about this parking lot before, you can bet I woulda saved so much money. I am so upset right now that I didn't find out about this $5.99 a day parking before. Lol! I sure am surprised to find such a low rate in my local area when other parking lots are charging more, but I will take it. I am happy to have found it now anyway!

Barbara T.

Feb 02, 2018

With so many terrible mishaps at different parking lots, I didn't want to compromise by choosing a lot that did not meet my expectations. Price was important, but for me, service was on the top of my list and I got that from all the staff at the Quality Inn parking lot the minute I drove in to when I returned to pick up my vehicle.

Rocky W.

Feb 01, 2018

At some parking lots, the shuttle bus stops running after a certain hour and so I was glad that Quality Inn parking lot had shuttles that ran around the clock since I was returning on a red eye flight from California. It just worked out better here for me and so from now on, this is going to be where I leave my car!

Doug B.

Jan 31, 2018

I made the choice of parking lots based on the price alone. I know I am a cheapskate, but who would pass up on $5.99 a day? I know I wouldn't and guess what? For the price, the service was way up there too. They say you get what you pay for, but that is not true at all. Quality Inn parking lot delivered the goods! ????

Lee I.

Jan 30, 2018

I pay attention to almost everything and the first thing I noticed about Quality Inn parking lot is that the security cameras were installed in strategic areas of the lot. The cameras almost covered the entire space and where it wasn't covered, the security guards would supervise that area. Loved that!

KellyAnn C.

Jan 30, 2018

My flight came in at a very weird hour of the early morning and I was glad that the parking lot was opened 24 hours for me to access cause I don't know what I would have done. I just took the shuttle to my car, hopped in and drove home. It was that easy!

Fitzroy G.

Jan 30, 2018

I finally got me some cheap and affordable parking for once. I have tried so many parking lots and end up paying like $20 a day and it adds up when you go on a long trip. So I was glad when I found the Quality Inn parking lot cause I only had to pay $5.99 a day and for the 10 days I left, it was only $59.90! Savings galore cause with the other parking lots, it would be almost $200, whichis more than double!

Andreen F.

Jan 29, 2018

OK, now let's get one thing straight. I absolutely love my ride so much till no one comes near it. So I have anxiety when I have to leave my baby. But, as for Quality Inn parking lot, they can keep my baby for as long as they want cause they make sure that she is taken care of, from start to finish! ???

Montel A.

Jan 29, 2018

I was gone for 12 days and when I arrived, took the shuttle bus to the parking lot, I got my receipt, got in my car and headed out the exit. It was smooth ad easy. I didn't have to wait too long before the shuttle bus came and so everything worked out fine the way I wanted it!

Courtland T.

Jan 28, 2018

Before I came back from my trip, I called ahead to make sure my car was OK. They told me it was and for sure, it was just the way I left it. They even parked it on the outside of the lot so I could just hop in and go. I thought that was really, really cool man! Quality Inn parking lot is the place to leave your vehicle. I recommend it!

Mildred P.

Jan 28, 2018

Quality Inn parking lot is the real deal if you want a low ball price of $5.99 per day. If you aint worried about money, then keep it moving, but for me, price is my first option and guess what, I booked a parking space at this lot and I never regretted any of it. In fact, my happy thermometer went way up!! ??

Roy C.

Jan 27, 2018

I spoke to the manager before booking the service and he told me they had never had any theft or anything there before. I figured that with the modest size of the lot, it could be easily supervised and moreover, they had security cameras on-site. True to his word, when I got back from my vacation, my car was right where I left it. I will do business with them again.

Stephanie O.

Jan 26, 2018

I had an experience at Quality Inn parking lot because I messed up and did not put the right check-in date when I was booking the service online. I know it is my fault, but the next day I got a delayed flight and when I went to the lot, there was no parking space for me. That really upset me, but I realize that the lot is not to be blamed. I would try again but do it the right way next time.

Cordel D.

Jan 25, 2018

I almost drooled when I saw $5.99 per day for parking at the Quality Inn and on top of all that cheap parking lot price was the fact that the lot was huge. It had enough parking for at leasst 200 cars. I didn't have to search for parking cause a space was always there for me!

Lucy L.

Jan 24, 2018

I can't forget about Emily. She helped me cancel my reservation just half an hour before I was to show up. I was scared that I would have to pay a fee and not get my refund, but that wasn't the case. Emily helped me work all the shit out in record time. I would definiely use Quality Inn parking lot again and again! Thanks, Emily! ??????

Tiara P.

Jan 23, 2018

The lot was so darn close to the BUF Airport, it took me only 10 minutes to check in, park my car in a nice spot and wait for the shuttle bus to come and drop me off at my terminal. That is like the speed of lightning for everything that I had to do up to that point. So, I think the convenience got me sold! ???

Safiya W.

Jan 22, 2018

I am a stickler for good service and that is why I went with Quality Inn parking lot. I did some prowling online and saw nothing, but good things about this lot. I decided to go look at the website, made a phone call to the office and was pleased with how they answered all of my questions. You can bet I used them for my first travel out of town and they lived up to the reputation! ????

Sherry P.

Jan 21, 2018

Oh man! I was up against the clock and couldn't find a parking lot that met my budget when a buddy of mine suggested I go online and do a research. Damn! Quality Inn parking lot popped up in my search and the first thing I saw when I clicked on the link was $5.99 per day for parking. You know I booked that baby right away, don't ya?

Hector G.

Jan 20, 2018

I was gonna board a very long flight that day and didn't want to have to wait for a shuttle bus. I only had one piece of luggage so I was gonna trek my way over there if the shuttle bus did not arrive soon after I checked in. But, once I checked into the parking lot, the shuttle bus was there as if he was waiting on just me! Great service!

Taren R.

Jan 19, 2018

I wondered what was with all the hoopla about this Quality Inn parking lot until I tried them for myself. I had the best experience, especially with Jennifer who checked me in and made the process so seamless. She even contacted the shuttle bus driver to see his location and told him to hurry on over. He did and I wasn't late for my flight! You will get the same service too when you use their parking lot facility.

Yanique L.

Jan 17, 2018

I am not the best at keeping my excitement to myself, but holy shit! $5.99 a day for damn parking! Who does that? Is this some kind a trick, I thought! Damn! I was elated as you can tell. Quality Inn parking lot soon became my new best friend and they delivered the goods in my eyes! ??

Ursula T.

Jan 16, 2018

I musta not have done the reservation thing right, I guess because I had a little glitch when I went to the check-in gate and the agent asked me for my receipt. I was shocked that they wouldn't let me in because of that. So the girl at the gate called the supervisor and I was able to log onto my cell phone and pull up a the receipt from my email. But, why didn't she ask me that in the first place? Oh well! After that, everything was smooth sailing and it was my fault anyway! So I would recommend Quality Inn parking lot, but make sure you have your printed receipt! ??

Alfred A.

Jan 16, 2018

Fast service, friendly peaceful

Aston T.

Jan 15, 2018

I shop for the best prices online, whether it is airline, parking, clothes or whatever. So when I saw $5.99 a day for parking y'all, my adrenalin kicked in and I clicked on the "Book Now" link right away and got parking at the Quality Inn Parking Lot so I could board my flight to LA. ??

Tanielle C.

Jan 15, 2018

Location, location, location! That is very important to me and Quality Inn is located just a few yards away from the BUF Airport where I usually fly out of. This was the right location for me because I like the convenience of parking my car and getting to the airport in minutes!

Dan R.

Jan 15, 2018

When I noticed that you coud see the airport across the street from the Quality Inn parking lot, I knew then that it was a match made in heaven for me. I don't know about anyone else, but this was a perfect match and I grabbed the chance to park there and I was never sorry about it! ????

Patrick L.

Jan 14, 2018

I stumbled across the Quality Inn parking lot website while searching online and I was happy to see the cheap rate at $5.99 per day. It was a steal and so I went right ahead and booked my parking in advance. I wasn't gonna let this one get away from me. And not only is the price low, but ther service was also amazing. I will bookmark this websie for my next trip!

Sanjay Y.

Jan 13, 2018

No matter where I am going, Imma choose Quality Inn cause of the price and the service. I am on a fixed income so every cent counts. I was so happy when I found out that I could pay $5.99 a day for parking. I visited my sister three months ago and so that was only a little less than $18 for parking. Boy, was I elated!

Taneka J.

Jan 12, 2018

There are many parking lots in the city of Buffalo, but the Quality Inn leads the charge! The service from the staff is really at a high level. For example, I flew to China in the summer for ten days and had to find parking. I wanted to pay the lowest fee and still get the best service. Quality Inn did that for me at $5.99 per day!

Joe R.

Jan 11, 2018

I happened to be running late for my flight to California and I was recommended that I go in the cashless line so I didn't have to wait. And that's what I did! It was a breeze. I was in that shuttle bus in four minutes and on my flight in fifteen minutes after checking in for my flight. Easy and smooth I tell you! ????

Janice I.

Jan 10, 2018

My sister and I wanted to go to Niagara Falls, but we didn't want to drive our car since it had so many miles on it. So we parked our car at the Quality Inn parking lot and took the short flight to Niagara Falls. It is the bes thing we could have done. Our car was in perfect condition when we returned and the convenience was truly what made the difference for us! ???

Victoria K.

Jan 10, 2018

The Quality Inn parking lot is easily located and is very close to the BUF Airport as well. I had no difficult time finding this parking lot It is in a central location that you can easily reach. That is what I like about it. I don't like driving around town looking for a parking lot. I actually stumbled upon this one and since then, I have used it during all of my travels.

Randy H.

Jan 09, 2018

Jackie was the check in attendant at the gate when we arrived. She was professional and caring and I loved that. She went out of her way to call for the shuttle bus even though she did not have to do that. We could have waited, but our flight was going to be soon and so we thank Jackie for putting out that effort for us! You will get treated the same way!

Orett E.

Jan 08, 2018

The kids wanted to do something before we left for San Francisco. So we went to the Sky Zone Trampoline Park where they had the time of their lives. We headed for the Quality Inn parking lot, which was just one mile away and checked in with the attendant who called the shuttle bus service so we could get to our terminal gate on time. It was a smooth process for us and the kids had a lot of fun the last minute.

Gyekye A.

Jan 08, 2018

My car was safe and easy for me to park. Your staff are very pleasant.

Natalie M.

Jan 08, 2018

The $5.99 a day cost was one of the best reasons or me to choose Quality Inn for parking my car when I went on that three day trip to my Mom's in Arizona. I didn't have anyone to take me to the airport, so I had to park my ride so I could get home when I got back. The folks at the parking lot watched my vehicle and kept it safe until I returned. That was a lot to ask, but they did it!

Larry F.

Jan 06, 2018

Before I left to go to Thailand, my boyfriend Richie and I wanted to hang out at a secluded spot, but we didn't want to be too far from the aiport nor the Quality Inn parking lot where I would park my car. Thank God, Glen Falls was just 2.5 miles away and so that is what we chose. We did make it on time to the parking lot where they checked us in quickly and we were on our way to Thailand for two weeks. We got back and our car was just as we left it. I would park there again.

Elia G.

Jan 06, 2018

Booking online made it easy to reserve a parking space at the Quality Inn. I found I so convenient cause you are only asked your check in date and time and your check out date and time. I guess this helped them to figure out when to expect you when you are leaving and coming back. That works great for me!

Andrea G.

Jan 06, 2018

Had to go to Walden Galleria Mall to pick up some things for my trip to Peru. I was going to be gone for a whole week and did not want to ask anyone to drop me off and pick me up from the airport. So I parked at Quality Inn, which was only 2 miles away. Lucky for me, they do short term and long term parking. One week totaled less than $50 for parking, which was amazingly cheap, if you ask me. ????

Mick I.

Jan 04, 2018

There are more than one things I loved about Quality Inn parking lot. The location was good cause it was 0.64 miles from airport access. The price is only $5.99 a day, which is the cheapest around town. The service is more than average like what I used to get at other parking lots. I am amazed at the difference. ????

Joseph P.

Jan 04, 2018

I had never heard about a paid parking lot on a hotel property before, but it worked for me. The Quality Inn parking lot was convenient, had hundreds of parking space and only a little over half a mile to the airport. Plus, there is always a shuttle bus available at all times.

Matilda J.

Jan 04, 2018

I think you get the best value here at Quality Inn than you do at any other parking lot around town. Shucks! $5.99 a day is the cheapest rate you could ever find. I bet the people in other states would love to find a good deal like this one. I am glad I did! I am in love! ??

Harry Q.

Jan 03, 2018

This is a really cool place. They also offer shuttle bus service and the driver is always helpful with loading and unloading our lugguage so we could get to the airport and parking lot on time without much delay. Honestly, I wouldn't park anywhere else.

Patrice K.

Jan 03, 2018

There is the Quality Inn hotel on the lot and so that really impressed me because I knew there would always be someone around to see what was going on, especially when I left my vehicle there for a few days. Yes, there were security guards and cameras, but the more the merrier!

Russell P.

Jan 02, 2018

One thing I hate is when people bring their problems to work and cap an attitude for no reason. Many parking lots are like that. But, these people at Quality Inn never did that. They acted like they loved their jobs and wanted to be there. Everyone was amazing and offered great service.

Coby F.

Jan 01, 2018

I had to change my reservation almost at the last minute and was worried that I would have to pay a fee of some kind, but no! Quality Inn parking lot made the change without asking me for a dime. I would not give up this parking lot for any other. Trust me on this one! You would enjoy the same service too! ???

Muhammad A.

Jan 01, 2018

It was good experience especially pick and drop service. I will consider it again.

Trisha L.

Jan 01, 2018

My concern at first was finding a parking lot that was safe and secure. I didn't want to leave my ride behind me and have to worry. Quality Inn at BUF fit the bill. They had surveillance cameras and lots of security guards that supervised the parking lot on an ongoing basis. I felt secure about leaving my car there.

Millicent N.

Dec 31, 2017

What I liked about Quality Inn was the 24 hour access that it had. I could drive on and off the parking lot anytime of the day or night, always having access to my car and that was what I was afraid of initially until I found this parking lot. I would recommend Quality Inn o anyone.

Mandy C.

Dec 30, 2017

I needed to park for a month and not many parking lots offer the most affordable price to allow me to do this until I found Quality Inn at BUF Airport. Shit, it was just $5.99 a day and multiply that by 30, I only paid under $180. You cannot get that kind of cheap reate anywhere else. ????

Ali K.

Dec 29, 2017

My Instapark pass was quickly validated by the attendant, Shirley who processed and got me through the gate, allowing me to park my car and head over to the BUF Airport to get on the red eye flight to California. I tell you, it couldn't have been easier.

Donald Q.

Dec 27, 2017

Quality Inn parking lot has 200 parking spaces, which made it a lot easier for me to find parking when I went to the lot on my way to catch my flight. I hate to drive around all day long looking for a god-damn parking space. Nothing irks me more and the fact that this is so huge makes me feel comfortable about parking there.

Matilda U.

Dec 27, 2017

I scheduled my check-in time for 3PM, but got there at 4:30PM and my flight was leaving at 5:30PM. Pauline was amazing. She checked me through fast, got a valet parker to take my vehicle and called for the shuttle bus, which was just 4 minutes away. The shuttle bus driver loaded my luggage and got me to the terminal in two minutes. To shorten my story, I got my flight on time all because of Quality Inn. ??

Charles C.

Dec 26, 2017

$5.99 a day for parking is the best I have seen so far. It is the cheapes and most affordable daily parking lot rate and I don't think any other parking lot can top this! The price alone is enough for me and so that is why I chose the Quality Inn at BUF Airport parking lot cause the price is off the chain! You guessed it! ????

Shushana N.

Dec 25, 2017

Parking at Quality Inn for short term was great,but I was not sure about parking there long term. But, it was the same! I had planned a long vacation in Hawaii and wanted to leave my ride somewhere that I was comfortable with. The people at the Quality Inn made sure my car was safe for the entire trip. I am pleased!

Derrick T.

Dec 24, 2017

Holy Shit! $5.99 per day for parking! Where on earth would you find all of that? You tell me! I never heard of anything like that before and to top it off, the darn parkign lot at Quality Inn is right across the street from the Buffalo Airport. Damn! I am hooked! ????

Richard G.

Aug 21, 2017

good value for the money. service very good.

Mario C.

Mar 18, 2017

It was so cool, I got help with my bags before I got into the shuttle bus so that was awesome too. The staff here actually seem like they want to be there and I didn't get any of the attitude I usually do when I go to other places.

Findlay L.

Mar 11, 2017

The hotel the lot faces is pretty secure so it would be rare for anyone to be in the lot that wasn't already supposed to be there to begin with. I felt really good about it after asking a few questions before I dropped my car off and left it here. It was important for me to know what was going on and how it was all going to work and they did that!

Zion E.

Mar 07, 2017

This is definitely the best price in the area too, as other airport parking lots near BUF that I saw were more than double the price of this one, and the ones I saw didn't even have security either! I was in shock! This was a great choice.

Kaylen N.

Feb 28, 2017

This was the best combination of location, price and of course how safe I thought it was.

Karina I.

Feb 26, 2017

It was awesome, the shuttle bus came to take me to the airport and it only took a few minutes. I was over there in under 10 minutes and had tons of time to spare, check in, find my gate and even grab a bite.

Nylah S.

Feb 17, 2017

Really happy they offered monthly parking. That's something I would have never thought would be offered somewhere that close to the airport. I would have thought a place like this would want to keep these spots over for shorter term parking so they can get more clients and revenue since monthly rates a bit discounted vs. the regular daily rates that they offer.

Eddie F.

Feb 12, 2017

Really clean and I was really happy with the service overall!

Israel J.

Feb 03, 2017

Super glad I chose this lot!

Gabby Y.

Jan 26, 2017

The staff helped me out along the way like with my bags and stuff, or else it would have probably been a little bit longer!

Larissa J.

Jan 16, 2017

Absolutely no complaints here. This is definitely a location I would park at again in the future whenever I need to use the Buffalo airport to go anywhere.

Jaliyah B.

Jan 07, 2017

5 stars! excellent spot to park your car!

Meave A.

Dec 29, 2016

This was such a clean lot, I expected it to be a bit more rough than this but everything was in great shape. They keep it really well-maintained for sure.

Raul E.

Dec 28, 2016

One of the best prices for a parking service that I've come across in a long while. Really happy that I saw this when I did.

Pierce H.

Dec 20, 2016

The shuttle bus service was very efficient and it made me so grateful that the lot was so close to the airport. I got my luggage loaded and got over to the airport within 5 minutes which was pretty awesome. Not only was I really close by, but the staff was helpful and happy to let me know how it all worked. When I got back, even the process of picking up my car was pretty simple also. I got my receipt and my car was already ready to go before an attendant helped me get my stuff back into the trunk. I was able to pay for my stay and check out of the lot in mere minutes because the process was so seamless and convenient.

Carly C.

Dec 15, 2016

My hat is off to your astute command over this tovib-crapo!

Joel D.

Dec 10, 2016

When you're standing in the lot, you can literally see the airport from where you're standing. It's hard to believe that's how close you are, but it's super convenient to be right there. From my car to the entrance of BUF, I would say the whole thing took about 15 minutes.

Charlie W.

Dec 08, 2016

I was having a hard time choose which of these lots I should park at because I've had a bad experience in the past with one of these places so I had to mull over a few options that I came across. Safety was something I was not willing to compromise on so I knew I wanted to be close to the Buffalo airport but also that it needed security, cameras and all of those extra things before I could really make the final decision to park there. Glad that I did!

Daria I.

Dec 06, 2016

The whole process of checking in, parking, getting into the shuttle and all that was really seamless and easy!

Lance G.

Nov 28, 2016

FANTASTIC location, it was really perfect and quite convenient. Service was exceptional too.

Brooke Q.

Nov 23, 2016

The lot is a pretty decent size, not too big and not too small which was perfect. Some of the bigger lots have security issues because it's impossible to have your eyes in so many places at once, and some of the cameras in those lots don't even work. This lot was a good size because I knew the security on staff would have no problems managing it and that the cameras had a great view of the whole thing.

Elise F.

Nov 17, 2016

For $6 a day this was a good deal and I was so glad they had 24 hour access because my flight was at an odd hour. I knew this way ahead of time and checked to see if it would be an issue. Many of the other lots in the area close at a certain time so I would have had to come way earlier than I needed to in order to claim my spot and still make my flight so I'm glad I came across this option instead. I was able to bring my car here at 330 AM and make it over to the airport in the shuttle and make it in time for my flight at 6 AM. A lot of the other BUF parking lots don't even have a shuttle bus that runs after a certain time either!!

Jabari I.

Nov 07, 2016

This is definitely somewhere that I would park again in the future.

Jordyn C.

Nov 03, 2016

Everyone here was so nice! I got fantastic service!

Gabriel G.

Oct 29, 2016

I had little trouble finding this place at first because I didn't realize just how close it was to the airport, so when I saw that it was literally across the street from BUF I was all good after that. Everything was pretty normal and seamless to say the least. I pulled up and was shown where I should park my car in this decent sized lot. After that, the staff helped me get my bags out of the trunk, and they were actually pretty heavy. They helped me with loading them onto the shuttle bus after it came about 5 minutes after I was unloaded and assured me that my car would be in good hands. The driver was really nice and brought me right up to where I needed to be to get to my gate the fastest. I called once during my trip just to check on my car and make sure - I was a little worried! When I came back and everything was all good, I was so relieved by it all. When I came back to pick up my car, they had my receipt for the 10 days my car was there and my car was even waiting for my outside the lot itself so that I could hop in and make my way back home right away without having to wait.

Asia E.

Oct 21, 2016

Definitely one of the best prices I've come across for one of these lots! Plenty of the other places I've seen nearby are more than double or even triple the cost of this one, and aren't anywhere as close to the airport as this one is.

Elaina D.

Oct 19, 2016

For sure a great experience and I was so happy that the staff were there to answer all of the questions that I had. The manager even came out when I was unsure of how the payment process was all going to work out. I had tons of other questions too and he had no problems letting me know how it was all going to work.

Nikhil E.

Oct 16, 2016

The price was EXCELLENT. Lower than I expected!

Ashton L.

Oct 15, 2016

The lot is a pretty modest size so I was sure they'd be able to watch over the whole thing without any problems and I was right. Manager told me they've never had any issues with tampering or theft since they've been official BUF parking so that put my mind at ease immediately. I saw the cameras that were there and I knew right away that there was on-site security that would keep my car safe. I came back to it just the way I left it so they did a great job in my book! I'm definitely parking here again in the future. Especially being so close to the airport and near the highway, you would expect all kinds of issues but the staff here does a really good job of preventing all that.

Annie F.

Oct 15, 2016

I actually had a pretty bad experience here. I put the wrong date in the check in but sent over an email afterwards saying I would need to change it to the following day instead because my flight got delayed. Maybe I didn't send it to the right place or something but I pulled up the day after and the lot was FULL. Nowhere for me to park and I was really upset about that. I wouldn't come back.

Adrianna C.

Oct 12, 2016

The lot itself wasn't that big and it was attached to a hotel so I didn't have super high hopes but when I pulled up it was so well-maintained.

Esther T.

Oct 08, 2016

Been tell everyone who will listen to park here! 5 stars!

Priscilla T.

Oct 07, 2016

SUPER nice staff here! SO helpful!

Alessandro T.

Oct 04, 2016

Lot was super close to the airport which was awesome! I made it over there really fast! I was actually a little bit shocked by how close it all was because I was certain it would have been a bit farther out - especially considering what the price was.

Kadence M.

Oct 02, 2016

Because BUF was so close to the lot, the shuttle bus ride wasn't even 5 minutes long so I was super grateful for that. I was glad that I didn't have to add more journey time to my trip on top of the long flight I was getting on!

Krystal I.

Sep 26, 2016

I almost couldn't believe the price when I saw it so I knew I had to book it right away and I'm so glad that I did. To get a location like this for one $6 and be able to see the airport directly across the street was honestly really great and I'm glad that I came across it.

Harper I.

Sep 23, 2016

The lot was definitely one of the safest I've parked in and I've parked in tons of places in Buffalo. This was the one with the best service too! Great lot.
Best Price Guarantee!
Book Now
Free + Easy Cancellations