Park'n Go-Airport Parking
Park'n Go-Airport Parking 1515 East Fort Street, Omaha, Nebraska United States 68110

Compare rates
Nearby parking lots

Location

1515 East Fort Street, Omaha, Nebraska United States 68110

Area

.
Eppley Airfield, OMA parking

Phone
Parking lot information
Eppley Airfield is one of the busiest airports in the country and parking close to it can be difficult if you're on a budget. Of course, parking right on airport grounds is the most expensive option, so it's important for us here at Eppley Airfield Park N Go to provide the kind of long-term OMA parking service that is useful and accessible to everyone. Located a mere 0.1 miles from Eppley Airfield, we're the closest you can get to the airport without having to pay an arm and a leg to do so.
Thanks to our close proximity, we're only 2 minutes away from the terminal which means our free shuttle bus service will be able to get you to OMA in no time flat. Our attendants on site will even help you with getting your luggage onto the shuttle bus for you so that you have one less thing to worry about before the start of your travels.
If you return to find your car dead for whatever reason, we also provide a jumpstart service to provide a power boost for your vehicle so you don't have to figure that out on your own. It's important for us to ensure that our customers can go safely on their way when they're trying to leave our lot.
For travellers who park with us on a regular basis, we have a Frequent Traveller Program that offers access to discounts and deals to make the rates even more cost effective.
As one of the premier long-term OMA parking lots in the area, we're also one of the safest. We provide our customers with top-notch security service from well-trained staff, and have on-site surveillance cameras in order to keep everything in check. It's important for us to make sure that our customers can feel comfortable leaving their cars behind in our lot for days or weeks at a time.
For the best OMA parking in the area, reserve your spot today!
If you are looking for great parking deals, click here to Compare and Reserve parking at OMA Airport.
Shuttlefare.com is the #1 resource for finding and booking shared ride and private airport transfers around the World. You can pre-book / schedule a pickup at over 1000 airports and 10s of thousands of locations easily on your phone or desktop. Sort by vehicle preference, whether you have 100 people or it's just yourself, Shuttlefare can make travel so much easier and save you money by comparing top operators before your trip.
Nearby Attractions
Eppley Airfield (0.1 miles)

Services, features and add-ons
Security guard
Video surveillance
Offer day parking
Offer night parking
Shuttle bus service
24 hour access
Find nearby parking in Omaha »
Key Details
Location 1515 East Fort Street, Omaha, Nebraska United States 68110
Area .
Eppley Airfield, OMA parking
Customer Support 1-800-851-5863
Nearby attractions Eppley Airfield (OMA airport) parking - 0.73 mile
Parking Type
Spots Total 0
Max height none
Local time Sep 30, 2023 09:09 PM
Guarantee Your Spot Free + Easy Cancellations
How to park at this facility
ENTRY PROCEDURES
Please show your InstaPark Pass to the attendant for validation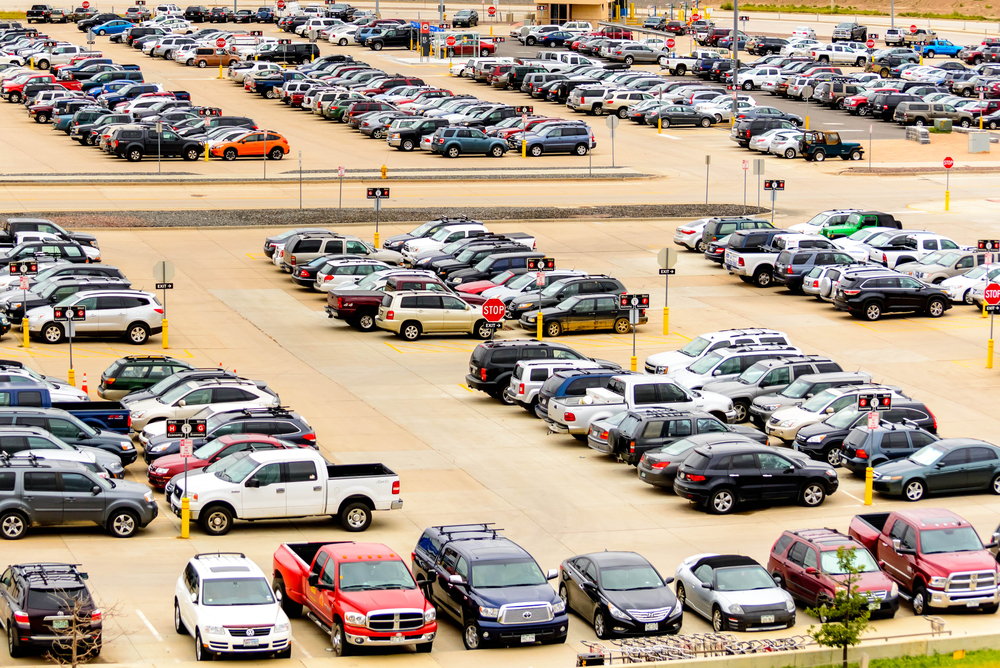 Parking location and directions
1515 East Fort Street, Omaha, Nebraska United States 68110
Directions
From Eppley Airfield
Start by heading northwest on Lockheed Ct toward Fort Ct
Make a left at the 1st cross street onto Fort Ct
Keep driving onto E Fort St
Your final destination will be on the right
From North Omaha
Start by heading north on N 51st Ave Cir toward Curtis Ave
Make a left onto Curtis Ave
Head left onto Sorensen Pkwy
Continue for 2.4 miles
Keep driving onto Arthur C Storz Expy (signs for Eppley Airfield)
Continue for 2.2 miles
Continue straight to stay on Arthur C Storz Expy
Stay in the right lane to merge onto Abbott Dr
Make a right onto E Fort St
Your final destination will be on the right
From HWY 29
Start by heading north on I-29 N
Continue for 1.9 miles
Use exit 61B for I-680 W toward N Omaha
Continue onto I-680 W
Continue for 3.2 miles
Use exit 13 toward 30th St/Eppley/Airfield
Head left onto N 31st St
Make a left onto McKinley St
Keep driving onto Dick Collins Rd
Make a right onto John J Pershing Dr
Continue for 2.9 mi
Keep driving onto Abbott Dr
Remain in the right lane to turn left to stay on Abbott Dr
Make a right at the 2nd cross street onto E Fort St
Your final destination will be on the right
Park'n Go-Airport Parking prices and rates
Daily rate
Day rate
$7.00 / day
Grace period: 0 hour
Customer Reviews
Customer Reviews (84)
Jackson S.

Mar 10, 2018

I was so relieved that I had parked my car at Park 'n Go instead of being leaving it at home and being driven by a taxi, after hearing of a car theft on my street while I was away. Had I left my car at home, I would have spent the rest of my trip stressed out. Knowing my car was in 24/7 monitored lot calmed my mind. I won't mind budgeting for Park 'n Go in the future.

Nolene J.

Mar 08, 2018

I've told all my friends and family about Park 'n Go and their amazing service. The staff is clearly well-trained as the process is pretty quick and has never been problematic. The lot is also well-managed, with lots of security.

Alyssa N.

Mar 08, 2018

Park 'N Go has competitive prices and added deals and discounts with their Frequent Parking Program. Because of these savings, I don't mind parking with them instead of at the airport, which is much more straining on the wallet, especially for long-term parking.

Gabriel L.

Mar 06, 2018

Park 'N Go is the most affordable parking lot service I've used. They further offer perks like close proximity to the airport, luggage assistance, and a jumpstart if necessary, which makes them unique from other lots.

Eddie U.

Mar 05, 2018

I was initially wary about using a parking lot service because I was worried the process would be long and tedious. It was actually the exact opposite with Park 'n Go. The check-in and check-out process is relatively quick and does not require much effort on the customer's behalf.

Danny L.

Mar 04, 2018

I cannot think of anything bad to say about Park n Go. The staff is kinda professional and go out of their way to ensure both the cars and customers are safe. Their free jumpstart service is proof of this.

Natasha L.

Mar 03, 2018

The employees of Park n Go are all super reliable, and I have always felt at ease leaving my car under their care. The first time I used their service, I left my watch. As soon as I realised what I had happened, the bus had already driven away with my watch. I called the centre and they immediately picked up and informed me that they would send the driver back with my watch in 10 minutes. And they sure did! :D

Erwin W.

Mar 03, 2018

I was happy with experience using Park N Go and I have no complaints at all. On my last trip, I took the car wash facility and it was great. Keep doing the good job guys!

Delia H.

Mar 02, 2018

At only $7.00 per day, I highly recommend parking at Park N Go instead of the airport. For a much cheaper price, you will get the same benefits of top-notch security, with perks like luggage assistance and a super quick shuttle service. I, myself, plan on using the company for all future trips and hope to join their frequent customer program.

Jerry K.

Mar 01, 2018

This Park N Go parking lot is minutes away from Eppley airfield, so it didn't feel like an inconvenience to have to make the stop before the airport. The drivers also helped with luggage and we were driven straight to entrance of the airport.

Ian J.

Feb 27, 2018

Parking at Eppley has become so costly that I had to find an alternative pronto. I'm so glad I found Park 'N Go. This lot is in fantastic condition and is heavily surveillance. The professional team here is trustworthy. They kept a watchful eye over my car.

Elaine W.

Feb 25, 2018

I have no complaints about Park N Go. The whole process was very smooth and my car was well taken care of.

Jaime E.

Feb 25, 2018

I have no words to express how comfortable and relaxed I was in the entire trip. Unlike calling neighbours to ask about the car on every alternate day. With Park n Go, I knew my car was in safe and reliable hands. Thanks a bunch Park n Go!

Dana P.

Feb 23, 2018

The staff at Park and Go is just as quick and on top of things at absurd hours of the morning, as they are during the day. At 2am, one of the drivers helped me jumpstart my vehicle for free and happily helped load my vehicle with all my heavy bags.

Josh P.

Feb 22, 2018

My flight was delayed and we only arrived at 3am, so I was worried that I'd have to wait some time for a shuttle. I called the centre and in less than 10 minutes one of their bright yellow shuttles was at the curb side. After hours of traveling, I didn't mind the leg stretch while waiting, but it was a relief to be back in my car on my way home so quickly.

Karen H.

Feb 21, 2018

The location is convenient and the security is top-notch. I will use them again (:

Ed C.

Feb 19, 2018

The buses are nice and clean and the drivers are all very pleasant and eager to assist with the packing and unpacking of luggage. The bright yellow of the buses make them easy to spot, even at dark.

Nina H.

Feb 18, 2018

I am yet to have a bad experience at Park N Go. They are the best parking lot service in the OMA area, with their professional staff and heavily monitored lot.

Carla M.

Feb 18, 2018

The drivers are all very friendly and helpful with luggage (even before they know they're getting a tip). The vans are always clean and fresh despite how many people they are constantly carrying around.

Angela N.

Feb 16, 2018

I have been a loyal customer to Park and Go for several years now. The lot is nicely fenced and monitored 24/7 by guards and video surveillance. The buses are also frequent and the staff is helpful and efficient at providing quick check-in and check-out. I just need to show them my Instapark pass now.

Meghan M.

Feb 16, 2018

It becomes difficult to park at Eppley over the years, so the Park N Go lot has become more packed, so much so that they had to expand to a second lot. This was a necessary move on their part, making their service a lot more efficient. No extra-long waiting's. Supercool service!

Zach T.

Feb 16, 2018

I have never left my car at a parking lot before, so the rates were new to me. At first I had thought Park n Go's flights to be a bit high for such a simple service, but after scouring the web for alternatives, I found it to have the most affordable price. I paid less than $30 for a 4-day park and was even given free water for my trip.

Emma S.

Feb 14, 2018

The parking lot is in good condition and the shuttle service is quick, with waiting times being no longer than 10 minutes, even after midnight.

David S.

Feb 12, 2018

I have never used a parking lot service before, since I have always had someone available to drive me. I was a bit frustrated that I had to budget for parking at first, but after seeing how tight the security is that Park n Go, I realised it was much safer to leave my car parked in their lot than unwatched at home.

Vivian M.

Feb 12, 2018

Hands down, Park N Go is the best parking facility I've ever come across. The staff is lovely and the lot itself is under heavy security. The close distance to the airport is also a huge bonus, and quite surprising considering how cheap Park n Go's rates are compared to other lots further away.

Nick D.

Feb 11, 2018

We were running so behind on schedule that I arrived at the parking lot in such a huff and puff. Despite by unpleasant attitude, the staff at Park n Go were understanding and courteous. They made sure a shuttle followed behind me to the parking spot so we could leave for the airport as soon as possible. The lot is around 1 mile from the airport, so the drive there was short and we made it just in time to make check-in.

Hannah C.

Feb 10, 2018

There are video cameras and well-trained staff wherever you look at the Park n Go Omaha facility. Because of this, it is no surprise how busy they get. This can be problematic for newbie drivers like me when trying to move around the lot and park without bumping into other parked cars. Having a valet option for a small extra fee would push them up to a 5 star from me.

Caroline H.

Feb 09, 2018

The 24/7 shuttle service makes Park n Go my go-to option. Not only does the company look out for the safety of vehicles under their care, but also that of their customers. I was picked up directly outside baggage claim and driven straight to my car at the lot. This meant no walking by myself in the dark, and easy transportation of all my luggage.

Ashleigh P.

Feb 08, 2018

The Park 'n Go lot parking lots are much secured. I've noticed that they have quite a few guards working for them so I trust that frequent rotation allows for more alert security. The area is also brightly lit and properly fenced.

Sam P.

Feb 06, 2018

The staff has always been pleasant and helpful, and able to calm me down even when I'm in a panic and running late on schedule. I am always given a newspaper to keep me occupied during the wait for the flight, and a bottle of cool water. It is always a pleasant surprise to find a company that does more than just the bare minimum.

Claire S.

Feb 04, 2018

I used Park 'N Go very often couple years back before their upgrades to the facility. Since then, their prices have increased, but regardless of this, they are still affordable and in fact offer the cheapest rates for a parking lot so near to the airport.

Vinny M.

Feb 04, 2018

I wasn't blown away by Park n Go. Yes, their rates are cheaper compared to parking at the airport itself. I found every other factor to be perfect. The whole process of checking and out is executed well by the staff, so there's no time lost unnecessarily.

Tina A.

Feb 03, 2018

I am more than pleased with the service provided by Park and Go. The staff is highly responsible. They do their best to put us customers at ease about leaving our cars for such a long time. I asked one of the attendants to point out to me the security features they had installed, and she did so without any fuss. Knowing my car was in a secured lot controlled by reliable staff, made my holiday away very relaxing.

Amanda O.

Feb 01, 2018

I was treated to great customer service at Park N Go, and they checked my battery and tire pressure to ensure my trip back would be safe.

Claudine C.

Jan 30, 2018

My experience with Park n Go was great. Haven't used it much though. But Park n Go has always lived up to my expectation. Good Job guys!

Phillip E.

Jan 29, 2018

The area has recently been resurfaced so parking is easy on the tires. The area is also brightly lit so it is very easy to leave the lot without bumping into other cars or getting lost. The lights probably help the manned security watch out for any suspicious activity, as well.

Kirstin D.

Jan 28, 2018

I am happy with my experience using Park N Go's parking lot for 18 days. For our departure we were given bottled waters and a newspaper. We were further assisted with our luggage and dropped directly outside the airport check-in. The service Park n Go provides is time-efficient with only smooth sailing.

Jennifer D.

Jan 28, 2018

So glad that I get to join the frequent parking program they have. Their service has always been the most affordable in the OMA area, but the program somehow offers me even more cost-effective service.

Daniel P.

Jan 27, 2018

I had no issue with Park N Go so far. As my work demands travelling. I use the outstanding service of Park N Go thrice a month. I recommend it to everyone every time.

Lilly I.

Jan 25, 2018

I just needed to show my parking pass to the attendant on my arrival, and within minutes I was safely parked and ready to head onto the shuttle towards the airport. The whole process was very easy to use and quick as well.

Phil C.

Jan 24, 2018

There was no time wasted once we arrived at the lot. We were immediately shown where to park and the shuttle followed close behind so that we didn't run behind on schedule. We were helped with our luggage, which opened up time for me to check the car thoroughly for any dropped documents or tickets.

Vanessa S.

Jan 23, 2018

We were picked up at our car and taken straight to the airport terminal before our departure. On our return, we were picked up directly outside the airport's baggage claim area after a short wait, and then driven straight to the trunk of our car. There was minimal walking with heavy luggage involved, thanks to Park n Go and their great employees.

Tyler T.

Jan 22, 2018

The drivers are professional and friendly, and the shuttles are climate controlled, which makes me wish the lot weren't so close to the airport so I could enjoy the cool breeze for a bit longer.

Mason O.

Jan 21, 2018

After parking your car in the reserved spot, we were promptly picked up by the bus and assisted with moving our luggage. We made it to the airport in a matter of minutes because of how close Park n Go is to the Eppley Airfield.

Seth M.

Jan 20, 2018

The whole process was very simple and quick. I reserved my spot online, was helped with my bags, and then driven to the airport in less than 5 minutes. Speedy service is always great.

Keaton S.

Jan 19, 2018

After my almost a month long trip, I came back to a dead battery, but Park N Go, luckily, provides a jumpstart, at no..extra charge.

Taylor I.

Jan 17, 2018

The entire area is well lit and has 24/7 manned security and video surveillance! There also seems to be a good rotation of guards so that those on duty are wide awake and alert. These security features bump Park n Go up to airport parking standard, but at a much lower price, which is unbelievable!

Alex A.

Jan 16, 2018

The security at Park N Go is amazing! The whole lot is brightly lit, so it's easy for any incidents to be caught clearly on the camera footage, as well as to drive through the lot at night-time.

Jeremy B.

Jan 15, 2018

I love that the shuttle brought us straight to our car and so we didn't have to do any extra walking or get lost trying to find the car ourselves, at night.

Cameron T.

Jan 14, 2018

The attendants that saw to us were very organized and gave us all the info we needed to have a stress-free trip. The shuttles were waiting for us at door 2, as we were told they would, and our car was in mint condition when we left the lot.

Cecilia D.

Jan 13, 2018

The shuttle was super quick at getting us to and from the OMA, even during busy holiday traffic towards the airport. The shuttles are also easily noticeable so there are no issues about hopping onto the wrong shuttle during night pick-ups. Excellent and speedy service!

Dylan H.

Jan 13, 2018

The lot is properly secure with some high tech looking video cameras watching the cars 24/7, and a boom gate at the entrance.

Harry P.

Jan 11, 2018

So happy with the service received at this lot. I travel often, so I plan on joining their frequent parking program. My friend is on it already, and they earn credit for every day they park. Excited to try it out myself! It's rare to find a company that provides such high quality service at such an affordable rate, with so many extra deals on top of it.

Cecil E.

Jan 09, 2018

Park n Go Omaha is in tip-top condition! The area is well paved with no potholes, and the camera surveillance seems to be at all corners of the lot.

Peter G.

Jan 07, 2018

On my return, I found that one of my tires seems low on air pressure. I asked the driver of the shuttle that had dropped me off, if there was a gas station nearby. He told me not to bother, and that Park N Go is prepared for such situations with an air pump available. Together with another driver, he filled that one tire and checked on the others too out of precaution. The wellbeing of the customer as well as their car is clearly priority here. Brilliant!

Zahraa M.

Jan 07, 2018

The staff at Park n Go all seem very enthusiastic and well-trained in offering timely and efficient service. Their organized attitude, even on a busy day when I was just one of many customers checking in, convinced me my car would be in safe and reliable hands.

Juliet O.

Jan 05, 2018

There are around 200 parking spaces on the lot and they're all suitably-sized for even vehicles on the bigger side. This makes parking and reversing a lot less stressful. It would be funny if I damaged my car after paying so much to have it kept safe (: The shuttle service was also very fast at picking us up, and the driver was super friendly and helpful with our luggage.

Joshua A.

Jan 03, 2018

This is a great place for parking, especially on longer trips. Their rates are competitive, and much lower than the usual charges for parking at a secure and well-managed facility.

Caleb T.

Jan 02, 2018

I've had a long history using Park N Go, with 0 bad experiences to date. I'm definitely considering joining their frequent parking program for the deals and discounts. Though I can't imagine prices cheaper than what they offer already.

Michelle P.

Jan 02, 2018

Parking on the Park n Go lot is a breeze. The spaces aren't too cramped and the parking spots are clearly marked.

Lorraine I.

Dec 30, 2017

I'll start off by saying that I prefer to park at the airport, or be dropped off and picked up by someone else rather than park at an off-site lot, purely for the sake of convenience. But, this isn't always an option. The next best thing is Park N Go. The staffs are always organized, and the shuttles are timely, so the process is almost as quick as with the alternatives. Parking at Park N Go is also much cheaper than at the airport.

Irene H.

Dec 30, 2017

The shuttle drivers are pleasant and great drivers. Eppley Airfield is super busy so I was impressed at how well the drivers handled themselves in peak traffic and still managed to get us to the terminal in less than 5 minutes.

Christopher J.

Dec 29, 2017

I was on a tight budget so I was very happy when I stumbled upon Park and Go and their affordable prices. At only $7 a day, I was able to pay upfront for 2 weeks of parking with money to spare.

Sarah C.

Dec 27, 2017

The Park and Go lot are properly secured with video surveillance, so I was not concerned about leaving my vehicle there for almost a month. I had no trouble at all using their service and they gave me a good deal.

Vicky T.

Dec 26, 2017

Having decent sized parking stalls is very important to me when looking for a parking lot service. The parking stalls at Park n Go were a nice size and perfect for my truck, so I didn't have to worry about any other customers scratching my car when opening their doors.

Lance F.

Dec 24, 2017

I get very panicky in parking lots, because I'm not the best at reversing. But a friendly staff member helped guide me out of the parking, making it a breeze. Its amazing staff and security features at such an affordable price, makes Park N Go worthy of 5 stars.

Kyra W.

Dec 23, 2017

I am always pleasantly surprised when I come across a company that does more than what is expected of them. Not only was I assisted with unpacking and packing my luggage, I was also given a quick tour of the facility to ease my mind about leaving my car there for 3 weeks. Their cameras all seem to be in top condition and placed on every nook and corner.

Tanya E.

Dec 22, 2017

I am yet to have an issue with the service provided by Park n Go. Not only did they keep a good eye on my vehicle, but they also helped me power boost my car's battery at no extra cost.

Ruth K.

Dec 21, 2017

Park n Go can get quite busy, but I'm yet to wait more than 10 minutes for a shuttle, even at the most absurd hours.

Maria B.

Dec 20, 2017

Park and Go has a safe and secure lot, with easy parking. I will definitely use them again. (:

Edgar E.

Dec 18, 2017

Parking at the Park N Go facility is a much cheaper alternative to parking on the airport grounds.

Mario R.

Dec 18, 2017

The staff at Park n Go are all so accommodating and pleasant. In a rush, I had misplaced my purse with my ticket and ID documents inside. In my panic, I received a call from Park n Go notifying me that my purse was left in the shuttle and that they would drop it off in 5 minutes, which they did. It's such a relief to know that the people watching my car are honest and reliable.

Cole S.

Dec 17, 2017

I'm not surprised that Park n Go is one of the premier parking facilities in the OMA area. They have surveillance cameras at every corner and their staffs seem very organised and well-trained. Their shuttle buses are also in mint condition.

Derek J.

Dec 17, 2017

Park N Go provides just as tight and efficient security as the airport, but for a significantly less cost. Worrying about the safety of my vehicle had always plagued my mind while traveling, but I feel at ease leaving my car at Park n Go.

Isabelle P.

Dec 16, 2017

Handing over our car to Park N Go is my last thing to do before boarding the flight. I've been doing it on a regular basis. Just waiting for my shuttle here, I am at peace. My car is in safe hands. Thank You!

Simone H.

Dec 16, 2017

The Eppley Airfield Park n Go is by far the best parking lot I've ever come across. Not only is it the closest to the airport, but it is also much cheaper than other lots in the OMA area, with just as tight security and good customer service.

Owen O.

Dec 14, 2017

I love that Park n Go has a free jumpstart service for dead car batteries. I find it strange that most long term parking lots don't provide such a service. It's great that Park n Go do more than what's expected of them, and fully care about the customer's safety and wellbeing.

Aubrey K.

Dec 12, 2017

I'm not so clued up on how cars actually work so I was slightly concerned about having a dead battery after leaving my car unused for so long. Luckily, Park n Go has a free jumpstart service, and the attendants had me on my way home in a matter of minutes.

Craig W.

Dec 10, 2017

I was forced to find an OMA parking alternative because of a tight budget so I was recommended Park n Go by a friend. Making a stop before the airport had always seemed a bit inconvenient for me, until I used Park n Go. Their lot is only a 2 minute drive from the airport and the attendants help with the packing and unpacking of luggage. No inconvenience at all! :D

Colin J.

Dec 09, 2017

It's almost unbelievable how affordable Park 'n Go is, compared to other parking lots. For my recent 10 day park, I paid only $70. Considering its close proximity to the airport, I expected Park 'n Go to charge as much as airport parking, but it's actually much less for just as good service.

Jess Q.

Dec 09, 2017

Using Eppley Airfield's Park 'n Go these last 2 years has made traveling less stressful for me. I no longer have to choose between paying exorbitant amounts to park on the airport grounds and worrying about my car unwatched at home. Because I'm a regular customer, I was offered their Frequent Traveller Program, which has made the price even lower for me.

Clive J.

Dec 07, 2017

I was impressed by the top-notch security offered by Park 'N Fly, as well as their frequent shuttle service.

Adam K.

Dec 06, 2017

Park and Fly seems to have a good rotation of security guards to ensure the best care is taken of our vehicles. I highly recommend their service.

Robert R.

Dec 05, 2017

Using the Park N Fly website is simple and easy, even for an old-timer like me. It made the whole process much quicker.
Best Price Guarantee!
Book Now
Free + Easy Cancellations