Park It JFK - JFK Long Term Parking
Park It JFK - JFK Long Term Parking 350 Beach 80 Street Arverne,, Far Rockaway, New York United States 11693
Nearby parking lots

Location

350 Beach 80 Street Arverne,, Far Rockaway, New York United States 11693

Area

Beach Channel Dr, Arverne, NY
Far Rockaway, NY - JFK

Phone

Shuttle
Parking lot information
With Parkitjfk Parking at JFK Airport just got easier!
when you park with Park It JFK you will see why customers say It's faster and cheaper! Reserve your spot at the lowest prices available! Your parking spot will be waiting for you. Plus, if your plans change, cancellation is always free and you can cancel at any time. It's that easy!
SECURE PARKING LOT
Park It JFK parking facility offers a secure parking.
SHUTTLE SERVICE
Park It JFK provide shuttle services to and from John F. Kennedy International airport.
AFFORDABLE PRICES
Park It JFK ONLY $7.99 PER DAY!
24 HOUR SERVICE
Park It JFK professional staff will help you every step of the way when you use their services.
If you are looking for great parking deals, click here to Compare and Reserve parking at JFK Airport.
Shuttlefare.com is the #1 resource for finding and booking shared rides and private airport transfers around the World. You can pre-book / schedule a pickup at over 1000 airports and 10s of thousands of locations easily on your phone or desktop. Sort by vehicle preference, whether you have 100 people or it's just yourself, Shuttlefare can make travel so much easier and save you money by comparing top operators before your trip.
Our cancellation policy: we require at least 24-hour notification prior to your scheduled parking arrival (date/time) in order to provide a full refund, this is because 24hrs we commit to the lot operator to pay for this spot and reserve it for you. If you need to cancel your reservation please notify us as soon as you can so that we can notify the lot operator and release your spot, and issue a refund.
Find nearby parking in Far Rockaway
Key Details
Guarantee Your Spot Free + Easy Cancellations
How to park at this facility
ENTRY PROCEDURES
Upon arrival present your InstaPark reservation printed or on your phone to the lot attendant.
EXIT PROCEDURES
Upon returning from your trip.

Call the Park It JFK shuttle dispatch at 1-718-945-7275 to request a shuttle pickup.

The shuttle will meet you at the courtesy shuttle area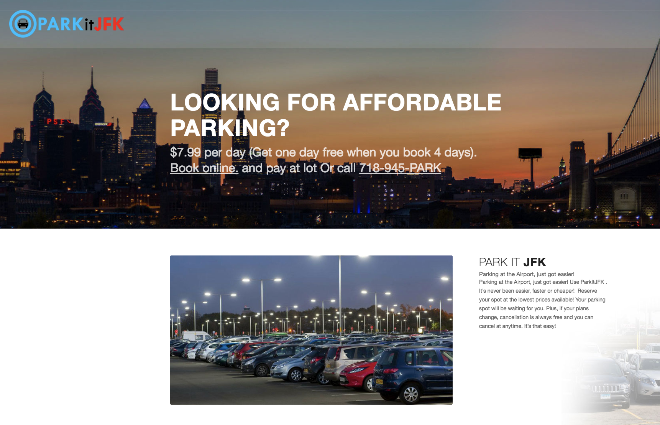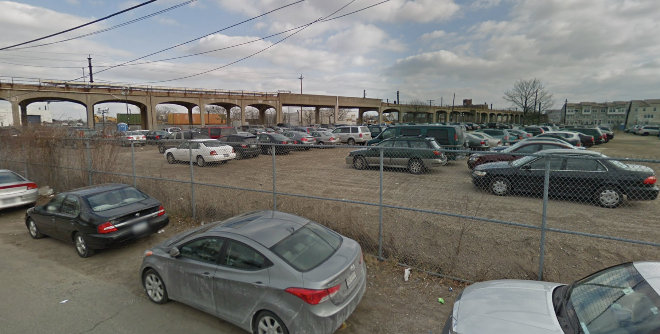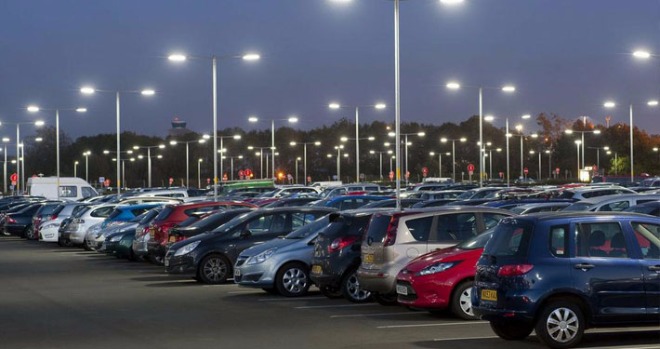 Parking location and directions
350 Beach 80 Street Arverne,, Far Rockaway, New York United States 11693
Park It JFK - JFK Long Term Parking prices and rates
Daily rate
Day rate
$7.99 / day
Grace period: 2 hours
Other charges
Sales Tax
+10.38%
Customer Reviews
Customer Reviews (42)
Mario J.

Jan 19, 2018

If you're looking for the very best long-term parking service available, it's important to pick the right lot and that can seem like a challenge with so many out there. We use Park It JFK all the time and we love it. For $7.99/day, you will be more than pleased with what you get!

John J.

Jan 19, 2018

When you have kids that you travel with for frequent visits to see the grandparents, you need to have things move quickly. We don't really have time to wait for shuttles when we've got 3 little ones who don't have a lot of patience. Park It JFK offers everything we need.

Colleen K.

Jan 17, 2018

The free shuttle service is the icing on the cake to the great service you receive when you park at Park It JFK. It's super easy to use this service. Park It JFK offers a secure lot and when you're only paying $7.99/day, you really can't go wrong. I recommend it to anyone!

Rosanne K.

Jan 17, 2018

I've been using Park It JFK since the first time I tried it and I couldn't be happier with the service. It's really taken a lot of the stress out of traveling for me and I appreciate knowing that I'll be able to get to my gate with plenty of extra time to prepare for my flights.

Mike L.

Jan 17, 2018

I could never be talked into long-term parking by my wife, but I went on a trip with some friend recently. He drove and used the long-term parking lot Park It JFK. I was really impressed with the service and how secure the lot is. I was especially impressed with the price!

Richard C.

Jan 16, 2018

When it comes to long-term parking, I've used a lot of different places over the years, but no place has really stood out like Park It JFK. When you can enjoy complimentary shuttle service that gets you to and from the airport in minutes for only $7.99/day, you've found a deal!

Jean P.

Jan 15, 2018

My husband and I love to travel and we really appreciate the convenience of being able to park at a secure lot that's so close to JFK when we travel. The price was something that we were really concerned about, but this the cheapest lot and the service is excellent!

Laura G.

Jan 15, 2018

after a lot of bad experiences i finally found the best place for me to long-term park. park it jfk has got great service in a secure lot. i love that it only costs me $7.99/day and that this great rate doesn't come at the expense of the service. it's a winner.

Madelyn R.

Jan 14, 2018

I didn't care for the size of this lot. I felt like a needle in a haystack. The rate was good but I prefer things to be a easier to navigate when I'm parking my vehicle. I didn't feel like I had the best experience but this lot was recommended to me.

Chris E.

Jan 12, 2018

I get really stressed out when I travel. My anxiety is high and I don't like any unnecessary surprises. I get to the lot nice and early and Park It JFK gets me to the airport in minutes on the complimentary shuttle. That's how I need my long-term parking experience to be.

Graham S.

Jan 12, 2018

my partner and i always fly out of jfk for our trips and we like to arrive with plenty of time to spare and get parked so we can get to the gate quickly and get situated. park it jfk is our go-to since the first time we used it. the lot is safe and secure and the value is great.

Lewis M.

Jan 12, 2018

it can be hard to find good long-term parking because there's so much of it that the service seems to get lost in the shuffle somewhere. park it jfk is the exception here, though. the experiences are always positive and the service always passes expectations.

Devon T.

Jan 10, 2018

If you've never tried parking here, then my suggestion would be to just give it a try. You are sure to come back again once you experience the friendly service and the efficiency that Park It JFK offers - just a few minutes from JFK. You'll be glad you tried it.

Tammy E.

Jan 09, 2018

I usually grab a bite at AeroNuova before I board my flights so I like to arrive a bit early at the airport so I don't have to rush the experience. Using this service keeps me on track, so that I can make it with plenty of time to spare. For $7.99/day, you can't go wrong.

Jeffrey D.

Jan 08, 2018

When you go the extra mile, you earn loyal clients and Park It JFK has definitely got a loyal client in me. I can't thank them enough for their kindness in dealing with me after my cousin passed away. It was a hard time and their kindness made a big difference for me.

Isaac L.

Jan 07, 2018

When my wife and I went to leave on our honeymoon, our taxi service was so late! We ended up driving ourselves to the airport and using Park It JFK. We were upset until we realized how great the service was, and we also saved money parking here!

Samantha I.

Jan 06, 2018

I had a last minute scheduling conflict that caused me to have to cancel all of the reservations for my last trip. That is always costly. When I cancelled at Park It JFK though, I had no issues at all, and I wasn't penalized. That took a load off.

Daryl W.

Jan 05, 2018

I go on a lot of snowboarding trips in the winter and I need to have a place where I can park my vehicle at a good rate. Since the first time I used Park It JFK, I've continued using it. The service is definitely top notch and it's just a few short minutes on the shuttle to JFK.

Adam W.

Jan 04, 2018

I look for safety and security when I park. I also look for the best possible deal that I can find. Park It JFK offers the best deals you'll find on long-term parking at JFK, and the lot is a secure one. This lot ticks all of my boxes and always exceeds my expectations.

Nikki J.

Jan 02, 2018

The amount of time I spend waiting for shuttle service will always determine whether or not I use the service at all. For $7.99/day though, I can park with confidence, knowing that I'm going to get to and from JFK in minutes with minimal waiting time.

Valerie C.

Jan 02, 2018

When I get to JFK, I want time to get settled and I do not like to rush. Where I choose to park is very important to me, because I expect efficient service. I need to get to my gate quickly, and I don't want to be delayed when I get home either. Park It JFK delivers.

George C.

Jan 01, 2018

The friendly staff here set the town when you arrive, and from there's it's all about speed and efficiency. You can tell that's the standard at Park It JFK. This is the place that you need to book the next time you need long-term parking at JFK. The value is amazing.

Keith L.

Jan 01, 2018

I wish I didn't have to run really late at one point in order to find out how great this service is, but that was the case with me. I was late and I needed to make a quick decision. Luckily it turned out to be a great decision as well. For $7.99/day you get your money's worth.

Laurie E.

Dec 31, 2017

When we travel we're all about the conveniences, so we want to park where we're going to get the quickest and most efficient service. We don't want to wait before or after our flight, anymore than we have to. Park It JFK is our go to. They keep things moving.

Miranda N.

Dec 30, 2017

The process to park here is as simple as it can possibly be. Simply show your receipt to the attendant, and park. When you return, grab your bags and call the shuttle line. It will pick you up at the courtesy shuttle area. It's as simple as that!

Dave I.

Dec 30, 2017

For the amount of convenience I enjoy using this service, I would happily pay more to park at this secure lot. At $7.99/day though, it's definitely the best deal around. This is the place you need to be booking your vehicle for long-term parking. Hands down.

Andrew S.

Dec 29, 2017

We try to get away twice a year and when we do, we want to save as much time as possible wherever we can, to enjoy each other for as long as we possibly can. We don't want the hassle of waiting and wasting time. Park It JFK always comes through with the service.

Lisa F.

Dec 28, 2017

when i take my son with me to visit my parents, i need convenience and i need things to move quickly so that he doesn't get bored or fussy. i can rely on this when i use Park It JFK. the service is quick and efficient and you definitely can't beat the value!

Marlene J.

Dec 27, 2017

I've just started a small business that I need to travel for, so keeping costs as low as possible is really important to me. This is the best deal with the best convenience and service I've found within just a few minutes from JFK. Definitely worth booking!

Lee Y.

Dec 26, 2017

we've always liked taking a taxi to JFK, but now that we know we can park and take the shuttle in just minutes, while saving money, we always go this route. if you're like us and aren't sure about long-term parking, then you need to give Park It JFK a try.

Craig J.

Dec 26, 2017

I'm all about saving a buck where I can when I travel, so Park It JFK just makes sense to me. The service is excellent and the price is right. I love being able to park just minutes away from JFK, enjoy the shuttle service, and pay just $7.99/day. It's a steal!

Jaime B.

Dec 25, 2017

One of the reasons I keep parking at Park It JFK, is because of their cancellation policy. I had a last minute emergency the last time I booked here, and I didn't have to pay to cancel. It was one less thing to worry about with all of the other arrangements I had to change.

Joanne A.

Dec 25, 2017

I'm traveling to visit my daughter a lot since she moved out of state for school. I really hate the stress of traveling and I like to drive myself. Since I found this service, I don't have to worry about stress anymore, and it's easy on the wallet as well at $7.99/day!

Cindy E.

Dec 23, 2017

I got lost and accidentally ended up at this lot once. I didn't want to keep driving around, so I decided I'd just try it out and see how it went. Turned out to be a fortunate mistake! This definitely turned a stressful day into a really good one, and saved me some money, too!

Jason H.

Dec 23, 2017

I'm really skeptical of these lots since my vehicle was stolen. When I park at Park It JFK though, I know that my vehicle is parked in a secure place, where there are always staff around. I feel like I can leave for my trips with peace of mind and enjoy my time away.

Rob D.

Dec 21, 2017

Since the first time I used this service, I've stuck with it. I had tried plenty, but Park It JFK has offered me the best service around from day one. The service and convenience you get for $7.99/day is impressive! I thought it would cost more, but now I save money.

Carrie W.

Dec 20, 2017

I make all of my boss's travel arrangements, so I need to find the best deals that are going to get him the best convenience. I always book his long-term parking at this lot. It's got the best prices and the best service, just minutes away from the airport with shuttle service.

Amy I.

Dec 18, 2017

Booking at this lot has become a part of my regular travel plans. When something is this convenient, it's definitely worth including in the big picture. The lot is secure, so I always feel safe using it, and it's just minutes away from JFK. You're at your gate in no time.

Roger K.

Dec 17, 2017

The staff here are so friendly from the moment you arrive, until you depart from the lot. The efficiency is what keeps me coming back to this lot, and I will continue to use it. For $7.99/day, it's a steal! I would highly recommend this lot to anyone for long-term parking.

Dan Q.

Dec 16, 2017

When my wife and I travel, we like to make sure that we can take it easy, get to the airport with time to spare, and have some dinner at the airport, with a glass of wine. When we park at Park It JFK, we know we'll get there in the amount of time that we want to, and we won't have to worry about rushing.

Jeremy F.

Dec 15, 2017

I love to head out on last minute solo trips and before I do, I also like to grab a bite on my way to the airport, in my own time. Hard to do when you're cabbing it. For $7.99/day though, I can park and take a free shuttle to the airport in just a few minutes. Score!

Don I.

Dec 14, 2017

When I first started using Park It JFK, I had never used a service like this before, and I didn't really know what to expect. I expected to pay a ton of money for it, and thankfully that wasn't the case. There was a ton of parking and I only paid $7.99/day to park less than four miles from JFK.
Best Price Guarantee!
Book Now
Free + Easy Cancellations