Park 24/7 FLL Airport Parking
Park 24/7 FLL Airport Parking 2800 South Federal Highway, Fort Lauderdale, Florida United States 33316

Compare rates
Nearby parking lots

Location

2800 South Federal Highway, Fort Lauderdale, Florida United States 33316

Area

US1
FLL Airport - Fort Lauderdale - Hollywood

Phone

Shuttle
Parking lot information
PARKING LOT INFORMATION:
Park 24/7 airport parking is ideally located close to the Fort Lauderdale/Hollywood International Airport (FLL).

Located just 0.4 miles from Fort Lauderdale/Hollywood International Airport, Park 24/7 has everything you are looking for in an excellent long-term, and short-term, parking solution for your airport needs.

Our friendly staff at Park 24/7 will do everything in their power to help make both the beginning and end of your trip as easy and hassle free as possible when you are headed to the airport for that long-awaited time away.
More FLL parking lots you can find.
If you are looking for great parking deals, click here to Compare and Reserve parking at FLL Airport.
Shuttlefare.com is the #1 resource for finding and booking shared rides and private airport transfers around the World. You can pre-book / schedule a pickup at over 1000 airports and 10s of thousands of locations easily on your phone or desktop. Sort by vehicle preference, whether you have 100 people or it's just yourself, Shuttlefare can make travel so much easier and save you money by comparing top operators before your trip.
SHUTTLE INFORMATION:
Our friendly shuttle drivers will assist you with your luggage upon arrival.
Shuttle is complementary for up to 4 people per arriving vehicle. Additional charges per person after the 4 complementary. Each person can bring 2 bags +1 carry on. $5 charge each additional bag. We apologize for the inconvenience.
Our air-conditioned shuttles run every 15-20 minutes to the cruise port and on demand to the FLL airport terminals safely and efficiently.
Nearby Attractions:
Fort Lauderdale/Hollywood International Airport (0.4 miles south of lot)

Services, features and add-ons:
Video Surveillance
Day and Night Parking Available
Complimentary Shuttle Bus Service
24-Hour Access
Easy Online Booking

DIRECTIONS
Park 24/7 is conveniently located between I-595 and State Road 84 on US1/Federal Highway (0.4 miles north of airport)

From North:
Take I-95 South to Exit 25/State Road 84/Marina Mile Blvd (Heading East)
Make a RIGHT onto US1/Federal Highway (Heading South)
Turn LEFT at light at SE 28th Street
You have arrived!
Please see attendant to assist you with Check-In

From South:
Take I-95 North to I -595 East
Take Exit to US1/Federal Highway North
Head North on US1/Federal Highway to SE 28th Street
Turn Right
You have arrived!
Please see attendant to assist you with Check-In
Find nearby parking in Fort Lauderdale
Key Details
Guarantee Your Spot Free + Easy Cancellations
How to park at this facility
ENTRY PROCEDURES
Plan to arrive at the PARK 24/7 lot at least 30 minutes before you wish to arrive at the airport terminal.

Please see attendant to assist you with Check-In

Note: this Lot does not accommodate oversized vehicles
EXIT PROCEDURES
Simply call us at 1.954.203.2576 after you retrieve your luggage and one of our attentive drivers will come pick you up in one of our air-conditioned shuttles at designated pickup location.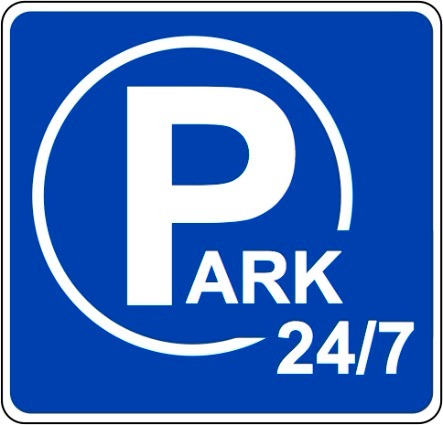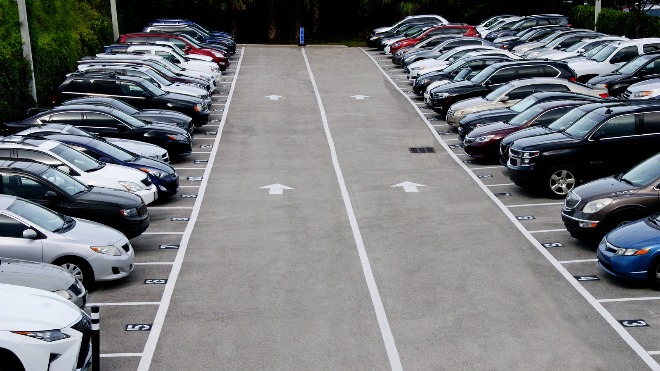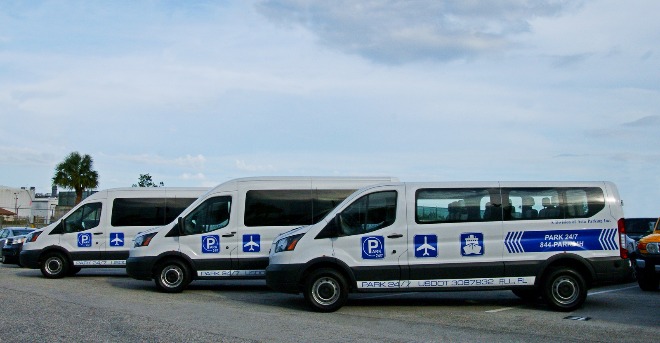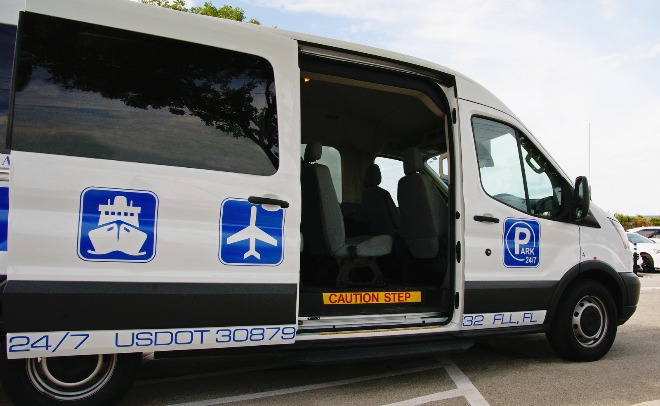 Services, Amenities, Features and Add-Ons
Parking location and directions
2800 South Federal Highway, Fort Lauderdale, Florida United States 33316
Park 24/7 FLL Airport Parking prices and rates
Weekdays and weekends
Day rate
Customer Reviews
Customer Reviews (87)
Gregory Paul H.

Mar 16, 2020

I dropped a Ferrari (red), got back an Altima (black). All kidding aside, the guys were great. Will use you again. Thanks!

Gareld R.

Mar 09, 2020

Easy to use, drivers friendly and helpful

Marisol C.

Mar 06, 2020

Hello 24/7 PARK, I arrived a day early from my reservation, but they took to care of it. All the employees were courtesy and friendly. After I returned from my trip the Shuttle Service was quick and easy to get too. Thank you

Dean D.

Feb 17, 2020

Very good departure and arrival

Richard s.

Feb 06, 2020

We have parked at this facility a few times and it has always been pleasant. Quick ride to the airport and quick pick up on return as well. The car is ready when we get back to the facility as well. Great job as always!!

Larry S.

Feb 01, 2020

Easy in & out. Very friendly staff.

cynthia w.

Jan 22, 2020

the company was very friendly and accommodating. However, I do not think the website is clear about this is airport parking not cruise parking even though the van has a picture or a cruise ship on it and we had to pay 10 extra dollars to park. Knowing full well it was time to go to the port so we just paid the additional fee.

Stephen L.

Jan 19, 2020

Great service slow pickup 45min

Greg C.

Jan 19, 2020

they did a great job , we called and shuttle it was there on time to pick us up and car was waiting at front gate of lot, ready to go thanks Good Job

Eric R.

Jan 15, 2020

Fast, They had my truck waiting at the entrance when I arrived. Will be my go to place when I travel.

Ruth A.

Jan 14, 2020

My flight was cancelled. I returned to pick up my car immediately then called your phone number to get a refund. Was on hold for over an hour Ana then finally was transferred to a recorded message and left a voice mail asking for a refund and a call back. Never got a call back now a refund.

Francis F.

Jan 06, 2020

We are definitely going to keep your number for future travels. We got in at 12:40am and our car was up front waiting for us. Just to know we did not have to wander looking for our car at any hour was a +

Luis G.

Jan 05, 2020

Excellent service, employees were very helpful and friendly. Airport pickup time was very quickly. Definitely, planning to use them again.

Reg W.

Jan 05, 2020

Close to airport with efficient drop off and pickup

Carmine V.

Jan 04, 2020

No issues will definitely use them again

Carl D.

Jan 02, 2020

Best parking ever. Easy, great location, friendly people, great price. Called when we landed and by the time we walked to pick up location the van was already waiting for us. Recommend highly. Lisa and Carl Davin

CHARLOTTE D.

Jan 01, 2020

Great customer service, quick and extremely helpful. Everyone was kind. Parking was painless, quick and easy.

Jackie F.

Dec 28, 2019

We were unable to Find the lot and no one answered my texts on the Instapark app or answered the phone. Horrible. Cancelled payment. Deleted Instapark. Zero help when we needed it most but took credit card just fine. Not a great way to start a vacation.

Bryan G.

Dec 26, 2019

Polite workers, wanted to get things done quickly.

Michelle W.

Dec 26, 2019

The staff and service was terrific. I came back in a bad rainstorm and my pickup guy got me from the airport quickly and had my car ready for me to go. Awesome!

Patrick D.

Dec 08, 2019

I have no complaints. Everything was fine.

Grace G.

Nov 19, 2019

It took me over an hour to get on the van because you all were so busy that night. I stood at the wrong place, the end of the awning so I could stand out. I blew it. The van was already full before i finally got in the van. However, I am glad to have used your services. Priced right, I trusted my car would be safe, and I was right. Thank you.

MARION D.

Oct 01, 2019

Great! We went to Maine for a week - people could not have been nicer and the pickup driver was wonderful. We will definitely do this again!

Juan B.

Sep 08, 2019

Very happy with their service I we use again and recommend to anyone cheap and close to the airport.

Alessio C.

Aug 10, 2019

Great drop off and great pick up

Bruno A.

Aug 06, 2019

Micah was over the top, he was our driver to and from the airport. Micah was extremely hospitable, pleasant, and kind. He gave us detailed instructions and made sure our ride was easy and stress free, also a great conversationist. The entire experience was pleasant and easy, we trully enjoyed the overall quality of the service we received. We will definitely recommend the service and continue to use it ourselves when airport parking is needed! Thank you,

Leilani C.

Jul 31, 2019

Drivers are so friendly, helpful, and on time.

Leanore D.

Jul 29, 2019

Very friendly efficient and on time. I would use your service again and recommend to anyone who is traveling from Fort Lauderdale. Thank you so much

Hector A.

Jul 25, 2019

very good service and my car in excellent condition,thanks,recomended

June K.

Jul 19, 2019

So responsive and friendly people. Always a pleasure and affordable.

JUAN R.

Jul 09, 2019

Excellent service. Very professional. The staff very friendly and very fast. As soon as I arrived to the airport I call the number they gave me, I gave them my number and they picked me up at the airport super fast and they drop off to pickup my car and everything was in order. Definitely, the next time I need a parking, I'll use them again.

Anthony S.

Jul 09, 2019

It was the first time that I used your company and I was very pleased. I will definitely use it again. Both drivers were very friendly.

Tracey Z.

Jun 23, 2019

They were amazing from beginning to end! You had to wait about 15-20 minutes to get picked up but worth the price!

Juan b.

Jun 21, 2019

Excelente especialmente el muchacho que nos trajo del aeropuerto al parqueo el Miércoles en la madrugada muy buena actitud.

June K.

Apr 11, 2019

Timely and trusted service with friendly staff.

Maury P.

Apr 10, 2019

Excelente,muy buen lugar para parquear.

Francis S.

Apr 03, 2019

Great service. Will use again on my next trip. Thanks

raquel b.

Apr 03, 2019

The site is easy to find, the process of leaving and pick the car is fast, and the staff is very nice

Lorena M.

Mar 26, 2019

Quick and amazing staff!! Thank you

Edward S.

Mar 08, 2019

Everything went great very satisfied. Will use again on my next trip

Tom H.

Mar 04, 2019

I asked several times if this was self park and was assured it was. We were unable to do so until we paid an additional $30. Cash. We cannot recommend this service to anyone.

Brenda W.

Feb 23, 2019

Very friendly and helpful. Would use them again

Rosemary M.

Feb 22, 2019

Parking at Park 24/7 was a breeze. The service was friendly and efficient, we were at the airport in a few minutes. Coming back from the airport we were picked up in a timely manner, driven to our car that was waiting near the exit . They promptly loaded out luggag in the trunk and away we went.

Chuck R.

Feb 20, 2019

Everything went soooo smoothly! All employees were very helpful and polite.

Richard H.

Feb 19, 2019

Excellent parking experience. Close to the cruise port and easy to get to. Great shuttle experience, both to and from the port. Will absolutely park here again!

Gail H.

Feb 06, 2019

COURTEOUS AND FRIENDLY STAFF, QUICK SERVICE

Tad D.

Jan 29, 2019

I returned 2 days early. You owe me a refund for those 2 days. The guys at the lot were good

Joyce A.

Jan 17, 2019

Great prices great service. Will definitely use them again.

KARENN R.

Jan 17, 2019

Convenient location, courteous staff.

Jerry D.

Jan 15, 2019

I am always skeptical booking an unknown thing on the Internet but our experience with this lot was outstanding and we will use them again anytime we cruise from Port Everglades. Our shuttle driver was the same in both directions and could not have been more helpful. Thanks for this opportunity! Jerry

judy m.

Dec 14, 2018

very well run operation. thank you

Normand L.

Dec 09, 2018

Easy, fast and courteous Team!!!

Trish D.

Nov 18, 2018

From booking to checking out after our trip, everything about the process was easy. The staff is friendly and the proximity to the airport is great. We'll definitely be using Park 24/7 again.

Tracy M.

Nov 17, 2018

Gthis was our first time using your service and we will definitely be back. It was easy & the staff friendly. We really appreciated our vehicle being upfront and ready for us upon our return.

Meredith M.

Nov 05, 2018

I was very happy with your service. Both drivers were very friendly and professional. Drop off & pick up was easy and swift. It was very busy at the airport the night I was picked up but I only waited about 15-20 minutes. I would recommend this business and will definitely use again!

Gail H.

Oct 30, 2018

Convenient to airport. Convenient shuttles. Reasonable price.

William K.

Oct 04, 2018

Absolutely no problems at all. Shuttle drivers were very courteous. Would definitely use again

Gerard D.

Sep 14, 2018

Everything was great. Service terrific. Personnel friendly. Waited no more than 10 minutes for transportation from the airport. Car waiting for us at the parking lot. Would definitely use you again and highly recommend you my friends. Thank you.

Gerard D.

Sep 13, 2018

Everything was great. Would definitely be back again. Staff was great and very polite. Car was ready when I got there. Waited no more than 10 minutes for the shuttle to pick us up at the airport. GREAT JOB GUYS.

Jennifer T.

Aug 23, 2018

Thank you for making my travel to and from the airport so easy. You have a great staff. If my travels take me back to Fort Lauderdale, I will see you again.

Niurka R.

Aug 18, 2018

Todo muy bien y a tiempo se los recomiendo

Niurka R.

Aug 18, 2018

Muy amable la persona que nos atendió nos llevaron rápido al aereopuerto y cuando regresamos todo fue muy rápido también muy bueno lo recomiendo

Valerie T.

Aug 17, 2018

Great experience. I was impressed by the fact that my vehicle was in "ready to go mode". Thanks Park 24/7

rosangela s.

Aug 15, 2018

It was great experience. I came in one day earlier do I get refund?

Mavis H.

Aug 15, 2018

All your workers are very nice they treat us with great respect

Alyssa F.

Aug 15, 2018

It was so easy and the crew was nice, efficient, and timely.

ana maria s.

Aug 07, 2018

Excellent service !!! I will recommend the place to everyone

Sophia G.

Jul 12, 2018

We traveled with our family (4), Great service, convenient location, respectful staff and felt catered to.

George L.

Jun 24, 2018

Staff was very pleasant and professional from the moment I got there. I was very impressed at the service. Will use again.

Joseph L.

Jun 18, 2018

I initially exited the terminal from departure level and requested a ride. 20 minutes later I called again to inquired where was my ride. I was told they could not find me. No had attempted to contact my cell number which is registered both online and enter the lot .I waited another 30 minutes after the second request. I could have taken Tri-Rail and been home within that 30 minutes wait after second call.

Brian B.

Jun 14, 2018

Just the best way to travel out of FLL ...

Kyrbi R.

Jun 06, 2018

Staff was very friendly. East pick up and drop off service. Affordable prices.Will definitely be using this service again

mark t.

May 29, 2018

The drop-off of the vehicle was very pleasant But the pickup from the airport was NOT We waited a half an hour for the van to arrive. When it finally arrived, it was filled to the brim with luggage and passengers We were told by the driver that it would take him another hour to return for us. After about 20 minutes another van pulled up All in all we waited about an hour

Chad T.

May 29, 2018

Very easy parking, super close to the airport. The shuttle drivers were both great! We'd definitely use them again when flying out of Fort Lauderdale, or even taking a cruise from the port!

Brian B.

May 28, 2018

Great staff ... very convenient!

erick m.

May 14, 2018

My turn knob on my Jaguar XF was damaged.

Zoe A.

May 06, 2018

Great experience. Shuttle was timely and staff was professional

David H.

May 06, 2018

We had an excellent experience. I would use them again

Gary S.

May 03, 2018

I retrieved my luggage and within 10 minutes the shuttle picked me up and my car was waiting for me.

June J.

Apr 25, 2018

Very nice workers on time and very professional

marcy g.

Apr 24, 2018

excellent service. Thanks a lot :)

Tineisha Chantese N.

Apr 19, 2018

Booked the night before--great experience! A little bit of a wait for drop off and pick-up, but no big deal. Felt great leaving my car in their hands.

michel b.

Apr 19, 2018

Excellent service and on time.

Nigel P.

Apr 18, 2018

It took a while to locate the property, as well as understand the process. However, the return/pickup process was very smooth. With my next go round, I'll be better informed, and I'm sure will have an easier go.

Kenneth B.

Mar 31, 2018

Pick up took 30 minutes but once there a very nice and helpful driver and only five minutes to the lot where my car was right up front ready to go.

Katherine M.

Mar 26, 2018

No problems. We will definitely use your lot the next time we go on a cruise.

Richard H.

Mar 14, 2018

Perfect location very near to the cruise port with fast shuttle service. Our vehicle was waiting for us to load up when we were returned to the parking lot. Will definitely book here again
Best Price Guarantee!
Book Now
Free + Easy Cancellations