River Street Parking - O'Hare Shuttle
River Street Parking - O'Hare Shuttle 9500 River St,, Schiller Park, Illinois United States 60176

Compare rates
Nearby parking lots

Location

9500 River St,, Schiller Park, Illinois United States 60176

Area

N River Rd, Schiller Park
O'Hare Int. - Schiller Park

Phone

Shuttle
Parking lot information
River Street Parking is the largest indoor, temperature controlled parking facility in the O'Hare / Rosemont Area. River Street Parking offers a free shuttle to, a luxury lounge area, where customers can enjoy themselves while they wait for their flights
Shuttle leaves upon request or every half hour and picks up customers at the "Hilton Airport Shuttle Center" upon their return back to O'hare (after their flight has brought them back to Chicago).
Your car will be ready waiting for you at your arrival for a quick departure. We offer water less car wash ( with Sparkel ) as well as oil changes and all your basic car needs.
In addition to ORD Parking, this location is just a short walk to the Donald E Stephens Convention Center, the Rosemont Theatre and the Rosemont business district.
River Street Parking offers outdoor parking and indoor parking.
ORD Outdoor Parking:
The River Street outdoor parking lot is the most economical option for those looking to save a bit. You still get all the luxuries of River Street Parking valet service including friendly customer experience and free access to their 2000 sq. ft lounge. The 24-hour surveillance system will keep a good watch on your car so you don't need to worry.
ORD Indoor Parking:
The River Street Indoor Valet Parking cant be beaten, picture your car in their 90,000 sq. ft heated garage. Well lit and high-security facility is the perfect spot to leave your car while you're away on vacation or on a business trip.
Find nearby parking in Schiller Park
Key Details
Guarantee Your Spot Free + Easy Cancellations
How to park at this facility
ENTRY PROCEDURES
Upon Arrival present your InstaPark reservation confirmation printed or on your phone to the lot attendant.

The valet will park your car and direct you to the ORD shuttle.
EXIT PROCEDURES
Upon returning from your trip when you land at ORD you should receive a text from River Street Parking with a link

Click the link and a shuttle will be dispatched and your car will be brought to the front of the lot to meet you when you arrive on the shuttle.

If you do not have the text please call 1-847-805-8885 or 847-796-9500 to request a pickup.

We hope to see you again soon!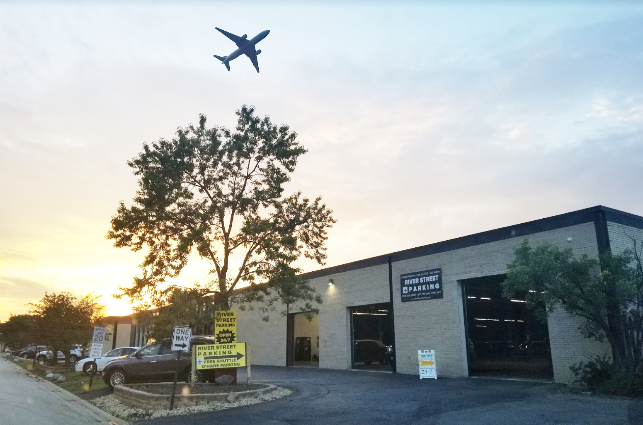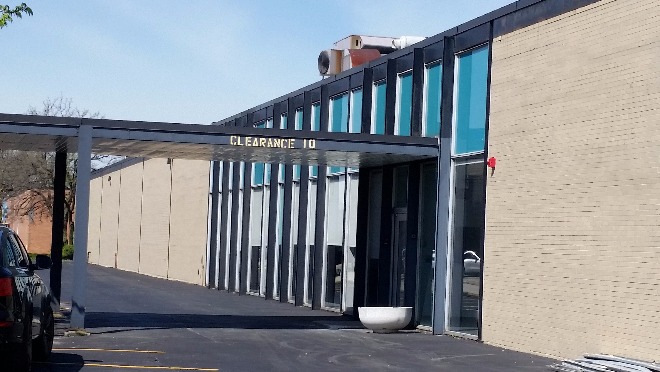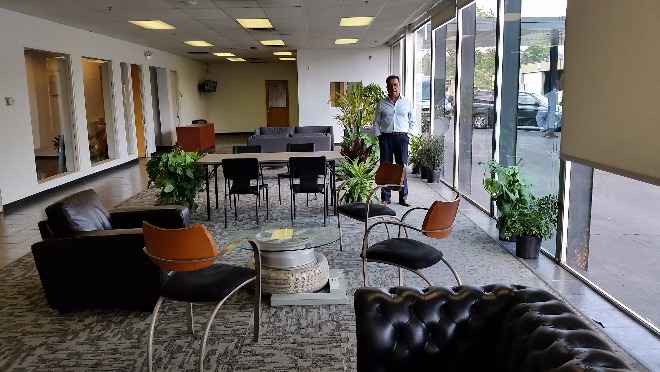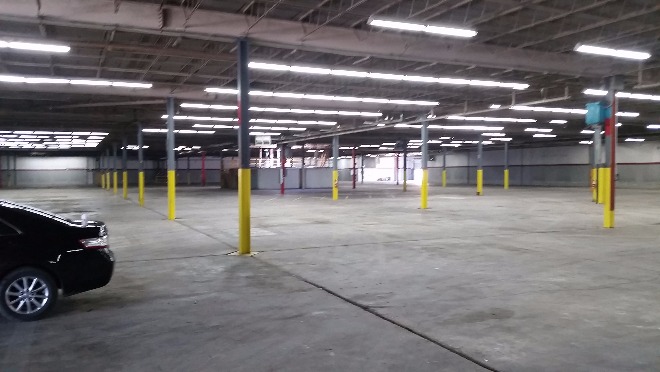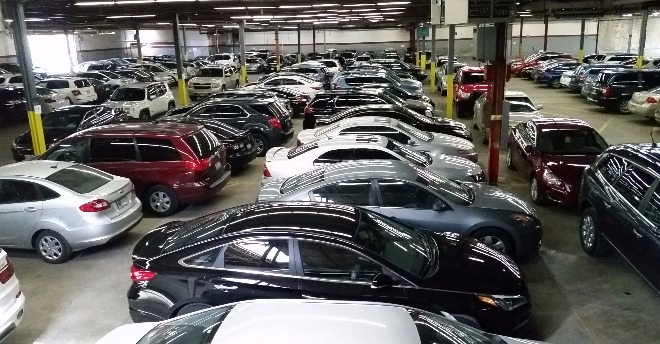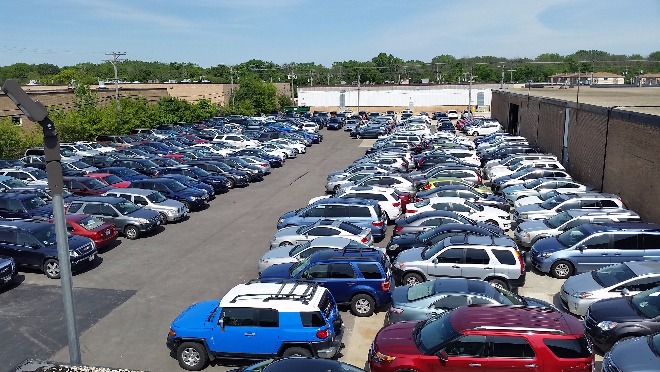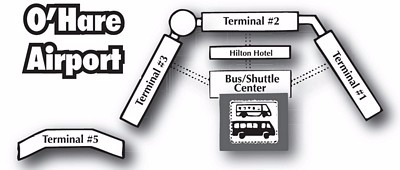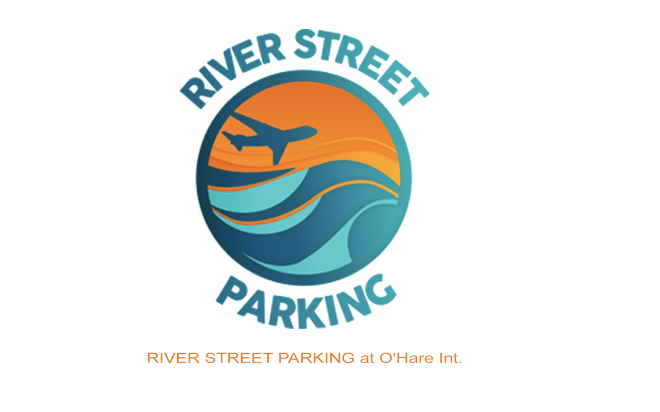 Services, Amenities, Features and Add-Ons
Indoor Valet
Local ShillerPark Tax
Car Wash Exterior
Car Wash Interior
SUV Wash Exterior
SUV Wash Interior
Car wash Inside and Out
SUV wash Inside and Out
Car Exterior Detailing
SUV Exterior Detailing
Car Interior Detailing
SUV Interior Detailing
Car Complete Detailing
SUV Complete Detailing
Booking Fee
Parking location and directions
9500 River St,, Schiller Park, Illinois United States 60176
River Street Parking - O'Hare Shuttle prices and rates
Daily rate
Day rate
$15.00 / day
Grace period: 1 hour
From Jan 01 to Jan 02
New Year's Rate
$20.00 / day
From Feb 13 to Feb 16
Valentine's Rate
$20.00 / day
From Jul 03 to Jul 05
Independence Day
$20.00 / day
From Aug 31 to Sep 03
Labor Day
$20.00 / day
From Dec 26 to Dec 31
Christmas Ext
$20.00 / day
Add-ons
Indoor Valet
+ $1.50 / day
Local ShillerPark Tax
+ $0.50 / day
Car Wash Exterior
$18.00
Car Wash Interior
$18.00
SUV Wash Exterior
$23.00
SUV Wash Interior
$23.00
Car wash Inside and Out
$28.00
SUV wash Inside and Out
$33.00
Car Exterior Detailing
$60.00
SUV Exterior Detailing
$88.00
Car Interior Detailing
$68.00
SUV Interior Detailing
$88.00
Car Complete Detailing
$98.00
SUV Complete Detailing
$123.00
Booking Fee
$5.00
Other charges
City Tax and Sales Tax
+16.00%
Customer Reviews
Customer Reviews (85)
William G.

Mar 27, 2018

I was very impressed with not only the inexpensive costs but also the fact that ORD River Street Parking had a very luxurious lounge!!! I don't think I'll be able to go back to any other parking lot after being here. Thanks for the great service and clean parking facilities!

Gustavo K.

Mar 25, 2018

ORD River Street Parking knows how to run a good business. They're employees are well-trained and hard working. The valet people took good care of my car when parking it and bringing out for me from the warehouse where it was stored, and I'll definitely be using it again.

Danielle S.

Mar 25, 2018

Heard many good things about this place and I also would like to say how wonderful of an operation it is. The attendants and staff were all helpful when I arrived there, as I was a bit confused with how the ticketing worked and whether my raised truck would be fine to leave there. The height wasn't an issue because the warehouse has tall ceilings! Perfect.

Tasha J.

Mar 25, 2018

Can the ever fit a ton of cars in here. They obviously have an organized system of the timing of cars leaving and arriving, and moving them all like jigsaw pieces. I was worried my car would be blocked in but when I came back it took just a few mins to get into my car and be on my way. Very organized and happy with the care my car was handled with.

Genevieve E.

Mar 24, 2018

Having a heated garage to leave your car in is a life-saver during the cold, harsh Chicago winters. Imagine coming back from a trip to an icy car, with snow covering it and slush everywhere. Well, it sure was nice seeing my car roll out as I left it, being under the shelter of the indoor parking garage for the last week. It's nice to be able to get into a car that isn't freezing in the middle of the winter haha. I'll be using again in the future! :)

Shawna E.

Mar 22, 2018

Everything went really well parking with this ORD long-term parking lot. There weren't any issues when it came to dropping off and picking up my car. It's funny because whenever I do go to park my car anywhere, there is always some sort of issue. I'm glad to have chosen ORD river street parking O'Hare Int. Parking!

Brooklynn F.

Mar 21, 2018

I would recommend to get the car wash! Nothing better than coming back to a squeaky clean vehicle ready for the road. I was very happy with how quick and easy it was to park here and the free shuttle made the deal even more sweet. Thanks ORD River Street Parking!

Regina O.

Mar 20, 2018

Shuttle was great. The luxury lounge offered something unique that other lots don't have. With it being only a couple miles away the price is hard to beat. There's hotels nearby too incase you need to crash in the area if you're returning late at night or something.

Joe O.

Mar 19, 2018

We went away for a vacation and decided to leave our vehicle here. Upon arriving the valet took our car and we jumped onto the shuttle with the driver handling our bags for us - so kind! Our little ones were a bit fussy during the whole process of getting onto our flight so the 'luxury lounge' was a great spot to have our own space, calm them down and get ready for our travels.

Maria P.

Mar 18, 2018

We got back from our vacation and waited at the Hilton Airport Shuttle Centre for just a few minutes before we got picked up by the same driver who dropped us off. Very nice fellow and our vehicle was ready for us to drive off in when we got back! There isn't much to the process which is a relief for someone looking for simplicity and trusty car storage.

Liv C.

Mar 16, 2018

My family and I arrived at ORD river street parking O'Hare Int. Parking early in the morning last week. We were a bit worried that we wouldn't make our flight, but the parking lot had us in and out extremely quickly! We arrived at the parking lot, and got to the airport within about 15 minutes. Our fastest time yet!! We will be returning.

Ryan E.

Mar 16, 2018

After reading the reviews I was sold on parking here. And let me tell you, the service was great. It was above and beyond what I expected.

Hunter H.

Mar 15, 2018

The lot here is really clean and in a good location! Some lots can be grungy, muddy, or whatever, but this one was fully asphalt, no grass or dirt that our car was parked on. We decided to have outdoor parking to save a bit but there is video surveillance 24 hours a day which made us feel worry-free about leaving our car there! I'd like to thank the kind gentlemen who were working there for helping with our bags as well.

Naseem S.

Mar 13, 2018

I stayed in the lounge for a couple hours because my flight was delayed. It actually worked out perfectly cause I was able to go on my laptop and get some work done in peace and quiet. The ride to the lounge was only a few mins with the free shuttle. 5/5!

Jenna P.

Mar 12, 2018

I wasn't too impressed with the service at this O'Hare long-term lot. There was a long line getting in and I ended up having to park on the opposite end of the parking lot. It is quite a big lot too. I had to walk all of the way to the other end of the lot to get to the shuttle bus and wasn't helped with my luggage. I probably will not be coming back.

Amanda N.

Mar 11, 2018

It almost looked like a mechanic shop when I first pulled in - and then realized that they actually offered car-servicing features like oil changes and detailing. The indoor part was really clean and felt like you were leaving your car somewhere trustworthy when going away. I got the extra services for my car while I was away, it was really convenient! Great value.

Travy B.

Mar 11, 2018

I was very happy to pay 9/day with the location of the lot. It was very close to the airport and have heard lots of great things from friends and family about ORD River Street Parking. Good business and they have very professional employees there.

Jacob A.

Mar 09, 2018

Lots of space it looks like both inside and out. Obviously you don't park your own car so nobody but the employees are near the parking areas. They carefully parked our car as I was a little concerned with someone else driving it but sure enough everything was fine. Came back to a car with a freshly washed exterior for just a little bit extra.

Zach Z.

Mar 09, 2018

ORD River Street Parking is probably the best lot in the area, I've used them a few times, once was indoor storage because I was going away for a few weeks, the other time just for the day I left it outside. Convenient and just what I need. No gimmicks or extra fees. As advertised!

Jamie L.

Mar 07, 2018

It was rainy when I arrived here but the little area with the roof kept us dry while I exchanged the keys for my ticket and what not. The shuttle was there when I arrived so it was a very smooth process.

Emma D.

Mar 06, 2018

I was quite impressed with the fact that this airport parking lot had a whole lounge for it's customers. I guess it's there for the people who have things being done to their cars so that they have somewhere to hang out, but for the people who were just parking it made me sad that I could only take a look at it! Maybe next time I'll just get my car washed and will hang out in the lounge.

Sophie B.

Mar 05, 2018

Huge parking space for many vehicles! I had a very positive experience leaving my car here. They helped with my bags at the gate area where the valet takes the car. the shuttle took just a few minutes to arrive and on my way back all I had to do was txt the shuttle number and it picked me up. Simple and it was pretty darn cheap too for being so close.

Gabriela N.

Mar 04, 2018

The extra add-ons they offer sound popular by people on here. I didn't get any extra work done for my vehicle, but if I park here again I think ill get it cleaned inside and out! They were all very nice and the lounge was a nice spot to stay to escape the hurried world for a minute.

Daniella L.

Mar 03, 2018

Looking forward to doing business with ORD River Street Parking again after my experience last week. The shuttle was on-time and very short distance from the airport itself. The parking seemed tight because they were handling so many cars. The employees all very knowledgable and helpful with explaining the shuttle schedule.

Travis H.

Mar 02, 2018

This place gets tons of business because it's so close to O'Hare, but as long as you book in advance there should be no issues. Sometimes I park here for when I go to the convention center nearby. I've also left my car here for a week in the indoors portion and it was very simple.

Sydney S.

Feb 28, 2018

The warehouse style of parking lot is a really smart idea. I don't like those grungy parkade type lots, very low ceilings and feels humid/sticky in those. This one was clean and bright and felt like you were leaving your vehicle in a trusted space.

JR B.

Feb 28, 2018

I was seriously blown away by the number of amenities old river street parking had. I went ahead and got my car washed and detailed on the inside and outside. I usually go somewhere else to get all of this done, but because of the great prices, I decided to take a chance. I was very happy with everything done! thank you to everyone who helped to make my car look the best it ever has!

Joel C.

Feb 26, 2018

The shuttle came a few minutes after we got there and took us to the luxury lounge just steps from the airport itself, I liked the valet that they had there, nice to have someone just take your car to park it for you. The parking lot seems to fit many cars.

Alicia G.

Feb 24, 2018

The valet was very nice, I was able to step out of my car and into the shuttle just a few yards away.. It seemed almost TOO easy lol. But everything was great here and the staff took my bags for me and everything. Treated like a superstar here haha. The booking was very easy to do too with no hassle.

Michelle W.

Feb 22, 2018

My family and I have used this lot twice now and both times it has come as advertised. Clean and efficient service with people know care! The workers are all really nice there and we feel welcomed.

Katie I.

Feb 20, 2018

9$ a day is quite a bargain! Try parking anywhere else and you'll pay twice as much , just to be in the area for the day. This lot is very convenient to use all you gotta do is make a booking in advance and show up with your info and your spot will be there.

Calvin S.

Feb 20, 2018

Sometimes I'm scared of leaving my car places I'm not familiar with. But ORD parking made me feel very secure with their handling of the vehicles and the overall care they took. The man at the gate cared about my concerns and reassured me of the amount of security they have.

Kara O.

Feb 18, 2018

The oil change was very handy because I was overdue like crazy! Just hard to find time these days and it's nice to get that sort of stuff done while you're away anyways. The mechanics seem very professional. Good price for the free shuttle and all as well.

Jackson I.

Feb 17, 2018

It was very cheap and good parking service. I would like to say thank you to ORD River Street Parking for the great parking experience and easy process. I must say the lounge was awesome. I was able to get some work done there while I waited for my flight.

Julian J.

Feb 17, 2018

Tons of space and was very impressed with the valet. I thought maybe it was just for show and to make it seem more '5-star'-ish, but it actually made it much easier for them to worry about the parking instead of having me roll around looking for a spot.

Steph J.

Feb 15, 2018

The airport is just a couple miles away which made for a quick shuttle to the shuttle center. It was free with the parking lot booking and the lounge was really nice too! I've dealt with some real shady-feeling parking services before but this one is very professional and organized. They have good rates here too!

Leah C.

Feb 14, 2018

ORD River Street Parking runs a great operation and I got to witness it first-hand. Left my Chevy truck there and decided to have the indoor parking inside, instead of the outdoor parking. They detailed it inside and out and I was very happy with the quality. Very professional and trustworthy people. I'll be using them again when I go away from business in the future.

Chris A.

Feb 12, 2018

It's nice that you can just have the reservation on your phone - for people who don't have a printer it can be a pain to have to have a hardcopy of the booking info. Just arrived with the confirmation email on my phone and everything was smooth sailing from there! :-)

Lexi L.

Feb 10, 2018

Onto of the great service I received here, I was very happy with the extra offers. Got my vehicle cleaned with the water-less car wash and it looked brand new when I came back! Can't beat 9 bucks a day and they were very hospitable when I was around.

Maisie A.

Feb 09, 2018

The shuttle driver was very nice! We had a nice chat coming back from the airport, and it only took a few minutes for my car to arrive at the front of the parking lot area when I got back. There was the option of indoor and outdoor so if you have issues with leaving your car outside there is the peace of mind of having a roof over it.

Wilson K.

Feb 09, 2018

Many people have said how well operated ORD River Street Parking is. I recently gave them a shot and they impressed me with how clean and friendly the environment was. They took great care of my car when I was away on a business trip and I'll be telling more friends about the parking here.

Dalina E.

Feb 08, 2018

The luxury lounge area is quite unique. It was a clean space where I got to chill our and take a breather before I hopped into the madness of the airport crowd. The shuttle was very nice to have to and from the parking lot. I will be using ORD River Street Parking again! :)

Felix P.

Feb 07, 2018

The attendants at the front helped unload and load our luggage from our vehicle to the shuttle, and the valet took the car from there. The shuttle was clean and the lounge was something I haven't seen from any other parking lot. It made our traveling experience much easier - at least in the departure. Away now so hoping the return goes just as smooth!

Claire J.

Feb 07, 2018

Wow, what a great operation they have here with the valet parking and indoor spaces. The car washing and everything we passed on, but it really seems like a thorough place for all your car parking needs! Just parked here for the day and I just got outdoor parking but it was very clean and the valet was as professional as a luxury hotel.

Kyra I.

Feb 05, 2018

The indoor parking seems great, it's in a bright warehouse and safe from inclement weather and animals and anyone looking to cause trouble. Even the outdoor section was well-lit when it was dark and there are many attendants around. Got the vehicle serviced with detailing and an oil change too so it ended up being a little more but was all-around a very fair deal. Would highly recommend ORD River Street Parking!

Dominick J.

Feb 03, 2018

The airport is super close to this parking lot and the prices are hard to beat so I chose to use these guys - and it was awesome. The valet takes the hassle of having to park and find a spot out of it all. You pretty much drop your car off to daycare and let them do the rest! Very happy with how it all went, and now to relax for a week in warm tropical weather (stress-free)!

Ria N.

Feb 02, 2018

I had a business conference at the Donald D Stephens Convention Center and the whole surrounding are was very busy. I parked here at ORD River Street Parking and saved a ton of hassle. It was only 9$ and I saved myself the stress of crawling around in a maze of traffic just to park a little closer for way more money. This is the smart way to go for sure!

Eithan G.

Feb 01, 2018

A few family and friends have told me about ORD River Street Parking. I'd only heard good things about these guys so I decided to give them a shot when I went away for business last week. It was just how I was told - professional, thorough, and very affordable. I've parked in some crazy-expensive places that don't give you half the customer service as this place. Very happy with my choice.

Mike N.

Feb 01, 2018

If you're travelling from O'Hare airport or just going to the Rosemont business district for the day I would recommend parking here. Safe area to leave your car with security and only 9$ for the day! :)

Jan W.

Jan 31, 2018

These guys know what they're doing! The extra services available are such a smart idea. I got my oil changed and car washed, all while I was away. It saved me time and the prices were very fair compared to what you would pay anywhere else. The valet and everything makes it seem so luxurious.

Nelson F.

Jan 30, 2018

$9 per day is really a great rate for the quality of car storage they offer. There is indoor as well as outdoor parking, but both have video surveillance. Got the car wash done too and it was well-worth it. I usually feel like I'm getting scammed at these parking lot things but this one in particular is very fair and professional. Honest business here and I feel respected as a customer when the service is this good as well as the fair pricing.

Krys M.

Jan 30, 2018

I still can't believe that this parking lot is only $9.00 per day... Once you have parked here, you will understand what I mean. I think that the lot could put it's prices up a lot higher, but keeping it cheap is what will get me and I'm sure a lot of other people here.

Karla F.

Jan 30, 2018

The indoor warehouse looked like it has tons of space, but it was still very busy. My family and I left our van here and the experience was great all around. Safe keepings for our vehicle and the valet and shuttle were nice touches. Coming back the valet driver helped up with our bags as one of my kids was sick at the time. The valet was very nice on the way back because we didn't have to track our van down.. it got brought right to us. Thanks ORD River Street Parking!

Elijah J.

Jan 28, 2018

I've gotten my SUV broken into twice in the last year, so I was uneasy leaving it somewhere other than my own garage when I went away for business. The ORD River Street Parking business is very trustworthy as they have 24-hour surveillance video on the premises and have indoor parking with bright lighting too. They look after a ton of cars at once and always have attendants on scene. Very affordable. Two thumbs up.

Angie C.

Jan 27, 2018

Glad to say that my vehicle and I are safely reunited! ORD River Street Parking took great care of my baby and even gave it a nice oil change so it was ready to go when I arrived back. The shuttle drivers and the parking lot attendants were all very nice and the valet made me feel like a celebrity. Lol :-)

Ben O.

Jan 26, 2018

At this parking lot they offered both indoor and outdoor parking, indoor being a little more expensive. My friend and I left my car here while we went to a show at the Rosemont Theatre and it was much cheaper than parking anywhere else. We just got the car left outside but it was all we needed. Still, the valet was very nice and it was easy to get to and from as it was so nearby, we just walked a few minutes.

Carl C.

Jan 25, 2018

The shuttle hadn't arrived yet to the shuttle centre at O'Hare when I returned from my business trip, so I texted the number to request a pickup and the shuttle was there within a few minutes. It's nice to see that these technological services actually work and are not just useless gimmicks, ha-ha. Great service and my car was returned to me all in one piece.

Maddie N.

Jan 24, 2018

My family and I recently took a two week vacation and left our vehicle here at ORD River Street Parking. We reserved our spot here ahead of time on their website which was easy to navigate. We decided to get the car detailed and washed and the employees here are just as good as any other car detailing business around. It's very convenient that the parking lot here offers these services for busy people who can get the work done while their away. The work was high quality and the rate was unbeatable for the location.

Justin E.

Jan 23, 2018

We really appreciated the luxury lounge that customers of ORD River Street Parking can use when waiting for their flights. The free shuttle took us here and it gave my family and I some time to relax before our busy travels. Friends recommended this place to us and we are passing along the reference. The parking lot here is very affordable and one of the tidiest I've seen.

Vanessa J.

Jan 21, 2018

If you have a tall, lifted vehicle then you have nothing to worry about here as far as being able to fit your vehicle in the indoor section. It's not a typical low ceiling parkade or anything - it's basically a spacious warehouse which is well-lit and heated too. They parked out truck for us and it easily fit in the big bay doors. The whole property seemed very well maintained and you could tell they took pride in keeping people's vehicles safe in a clean environment. Thanks ORD River Street Parking!

Sarah W.

Jan 21, 2018

I didn't end up making use of this lot because of a change in plans, but I had booked a spot here. The cancellation just took one phone call and it was simple and free to cancel. Sometimes they still try to charge you with something when cancelling these things but there were no strings attached and the process was simple, which is appreciated in today's world of hidden fees.

Lucy O.

Jan 19, 2018

Would definitely recommend doing business here for all your car storage needs while you're away on a trip. The shuttle operation was very efficient as we didn't wait long going there or back. We paid a little extra for the car wash so our vehicle was spick and span when we returned. Great experience here and nice people!

Joshua K.

Jan 18, 2018

We returned to O'Hare after a great trip and our only worry left was retrieving our car. First of all, the shuttle was great as it was there waiting for us at the Hilton Airport Shuttle Center. The driver helped us with our bags and our ride was fairly quick back to ORD River Street Parking. Upon getting back we gave them our ticket and our vehicle was infant of us within a few minutes, just as we left it. The location of the parking lot is great in proximity to the airport, and the valet service along with the shuttle were very convenient.

Sam V.

Jan 17, 2018

The valet was great! If you truly distain the stress of coordinating a ride to the airport for a trip, I would recommend booking a spot to leave your car here. The daily rate of 9$ is the best in the area for how close it is the O'Hare, and while our car was there we got its oil changed too; very convenient.

Fernando K.

Jan 17, 2018

Whenever I end up going over to your airport parking lot for a car wash, I am very happy with the way it turns out. Thank you for always getting me in quickly and for making me feel welcome whenever I arrive.

Nick E.

Jan 16, 2018

Dare ya'll to find better value than ORD River Street Parking. Less than a couple miles to O'Hare and the parking lot has a great set up. They have indoor and outdoor parking but I reckoned outdoor would do for me.

Oliver N.

Jan 16, 2018

Unless this parking lot closes down I won't be going elsewhere. Great experience! I really liked the staff and all of the great amenities that came along with your lot. I will for sure be coming back for more great parking.

Timothy L.

Jan 14, 2018

My family and I went on a week long vacation out of the country. We chose to airport park just because it would be easier than any other option for us. I am glad that we chose this O'Hare long term parking lot. We've parked at the airport before and it was just a mess... We will be returning!

Thomas W.

Jan 13, 2018

Whenever I've ever been to your parking lot I've been more than happy with the service provided. There are many staff members happy to help with whatever I've needed, and there are also many add ons to make your stay that much better. Great job with everything. I'll be coming back on my next trip!

Irena W.

Jan 12, 2018

The surveillance cameras and high security are a great feature at ORD River Street Parking as I've had issues in the past with my vehicle being vandalized when leaving it for an extended period of time. I found the staff to be very trustworthy and professional when taking my car and the shuttle was a nice touch.

Jay W.

Jan 11, 2018

It was so rainy and cold so my family and I found it very convenient that the ORD shuttle was waiting for us as the valet took our car. The process was quick and easy and we were on our way to the shuttle centre beside the airport! We got our oil changed and the car washed while we were away and came back to a sparkling car fresh and ready to go. Sometimes the rates can be higher if it's a holiday but we only paid 9$ a day which was awesome.

Leyla E.

Jan 09, 2018

I brought my SUV into the ORD River Street O'Hare Parking for an interior and exterior wash. The service was wonderful and I was very happy with my car when I drove away. A solid 5/5. Thank you for everything. I will definitely be returning the next time I need my car worked on.

Kate N.

Jan 07, 2018

It didn't take very long to get to the airport by shuttle. woot woot! I was impressed with the price and how completely quick it was to get to the airport. Thanks for everything!! I'll be back for sureeee! :):)

Malik W.

Jan 06, 2018

WOW! What a great parking lot. My husband and I were very impressed with the service we were given, especially after we've had so many bad experiences with airport parking lots.

Sally M.

Jan 05, 2018

The indoor parking gave me peace of mind while I was away on my trip, and I they offer detailing and car wash services as well which I got done. There was valet to take my car, and a shuttle to take me to a lounge just a step from the airport. Great value, just make sure you book beforehand to avoid any trouble! This facility is what every parking lot should model themselves after!

Alison B.

Jan 04, 2018

The valet was a nice touch since we didn't have to worry about sifting through rows of cars and finding a spot ourselves. For 9$ a day I found it offered great value. The shuttle was free and took us to a spacious lounge area where my family and I just relaxed for a bit before our flight.

Julienne X.

Jan 04, 2018

When parking here, I chose to receive indoor valet. It was so easy to find the valet area, and leave your car off. When I arrived home, my car was clean and safe!! exactly how I wanted my experience to go. Thank you for everything!

Marvin P.

Jan 04, 2018

With my new job I am needed all across the country, which means that I have to airport park... A LOT. My company recommended this airport parking lot, and I am so glad they did. I have never had airport parking experiences quite like the ones I've had here... and for such low prices!!! Glad to have found you guys.

Gabby K.

Jan 03, 2018

I have had countless numbers of terrible experiences when it comes to public parking whether its long term or short term. I am so happy to have found a spot where I can go where I know what nothing is going to happy. I really trust you guys with my car!

Riley E.

Jan 03, 2018

Whenever I park with your lot, I am comfortable leaving my vehicle. Sometimes it can seem like those working at public lots don't really care about your car. I can tell that you guys really care! I a very comfortable leaving my car.

David H.

Jan 02, 2018

Ugh, airport parking lots are always the WORST. This experience wasn't as bad as others I've had, but still... It wasn't as great as I had hoped for it to be.

Susan O.

Jan 01, 2018

I used the Ord River Street Parking lot and it was very clean, friendly, and affordable. I was heading to a business conference in the Rosemont business district but the parking situation seemed crazy, so I was glad to avoid the hassle and just leave my vehicle here.

Ashton I.

Jan 01, 2018

I honesty can't stand traveling, lol, it's just the worst... to the point. It actually wasn't terrible parking here. There were a lot of neat amenities to choose from and there were a lot of people ready to help. For my car, I received indoor valet and a wash:) ... it was worth it, especially for the price.

Stephanie E.

Dec 30, 2017

Parked here just for the day to go to a show at the Rosemont theatre, it was cheaper than other parking options for the theatre and only a short walk away. They had indoor parking but outdoor was all we needed and we saved a few bucks.

Emily H.

Dec 30, 2017

I love all of the amenities that are available at this lot!!! It's great to choose from so many though the price is so low!!! I will definitely be coming back :-)
Best Price Guarantee!
Book Now
Free + Easy Cancellations