Globe Airport Parking 8608 University Blvd, Moon Twp, Pennsylvania United States 15108
Nearby parking lots

Location

8608 University Blvd, Moon Twp, Pennsylvania United States 15108

Area

376 Business and University Blvd
Pittsburgh International Airport, PIT parking

Phone

Shuttle
Parking lot information
Globe Airport Parking in Moon Township provides the best long-term PIT parking rates, with additional discounts available every day! Take advantage of the most inexpensive, full service valet parking you can get with our PIT parking lot, where we offer a FREE shuttle to take you right to your Pittsburgh International Airport terminal. We're open 24 hours a day, 7 days a week, so we can accommodate your long-term PIT parking needs no matter when you need to travel. Reservations aren't required, but they're always encouraged - you're guaranteed a spot, and get our online discounts and coupons!
At Globe Airport Parking, we want to make your parking and travel experience the best it can be, which is why we've taken steps to take away any worry that you could have about vehicle while you're away! If you need auto repairs done, we have staff that can get them done while you're gone. We also have cleaning and detailing available if you need anything done, so you can be sure that your car is in excellent condition when you get it back. Our lot is always staffed, and your car will be in a fenced, secure lot that's monitored 24 hours a day. We will never leave your vehicle unattended!
Have peace of mind knowing that your car is safe and taken care of, so that you just have to worry about catching your flights! We have helpful, courteous staffed who are fully trained, so your vehicle is in the hands of the people who know what they're doing - even if it's simply driving it to your parking spot.
Nearby Attractions
- Pittsburgh International Airport (6.4 miles)
- Robert Morris University (1 mile)

Services, Features And Add-ons
- Open 24/7
- Free airport shuttle
- Valet parking
- Optional car detailing
- Secure, monitored lot
- Auto repairs
- Pay-per-day parking
Find nearby parking in Moon Twp »
Key Details
Guarantee Your Spot Free + Easy Cancellations
How to park at this facility
ENTRY PROCEDURES
Park in front of the office & check in inside
EXIT PROCEDURES
Call after retrieving luggage & wait at door 2 or 8 for pickup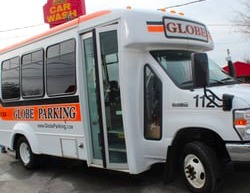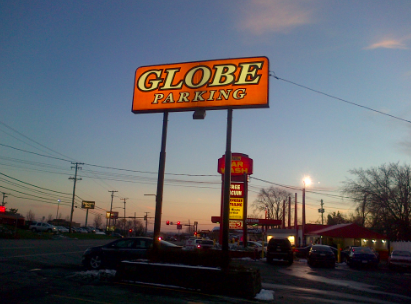 Parking location and directions
8608 University Blvd, Moon Twp, Pennsylvania United States 15108
Directions
From East:
Get onto the I-76 W
Bear left, and stay on I-76 W
Get off at exit 57 for US-22 W/Pittsburgh
Bear left and continue on I-376 W
Continue on I-376 W
Get off at exit 57 for Interstate 376 for Business/Moon
Continue onto I-376BL
Make a right onto University Blvd
Our lot is located on the left
From North:
Get onto the I-79 S
Bear right and continue on I-79 S
Get off at exit 65 for PA-51 N
Make a left onto Grand Ave
Drive onto Neville Island Bridge
Take a right onto PA-51 N/4th Ave
Make a left onto University Blvd
We're located on the right
From South:
Get onto the I-79 N
Get off at exit to I-70 W/I-79 N for Washington Pennsylvania
Bear right to stay on I-79 N, following signs toward Pittsburgh
Get off at exit 59B
Merge onto I-376 W/US-22 W/US-30 W toward Airport
Follow I-376 W
Keep right at get off at exit 57 for Interstate 376 Business toward Moon
Drive onto I-376BL
Make a right onto University Blvd
We're located on the left hand side
From West:
Get onto US-22 E
Get off at exit for PA-576 W/Airport
Make a left onto PA-576 W/Pennsylvania Turnpike 576 W
Get off at exit 1B, and merge onto I-376 E toward Pittsburg
Get off at exit 57 for I-376 BUS W toward Moon
Merge onto I-376BL
Make a right onto University Blvd
Our lot is on the left hand side
Globe Airport Parking prices and rates
Daily rate
Day rate
$6.75 / day
Grace period: 1 hour
Other charges
Service fee
$7.50
Customer Reviews
Customer Reviews (0)
Best Price Guarantee!
Book Now
Free + Easy Cancellations