FLL Park By the Ports - Fort Lauderdale Airport Parking ONLY
FLL Park By the Ports - Fort Lauderdale Airport Parking ONLY 100 Fronton Blvd., Dania Beach, Florida United States 33004
Nearby parking lots

Location

100 Fronton Blvd., Dania Beach, Florida United States 33004

Area

Dania Beach Blvd. and Fronton Blvd.
North East Corner of Lot

Phone

Shuttle
Parking lot information
Shuttles to FLL 24/7

Park by the Ports FLL Fort Lauderdale Airport Self Parking lot is located 5 minutes away from the Fort Lauderdale International Airport terminals.

Park by the Ports FLL Fort Lauderdale Airport Parking charges a low flat rate, and offers free shuttle service as well (for the first four passengers, $8 per person after)! They offer safe and secure airport parking for your vehicle while you are flying out of Fort Lauderdale Airport (FLL).

This is for FLL Airport parking ONLY! If you are going on a cruise you MUST change your reservation ASAP to cruise parking.

Absolutely No R/V, oversized, or commercial vehicle parking.

Free Services:
Courtesy Shuttle
Assistance with Luggage
Jump Starts
Tire Pumps
This is for FLL Airport parking ONLY! If you are going on a cruise you MUST change your reservation ASAP to cruise parking.
Find nearby parking in Dania Beach
Key Details
Guarantee Your Spot Free + Easy Cancellations
How to park at this facility
ENTRY PROCEDURES
FORT LAUDERDALE AIRPORT CHECK IN:

The lot for Park By The Ports is located inside the Dania Beach Casino in the North East corner of the parking lot. Here we will check you into the parking lot and remove your luggage to be placed onto shuttle. Please print out your receipt or have it ready on your mobile device. Display your receipt on the vehicle at all times.

For domestic flights please arrive 2.5-3 hours before; for international flights please arrive 3.5-4 hours before scheduled departure time.

Please note: our check in process can take 15-20 minutes and we leave no customer behind. Please give yourself adequate time. We recommend arriving to the lot 30 minutes before you would like to be at the airport.

Board our shuttle for the ride to FLL Airport. We'll drop you off at the curbside of your airline's terminal.
EXIT PROCEDURES
Upon Returning from your trip: Call our on-demand shuttle number found on your claim ticket (954)-727-5566 Ext. 1.

FORT LAUDERDALE AIRPORT PICK UP:

Must call 954-727-5566 Ext. 1 after baggage claim & customs for pick-up. Waiting areas are in-between the terminals on the ground floor (arrivals); drivers cannot pick-up anywhere else. Wear stickers & look for a shuttle that reads "Park By The Ports"

Terminal 1: When outside walk RIGHT to sign that reads "Hotel & Off Airport Parking Shuttles" by Letter E.

Terminal 2: When outside walk RIGHT to sign that reads "Hotel & Off Airport Parking Shuttles" by Letter E.

Terminal 3: When outside walk LEFT to sign that reads "Hotel & Off Airport Parking Shuttles" by Letter E.

Terminal 4: When outside walk RIGHT until you are at the end under the white canopy/tent.

Drivers & valet personnel work for gratuity/tips. Thank you!

Board our shuttle back to facility.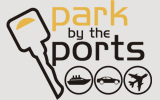 Services, Amenities, Features and Add-Ons
Airport Entrance Fee
Service Fee
Shuttle Passenger 1
Shuttle Passenger 2
Shuttle Passenger 3
Shuttle Passenger 4
Shuttle Passenger 5
Shuttle Passenger 6
Shuttle Passenger 7
Shuttle Passenger 8
Parking location and directions
100 Fronton Blvd., Dania Beach, Florida United States 33004
FLL Park By the Ports - Fort Lauderdale Airport Parking ONLY prices and rates
Weekdays and weekends
Day rate
From Nov 15 to Nov 30
Thanksgiving
From Dec 15 to Jan 03
November Rates
Add-ons
Airport Entrance Fee
$3.00
Service Fee
$5.00
Shuttle Passenger 1
- no charge -
Shuttle Passenger 2
- no charge -
Shuttle Passenger 3
- no charge -
Shuttle Passenger 4
- no charge -
Shuttle Passenger 5
$8.00
Shuttle Passenger 6
$8.00
Shuttle Passenger 7
$8.00
Shuttle Passenger 8
$8.00
Other charges
Sales Tax
+7.00%
Entrance Fee
$3.00
Customer Reviews
Customer Reviews (236)
Matt B.

Aug 23, 2022

Thank you for The great Experience. And watching my car

Maria T.

Jul 25, 2022

Was very organized and quickly!

ANTHONY M.

Jul 15, 2022

Everything worked out great no scratches or dings on car and was a short trip to and from the airport

Poonam B.

Jul 11, 2022

Parking was convenient and easy access. Shuttle service was good.

Teya R.

Jul 07, 2022

Coming in the girl was very rude and had an attitude. The drivers were very kind and nice. My car was great and as I left it. Leaving the man was very kind. Overall it was good.

Angela H.

Jul 07, 2022

Fue mi primera experiencia , la recomendaré a mis amistades. Buen servicio

Andrew E.

Jul 04, 2022

Joahana was polite and helpful when i came to drop off my car.

Vicki G.

Jul 03, 2022

Shuttle took us straight to the airport. No wait. Parking spots were ample. The pickup at the airport was a little bit of a wait, but not more than 15 minutes. I would use them again.

Jennifer R.

Jul 03, 2022

Very efficient, very professional and very reasonable! Safety and convenience was perfect.

Elena M.

Jul 01, 2022

Super easy, parked and got the shuttle to the airport! Staff is amazing!

Abel L.

Jul 01, 2022

Park by the Ports is perfect, the best service ever, from now on I will use it every time I have to fly

Gary B.

Jun 30, 2022

Nice to fined fast service at a excellent price. A++++++

RICARDO C.

Jun 30, 2022

Very professional and efficient.

Oreste G.

Jun 30, 2022

The driver was on time to take me to the Airport and pick me up to the parking but the driver was very rude to another customer that's something we need to work on it after all it was a good experience with you

Sheri T.

Jun 29, 2022

Great price and extra nice drivers!

Tanya M.

Jun 28, 2022

Service was horrible I waited too long to be picked up and made to walk to my car

Juan G.

Jun 24, 2022

Good location and good shuttle service

Karen R.

Jun 23, 2022

Shuttle was quick and it was a great experience. Thank you.

Karen V.

Jun 22, 2022

All of your employees were extremely helpful with everything.

Beverly L.

Jun 22, 2022

Everything was perfect pick up and drop off

Marcus C.

Jun 22, 2022

Outstanding service, definitely I will book it again.

Tatiana V.

Jun 21, 2022

Good price, Very fast pickup and reliable!

Yoanna D.

Jun 19, 2022

it was pretty easy to do. Employees were really courteous and on time

Hugo D.

Jun 19, 2022

Good service. Good price. Fast shutter service.

Adrian A.

Jun 18, 2022

Very good service and reliable great location and no hassle of waiting to pick up will use in future

Brian C.

Jun 16, 2022

Very friendly, great price. Only knock was had to stand in the sun waiting for bus.

Katia K.

Jun 13, 2022

Excellent service ! Lovely employees

Roberto S.

Jun 10, 2022

the pick up service was bad, call 3 times and the lady was unhappy

Aura P.

Jun 06, 2022

Park by the ports Ft Lauderdale location made my life very easy. I over looked at the preparation of booking a parking while I travel and it was a holiday weekend. Came across park by the ports which was economical, felt my car was secure and a very easy process from start to finish. Finding a parking was simple, drop off and pick up wait time was decent and Gary made sure we knew where the pick up was at for my terminal and was very pleasant to chat with after our arrival. I will use them again in the future.

Eduardo M.

Jun 06, 2022

Very good, nice and friendly staff

Susheel T.

Jun 04, 2022

great location ; pickup and drop off. courteous folks and quick. no issues at all.

Nathan B.

Jun 03, 2022

top notch. amazing service and very convenient.

Graham W.

Jun 01, 2022

Too long to wait to park. Advertise you have shuttles every 15 minutes. This did not happen. Won't park here again.

Aida A.

Jun 01, 2022

It's was my second time to use that parking. Very nice customer service, fast. Especially Tequila girl is the best, she always so nice and friendly. Highly recommend

L H.

May 31, 2022

The service was very courteous and prompt. It was completely stressless.

Delia C.

May 31, 2022

easy parking, short waiting time for driver to arrive to and from airport

Osama A.

May 29, 2022

When I arrived at the parking by 4:14 am to park my car, I didn't find anybody to meet or to ask for any guide at all and I choose this park as it mentioned 24/7, and the driver shows up after 15 min. At Airport terminal It took more than 40 minutes for the shuttle to arrive for pickup us from the Airport. More than four buses from other parking companies' buses arrived while we are waiting for Park by the ports shuttle.

Steven R.

May 28, 2022

Great place. Everything very easy and quick on drop off and pick ups

Soledad O.

May 25, 2022

I Enjoyed the Service. The driver was very helpful, fast and friendly. Pick-up location at the airport were easy to find.

JOHN M.

May 25, 2022

personnel made everything very easy for a first-timer

Joseph D.

May 24, 2022

Great service by the staff! Everything went smoothly and as advertised or better.

Joseph F.

May 22, 2022

Customer service by the parking lot attendant and the shuttle drivers from and to the airport were excellent!

Andrea V.

May 21, 2022

Very professional and friendly! Will definitely be using this location again in November when we go on a cruise . Highly recommend

Dennis W.

May 19, 2022

Very responsive Driver was very courteous and timely

Cristina V.

May 18, 2022

Seria mejor si el bus te recoje donde parqueas el carro y te deja donde dejas el carro por que queda muy lejos y se pierde mucho tiempo caminando deberia existir un flow para parquear por que las calles son cerradas.

Robert W.

May 16, 2022

Directions were easy and straight forward. Parking and shuttle was extremely convenient. Saves us a ton of money. Drivers on both end were extremely helpful and nice. Will continue to book with you in the future when leaving out of Fort Lauderdale airport.

Martin L.

May 15, 2022

Good value for the money and friendly service

GABRIEL A.

May 13, 2022

Excellent services, good price

Laura D.

May 11, 2022

Currently disputing charges for service non-rendered. Canceled by phone 1.25 hours prior to arrival due to no staff on premises. Line was forming (6 cars) and no one was at the booth. Called to get a refund and customer service said they would email me after speaking to lot attendant. Lot attendant stated his parking lot was ALWAYS manned and that I should not get a refund because I was there early. Also stated that I must have been in the wrong place?? Basically, contradicting himself. They charged my card and are standing firm even though I have a car full of witnesses. Shady business. Will never use again.

Brad F.

May 10, 2022

Great location, friendly staff, trips to FLL every 15 min. Quick pick up on return.

Carlton M.

May 09, 2022

You guys were on point , drivers very polite and helpful, the info given to where the pick up point excellent.

A K.

May 09, 2022

Excellent service no long waiting period for the shuttle and the driver was very professional I would definitely recommend.

John B.

May 08, 2022

Everything was great except the amount of time we had to wait for the van to pick us up after we arrived at the port. He got stuck in traffic

George B.

May 03, 2022

First rate service pickup and delivery.

Bart D.

May 02, 2022

Easy to find an easy to get out there was tons vehicles there to get us at the port

Eduardo S.

May 01, 2022

Everything was very good!!! I'll use it again good price, and time for shuttle and nice people

RICHARD D.

Apr 30, 2022

Great experience! Very close to FLL Airport. Shuttle pickup in 5 minutes after arrival around midnight. Courteous service. I'll use them again.

Kim H.

Apr 26, 2022

Fast and easy process. Highly recommend

John L.

Apr 23, 2022

Would be 5 stars except pickup was sketchy and confused.

Brian B.

Apr 21, 2022

Once we got past the initial setup for my account everything was easy. The young lady who picked me up on 4/19/22 was personable, professional and deserved every penny of the nice tip she earned!

Lauro O.

Apr 13, 2022

the place is very good. I was well received by the staff, they were very friendly. I really recommend.

Victoria P.

Apr 12, 2022

Very fast and fantastic customer service. Each employee was so kind and hard working. Will use this service again.

Mary R.

Apr 06, 2022

Will definitely park here in the future

Diana D.

Mar 31, 2022

Very smooth experience, location is very close, friendly staff.

Mark F.

Dec 09, 2021

Everything went smoothly! Employees were very helpful and friendly!

Goeto V.

Nov 16, 2021

The experience was great, from the moment we arrived, to the return call for a pickup at the JetBlue Terminal 4, all the employees involved, provided ( 5 ) Star Service.

Michelle M.

Nov 10, 2021

Very efficient and professional service was provided

K-U R.

Nov 06, 2021

It was convenient, reasonable rates and everyone was very helpful, assisting with luggage and dropping me off at my car. Will use them again in the future and recommend to my friends.

Bridget H.

Nov 03, 2021

Efficient and reasonable rates.

Ligia C.

Oct 29, 2021

The ride to the airport and the pickup is fast.

Hicder V.

Oct 21, 2021

Very good service, I recommend to use this service. And I will continue using this service. Excellent

Daniel B.

Oct 13, 2021

Was expensive for a 2 day parking but my car was there when i arrived and transport was painless as well, thanks again!

Tiffiany S.

Oct 06, 2021

Very good customer service & great communication. I will refer your company

James K.

Oct 05, 2021

Very convenient. Staff was friendly and accommodating. I would use their service again.

Shawn K.

Sep 21, 2021

Check in staff and drivers for P&D has professional and friendly.

Clarence C.

Sep 07, 2021

Very friendly, helpful, high quality, on time and professional service.

Thomas M.

Sep 02, 2021

Great staff and service. The shuttle was timely on my wait for it to the airport, and for my pick up at arrival. Will definitely be using again on my next travels.

Franklyn R.

Sep 02, 2021

Great location and good service!

Shalom E.

Aug 28, 2021

Very good service parked fast And dropped at the airport fast We use them again ,definitely

Stephanie M.

Aug 17, 2021

I will definitely use Park by the Ports again when flying from FLL airports. Everything was seamless. Great price, great service, clean vans, quick ride to the airport, with great radio tunes to boot.

Lawrence G.

Aug 16, 2021

They have a very good service.

T T.

Aug 10, 2021

Great customer service, timely shuttle, very professional, close proximity to the airport, safe lot, and very nice staff.

AZBEL Q.

Aug 04, 2021

Great overall experience. Will definitely use your services again in the future!

Cori S.

Jul 18, 2021

Great experience. Arrived and was immediately shuttled to the airport. Had to wait less than 20 minutes to be shuttled back to my car on return trip.

thomas h.

Jul 17, 2021

Good service. Easy parking. Polite driver. Will use again

Jacquesta P.

Jul 15, 2021

Excellent customer service! Would definitely use their service again.

Gerald B.

Jul 14, 2021

Checking in was a little odd. We had to stop at bus and then park. I had to walk a ways back to bus. Not so great! Coming home, bus came right away. took us to car and packed our luggage. That was good.

Kathy L.

Jul 05, 2021

Well deserved 5 stars. Easy reservations, courteous staff, clean parking lot, close to the airport. Swift pickup upon return.

Gene K.

Jul 05, 2021

Timely service and friendly staff will definitely use in the future

Algon R.

Jun 28, 2021

Awesome crew!!! Awesome parking!

Kesha B.

Jun 26, 2021

Never in doubt; this location of the best to park your vehicle. Very friendly parking attendant, shuttle that runs 10-15 minutes as well as courtesy shuttle drivers. You will arrive to the airport within 5 minutes and they will unload your baggage for you.

Guybenson A.

Jun 23, 2021

Awesome service! The driver was courteous and on time.

Harrell N.

Jun 02, 2021

Felt safe in leaving my car and never worried about it while on my trip. Pick up was quick and easy. Highly recommend!

Efraín C.

May 31, 2021

excelent service jhovana shes nice

Paulo C.

May 27, 2021

Good place, close by airport. Down side is no shuttle after 11pm

Susan M.

May 25, 2021

The staff was very friendly! The parking area was clean. The only suggestion I would have is to be dropped off by your car instead of by the entrance.

Irasema C.

Apr 09, 2021

Good job! Driver was awesome. Thanks.

Fernanda A.

Apr 01, 2021

They say first impressions are what count and unfortunately ours was an unpleasant one. We were running late to our flight so we were very nervous and anxious. Upon arrival, no one was in the hut where you must wait to receive the parking permit to keep the vehicle in the lot. Then, when the man arrived - he was very rude sarcastic and dry. This man should not be the point of contact for the customers in any way. I later found out that he was the manager, I couldn't believe it. However, the positive feedback to this place was the shuttle drivers. I had a different driver each time and they were both so pleasant and helpful. If it wasn't for the man in the hut, I would've gladly given this place a 5 star review. I would return because the location is convenient but I wouldn't recommend this place to anyone in fear they'd deal with the same individual who made our experience so unpleasant.

Susie G.

Jan 22, 2021

Excellent. Courteous. Convenient to fll

Melissa L.

Jan 08, 2021

I liked that I was able to park my car even when there was no one there yet. It would be nice if the shuttle was there longer hours but other than that it was a smooth experience

Ken B.

Dec 31, 2020

I never went there. I flew to Colorado from LAX, nor Florida.

Odalys M.

Dec 16, 2020

Casi pierdo mi vuelo hacia las Vegas, a las 6 AM,cuando pague en el horario aceptaron mi entrada a las 4 y cuando llegue hasta las 5 no había personal, tuve que salir corriendo a buscar donde parquear y casi, casi pierdo mi vuelo.no lo recomiendo a nadie.

Maxwell K.

Oct 14, 2020

Called from the airport at 3pm and there was no shuttle service available on a Tuesday...that's why I chose this location...the shuttle to and from the airport

Katelyn G.

Aug 21, 2020

Bought a spot well in advance. Had check in for 3 am. Nobody was there. Waited for an hour. Kept calling the numbers and said the calling hours were closed and the shuttle line kept disconnecting. Wanted a refund for the $50 I spent still got nowhere and practically almost missed our flight. Luckily we found another parking place but would NOT recommend.

David R.

Aug 19, 2020

Your emails neglected to inform me the shuttle was not available which required a taxi for transport to and from the airport, with the added fees, parking at the airport would be the same price and less person to person contact- this was not a financial saving nor a safety savings using your facility. The location was unsupervised, no security , no personal service. Sorry your service is not an improvement over parking at the airport, and I will not recommend and tell those who did recommend you of your poor service and new unpublished reductions in services.

George A.

Feb 03, 2020

A little difficult to find exact location of the sign in once at the parking lot since it is used by more than one company. Made reservation on line, but my reservation was not in your system when I arrived. I showed them my phone confirmation receipt and had no other issue.

earl w.

Jan 04, 2020

the attendant-drivers are friendly; and the shuttle vans are clean. remember to follow the pick up instructions...

Luz R.

Oct 20, 2019

Easy and quick pick up. Super nice staff.

Joseph S.

Oct 12, 2019

Great place to park. Bus was waiting for us when we arrived to park. And when we got back from our trip it only took about 10 minutes before they came to pick us up.

Tatiana E.

Apr 04, 2019

OMG!! They are so great!!! The parking team are friendly and helpful . Definitely be back. Taty from Boca Raton

Biljana K.

Feb 07, 2019

Great experience except at the airport the pick ip lockation on Terminal 4 is not marked so twice already we wait at the spot as suggested ( at the end of the canopy) and driver stops at the begining so we need to try and get us noticed or otherwise will get passed by.

Robert K.

Jan 03, 2019

From arrival to departure it was smooth. Great communication via email and phone. Would definitely use again.

james s.

Oct 10, 2018

The overall experience and convenience of using Parks by the Ports was great. As weary travelers we really appreciate the professional service and quick turnaround. We will be returning customers in the near future.

Diane S.

Oct 08, 2018

All was good until the driver asked if we could go back and pick up some people (we were More than half way back). I said no. (I had to use the RR). It was good when he said "no problem, they weren't where they were supposed to be"! We will for sure use the same Parking again! Thank you for making it affordable.

Christina B.

Jul 20, 2018

A little difficult to find but other than that great. Sign needs to be bigger

Javed M.

May 29, 2018

Extremely convenient great pricing and helpful staff from start to finish of reservation.

Althea G.

May 22, 2018

Very courteous & respectful staff. I was impressed with their professionalism

Lance K.

Mar 10, 2018

The staff here really go above and beyond. They helped my family with our luggage both unloading it from our vehicle and also onto the shuttle. Once the shuttle dropped us off, the driver got out and also helped us with our bags.

Michael G.

Mar 10, 2018

I travel a lot for work so I'll be sure to use this more often and tell me coworkers about this place too. Very cheap for 5.99 a day.

Kristen A.

Mar 09, 2018

Valet was something I did not expect for such affordability. The extra services are another added bonus incase you need anything done to your car. I got my car cleaned and detailed and the tires checked and all. Basically a multi-service that makes sure you get to and from the airport without any worries.

Phil J.

Mar 08, 2018

Man, if only every park n fly were ran like this. Really helpful attendants who worked fast. There were multiple families who got there at the same time as me and yet everyone was helped onto the same shuttle in a matter of minutes. When travelling it's much appreciated when everything is done in a timely manner.

Carlos N.

Mar 07, 2018

Not sure how many people know about this place, but hopefully more find out and save some cash here! Very glad I made a booking here or else I would have been paying much more elsewhere.

Jimmy N.

Mar 06, 2018

Definitely going to tell my friends to park here whenever they travel. The reservation was really easy to make online and you get sent a confirmation email that you need to present when you get there. Really easy process and the parking lot itself was great. Pretty busy but it was well structured and the staff knew how to direct traffic easily.

Adeline J.

Mar 04, 2018

Great business with an emphasis on servicing the customer. They took pride in helping myself and my family with our baggage and the valet was super convenient.

Taya P.

Mar 03, 2018

5 stars given, and I would recommend to those who booked cruises in the surrounding port area.

Ruby E.

Mar 01, 2018

My son's hockey team rented a bus to get to Fort Lauderdale and parked here while we went away for a weekend hockey tournament. It ended up being a great idea as it would have been a bigger pain with individual family vehicles trying to park at different places and meet up in the chaotic airport. We all stuck together and left the bus here, the shuttle just needed a handful of trips but we had plenty of time to spare. It went pretty smooth for there being quite a few of us.

Annie I.

Feb 28, 2018

10/10 service with seriously awesome daily rates. I've seen a lot of places that were much more expensive than this that didn't even offer half the customer service that Park by the Ports has. I'll be parking me whenever I fly next again!

Jenna E.

Feb 27, 2018

I've had awful experiences waiting for me car to be brought to me when using valet, sometimes i feel like it can be very unorganized, but here at Park by the Ports my car was already out of the lot and ready to go by the time I got back to the parking lot! It makes you feel valued as a customer when things are done without you having to ask.

Paige L.

Feb 27, 2018

Very happy to have parked my car here. It seemed very busy in the area but I was moved along quickly and taken care of. My kids found the whole process very interesting and thought the shuttle was really cool (they said it reminded them of their school bus). The driver was awesome with helping with the bags once we got to our terminal and we were on our way. Coming back in a few days now and looking forward to the next shuttle ride!

Jasmin G.

Feb 27, 2018

Great people here who take good care of your vehicle while you're away.

Ashton B.

Feb 25, 2018

When I first got here I was a little confused at how to exactly get in the parking lot, but the attendants waved me around and directed me through. They must do this a lot haha. Took my bags for me and the valet allowed me to just hop on the shuttle and not worry about parking. The service was awesome.

Alexa N.

Feb 25, 2018

Very appreciative of all the helpful employees here who helped me both times with my bags! Thank you!

Abby T.

Feb 24, 2018

Very thorough care taken of my car. They inspected it with me there in order to see whether I wanted certain work done to it or not. Turns out I was a little past due for an oil change so I got that done for a very fair amount. The daily parking rate is a great bargain as is, so I was happy to give them more of my business.

Taryn S.

Feb 22, 2018

There was no hassle in the whole process of getting to the airport thanks to this parking lot and the free shuttle. It was really just a few mins to get the Fort Lauderdale airport and I while I was a little nervous leaving my car here, it was safely reunited with me upon return. You could tell the staff here were very professional with their handling of the cars. They had mine waiting out front for me when I got back; very well organized clearly.

Lindsey T.

Feb 21, 2018

Cheap parking and exactly what you should look for if flying out of Fort Lauderdale or going on a cruise from the port area.

Bailey L.

Feb 21, 2018

Cost 10/10, cleanliness 10/10, friendliness 10/10, timing of the shuttle was a little off but its understandable as traffic near an airport can be a little crazy at times.

Josephine Q.

Feb 20, 2018

How does the airport still manage to get people to pay so much for parking when there's this place just down the road, I have no clue. So glad I parked here, I ended up saving a ton and my friends are the ones who recommended using park by the ports. I'll be passing the good words along!

Katrina T.

Feb 18, 2018

Park by the Ports was just what my family needed to get to our cruise smoothly. We wanted to have our vehicle nearby when we got back so that we didn't have to pay for a long ride there or back. It ended up saving us quite a bit by parking here, and there were other options but this one seemed to have the best reviews with a great location and low prices. The place seemed very well maintained and had lots of cars.

Tia S.

Feb 18, 2018

The one attendant there is really funny, I had some heavier luggage because I was bringing some gifts to family I was visiting and he said 'this is all you have?! where's the rest of your stuff?' You could tell he was more than happy to help with the bags and have me on my way to the airport.

Destiny A.

Feb 16, 2018

The free shuttle is really a life saver. I don't know how they can offer things like this with such low rates, but I'm all for it! I suppose now that I think of it they were quite busy - amazing how many cars they can fit in there without losing track of any of them and keeping them all organized! Thanks to Park by the Ports for everything.

Delainy O.

Feb 14, 2018

Some park n fly businesses are far from the airport with no shuttle service, but this one has exactly what you need to avoid large parking fees and a large headache. Avoided all kinds of traffic and stress by parking here, and I was very happy with the service here. They took my bags from the trunk of my car to the shuttle, and clarifying everything with the gate employee was very straight forward.

Miranda G.

Feb 14, 2018

6 bucks and you're laughing! (on the way to the airport) Seriously, how can people pay $40 at other places when there's this gem right near the airport with free shuttles to and from. It was a no brainer for me and not much else to it. Simple, just the way I like it.

Anikta A.

Feb 12, 2018

The flat rate is what I appreciate. No added fees or time charges, just daily rates and even monthly rates if you're gone for really long.

Dina J.

Feb 12, 2018

Like everyone has said, the attendants in fact are very upbeat and helpful with luggage. I had multiple bags with me and didn't have to lift a finger because of the nice employees here. Even the shuttle driver took my bags out for me once we arrived to the airport.

Juliette T.

Feb 11, 2018

Got the oil changed while I was away. Anyone who will service my vehicle with that sort of convenience I like. lol. Thanks for the helpful added features!

Julio P.

Feb 10, 2018

Just take my word for it ; best park n' fly in the area. If you need any minor work done to your car you can depend on the staff here to take care of it while you're relaxing on vacation or what have you. My truck needed an oil change as bad as ever, I was meaning to get it changed but it was well overdue (Oops). Very happy to have left here with a healthy vehicle.

James J.

Feb 10, 2018

Save a ton of money by parking here instead of at the parking lot! There's really no difference because the shuttle is free and only takes a couple minutes anyways!

Diane W.

Feb 09, 2018

The website is confusing as to whether your booking airport or cruise port parking. We along with another couple unrelated to our trip booked online for Fort Lauderdale and were directed to wrong parking lot. Had to travel to another parking lot and pay additional $30 because we were parking for cruise not airport. Doesn't make sense to pay more because of nature of travel.

Hudson J.

Feb 08, 2018

I've had some bad experiences with parking lots, like one time I was overbooked and couldn't leave my car at this one place. Well, when I arrived it was pretty busy so my past fears came back. But when I got to the gate there was no issue and my spot was there for me. Really glad that the shuttle was included cause it can be a pain to get a taxi in this area which is always so busy.

Aaron K.

Feb 08, 2018

This place is just around the corner from Fort Lauderdale airport and you cannot beat Park by the Port's prices! Best in the area with a free shuttle included. The valet was nice too, they took my car at the gate for me and someone was there to help with my bags too (I notoriously overpack so I kind of felt bad, lol). Anyways, everyone I dealt with was very helpful and I want to tell anyone travelling in this area to give these guys a look if you're contemplating the whole park n' fly thing.

Kendall K.

Feb 06, 2018

It was really hot when I parked here so I don't know how to attendants were so energetic with helping with baggage and directing people around the lot. Just grateful for the parking space because I was not about to pay $40 a day to leave my car at the airport!

Val L.

Feb 05, 2018

When I parked here it was nice that the shuttle was on time. Sometimes I've had to wait for such a long time at other places for transportation services that were supposed to be 'convenient'. Well, this one actually was and it got me to the airport really fast. When I got back it just took a phone call and a couple minutes for the shuttle to grab me at my arrival terminal.

Cam C.

Feb 04, 2018

Fort Lauderdale is literally a few minutes away from here. Not half an hour like some parking lots, haha. What's crazy is that it's only 5.99 daily here, almost unheard of for being this close to the airport!

Kyanna P.

Feb 04, 2018

Friendly guy at the gate helped me boost my car when it wouldn't start for me when I came back. Life saver much?! Really appreciate the help!

Pam G.

Feb 03, 2018

Valet made me feel like I was at some fancy hotel, haha. But seriously, it was really nice to have and for only like 6 dollars a day there's not much else you can ask for!

Neenah R.

Feb 01, 2018

I would highly recommend parking here! Cheap daily rate for long trips and you can have some stress-free travelling with your car safe here.

Devanshi E.

Jan 31, 2018

Never thought I would take time to review a parking lot, but the Park by the Port employees were too nice and caring not to. I brought my car here and they did the rest! 5 Stars and this place deserves it.

Sherry S.

Jan 30, 2018

Service was great, I got the oil changed in the car and tires were a little low on air I was told too. It's like a parking lot and mechanics shop all in one! Impressed with how many cars they handle at once.

Ava M.

Jan 29, 2018

I feel really sick when I travel so I really appreciated being pampered like I was. When I got picked up after my flight I was feeling a little nauseous so the driver lifted my luggage for me and luckily I was the only one on the shuttle. I got back to the lot and my car was waiting for me beside the office at the front. No sifting through a maze of cars to get out, I was just on my way. Very much appreciated.

Bryanna T.

Jan 29, 2018

Nice attendants and trustworthy parking area here. There's always someone around to answer your questions or help you with luggage. Had to wait just a bit for the shuttle but I was told I just missed one when I arrived so I guess that's why. My car was safe and I had peace of mind when I was away on business.

Eric E.

Jan 28, 2018

Make sure when you return that you wait outside in the specific Hotel/Airport parking pick-up area! There was some confusion with where the shuttle was picking us up and we had to call to clarify, but after a few minutes we were found by the driver and all was well, lol. We got out of the parking lot in just a few minutes and were on our way home. Parking here took a lot of the stress out of getting to and from the airport.

Adrienne K.

Jan 28, 2018

We googled on Fort Lauderdale Port parking and the FLL Airport parking showed up as an option. We filled it in for the $5.99 rate and decided the distance was fine. We called to confirm that the airport parking contract option we were looking at on-line did provide transport to the port and were told it did. So we paid $100. When we showed up at the lot they said we were at the wrong location and had to go to your other lot. We got there at the other Park by the Port lot and they wanted $36 more. We were going out on the boat obviously, we paid it and decided to write late which we are in the process of doing with the help of or credit card complaint office. We called your office and you told us to talk too the Park by the Ports company. We called them and they told us to call you that it was your mistake. We had been told the your bus pick up was every 20 minutes. When we return owned we waited a half hour to call the first time. The park by the port told us that after ten o'clock it takes more than 40 minutes. We were picked up after 70 minutes. So you can guess how we feel about the experience.

Layla D.

Jan 27, 2018

Outdoor parking here, so if you have a tall vehicle have no worries. Some lots are underground or have low roofs which can be a pain, but any vehicle can fit here, even RV's (I saw a few parked here). Tons of space and I will be using the parking lot again when I travel next (possibly a cruise next time).

Audrey L.

Jan 26, 2018

I thought there would be extra fees along with the daily rate but there was no messing around, just $5.99 per day and my car was safe and sound while I travelled to Dominican for the first time! Came back feeling good and the smooth sailing continued when I got back. My car was waiting for me at the front and I was on my way pretty quickly. Thanks to the parking lot attendants who had my car ready for me.

Risa I.

Jan 26, 2018

The parking lot was like all the others except it was way cheaper. Try reserving a spot here first before looking anywhere else if you want to save some money!

Aeysha W.

Jan 25, 2018

Just a mile away from the airport - can't beat the prices let me tell you! Just make sure you reserve a sport in advance and you'll have easy travels.

Morgan W.

Jan 23, 2018

Shuttle was clean which I appreciate since I've had to sit in some really gross ones in the past. The parking situation was easy. I think next time I park here I'll get some work done to the car, the service here seems very reasonable and good reviews of the work being done.

Cora J.

Jan 23, 2018

I read in here that a couple others needed their car boosted when they got back, and for whatever reason my car fell victim as well and needed a start-up. Can't thank the guys here enough for helping me avoid extra costs by calling a tow truck by giving me a boost! Thanks a bunch

Alexa C.

Jan 21, 2018

It was nice to be charged fairly and not be gouged on parking for once. Ha-ha. Can Park by the Port open up parking lots everywhere please!! Lol

Cecilia C.

Jan 20, 2018

Took my spouse on a little surprise trip and left our car here. It ended up costing me a fraction of what it would have been if I actually left my car at the airport parking lot and it was just as convenient. Actually, even more convenient because I got the car checked and serviced while I was away! They said my tires were actually quite low on pressure which can affect mileage - you learn something new everyday I guess! Thanks guys for the honest work and great customer service.

Trevor L.

Jan 20, 2018

Definitely 5/5 stars here for the awesome prices. A lot of other parking lots in the area are twice as much and do the same stuff. Park here when travelling out of the airport or docks!

Grace E.

Jan 19, 2018

The valet was pretty sweet, although I'm not used to handing my car keys to a stranger (just kidding, the employee was very professional). The parking lot was well-maintained and the cars were parked very evenly. Sometimes it looks like a traffic jam in the middle of a lot cause the cars are just kind of piled up there in a mess, but this one was very well-organized. Happy to have given my business here and will be happy to park here in the future again!

Makala N.

Jan 19, 2018

Great rates, pretty quick ride to the airport with the shuttle that comes with the reservation. :)

Jazzie I.

Jan 18, 2018

Went on a vacation with my own family and some extended family and we left a couple vehicles here for the week. The valet took each of our cars and the shuttle fit everyone at once which we were all happy about since it can become quite a pain when people get separated at airports. It dropped us off right at our terminal and the driver of the shuttle helped us with our bags. Very appreciative of the care shown in helping us on our way to our flight.

Rana S.

Jan 18, 2018

The fact that the shuttle was free with this really low daily rate of parking in the first place showed me that this place was not looking to rip you off or burn you for as much as possible. Obviously some places look to make the most they can and take advantage of people, by this place seemed like much more than that. I had a very easy time parking here and will be parking here again in the future when I travel out of the Fort Lauderdale Airport!

May F.

Jan 16, 2018

Call or book on-line ahead of time and you will be good to go! The staff helped me parked and it was pretty straight forward even though it was really busy at the time that I arrived at the parking lot. The shuttle was pretty darn full too but it carried more people at once than I thought.

Skye J.

Jan 16, 2018

Best discount parking lot I can think of in the area! Cheap rates and they will not disappoint!

Linda L.

Jan 16, 2018

I was charged an additional $24 when I pulled up to park. I believe I was overcharged.

Samira Y.

Jan 16, 2018

WOW! The service here blew me away. For 5.99 a day I didn't expect much but I got there and they basically treated me like royalty. My luggage was handled for me on to and off of the shuttle, and I even got the valet service at the parking lot to park my car for me. It's these things that help the whole travelling experience. People have a lot on their minds when flying and often coordinating with others that they are meeting or travelling with so it's nice to have some of the little things taken care for you.

Rania J.

Jan 15, 2018

This is very nice for large groups who are travelling in busses or RV's as there are spots available for large, 20 feet plus vehicles. The extra services are nice for those who are in need, but luckily my car was all tuned up already. If I travel again I'll be sure to use park by the ports again.

Milana B.

Jan 13, 2018

Clean parking lot with nice staff. I would recommend to anyone flying out of Ford Lauderdale! :)

Jaiden A.

Jan 12, 2018

I arrived on a rainy day but it didn't damper the employees spirits here. Everyone was very on-the-ball with directing cars and taking luggage for people leaving and also returning. While there was a lot going on at the time when I came to the parking lot, I still felt cared for and it was all very efficient. Sometimes I've had to wait for a while for a shuttle but this one was very quick. Will be using again when I travel next month!

Nathan E.

Jan 12, 2018

The weather was awful the day we parked here, but we were able to wait inside for what ended up being just a minute or two before the shuttle got here, On our way to the airport now, fingers crossed for an on-time flight!

CHARLOTTE C.

Jan 12, 2018

Easy back on to 95. Smooth ride to airport. Good instructions for pick-up at airport.

Collin H.

Jan 12, 2018

It was nice that when we go the shuttle back to the parking lot, they had coordinated having our car out front and ready to go for us. No waiting time at all, we got back and presto, there it was. When service is this good, you feel respected because they don't waste any time in having you on your way. Traveling is a stressful thing and Park by the Ports definitely helps simplify all the craziness that comes with flying!

Talina D.

Jan 10, 2018

The on-demand shuttle is ACTUALLY on-demand! Who would have thought! a service that is actually as it is advertised. The Park by the Ports people are very nice and run a great operation here for such a fair price. Unlike some scamming parking lots, the staff here genuinely care about your needs as far as car security and getting any other extra services done. The rates for the extra stuff is pretty comparable to any mechanics shop or oil change place. Got my oil changed and it was nice not to have to take more time out of my day to do that.

Tori W.

Jan 10, 2018

I found it convenient just to have the parking reservation on my phone and not have to print anything off. Just have the email with you and the attendant will take it from there! I wanted to get filled in a little as to how secure the area was since I was a little weary of having my car damaged or vandalized, but they assured me there was always someone around and the place seemed fairly high-traffic.

Jade I.

Jan 10, 2018

They offer monthly rates here so it was perfect for me while I was going on a multiple-month trip. I live a few hours away from here so it would have been just as costly to get a ride here.. I figured I might as well have my car here for me when I get back so I decided to book here. I felt like I was treated very well and the parking lot was easy to navigate. Very happy with leaving my car here!

Molly K.

Jan 08, 2018

Trusted service and a secure place to leave your car. There are always staff on site and the daily rate is virtually unbeatable! It can add up really quickly when you're paying for 7, 10, 14 or however many days of parking time you'll be needing. $5.99 is very fair and it was nice to have the shuttle included with all of that.

Ivy Q.

Jan 08, 2018

My car was making a bit of a funny noise so I got it checked and the engine, indeed, needed some servicing. The mechanic here took care of my car needs while I was away vacationing, and when I got back I didn't have the rumbling I had before in my car! Nice to not only have some time off but also to get things done while I'm not even there.

Gloria F.

Jan 08, 2018

This place came highly recommended via friends and family and it did not disappoint. Great service and timely transportation make for a successful and well-ran park n fly service.

Eliana I.

Jan 07, 2018

Sometimes these parking lots are not all they're made out to be, but Park by the Ports here in Fort Lauderdale is the real deal. I've parked her twice when I've had to fly for work and it's been the best park n fly experience I've had each time. I don't really have the patience with parking and everything so that valet was great to have.

Sinead C.

Jan 06, 2018

5 out of 5 stars. This is the kind of service you'd expect at a nice hotel, not for 5.99 per day. I was pleasantly surprised when I saw how much care was taken over my vehicle. I arrived a little early so I figured I'd get the car inspected to see if it needed anything done to it while I was away. Turns out my rear lights needed changing and the oil change was overdue so it was well-worth it. It's nice to have these extra services available in a place where you're leaving your car for a number of days anyways.

Hari K.

Jan 06, 2018

We had bad traffic on the way to the airport and the shuttle driver left early to help us get to the airport on time! And my pickup shuttle driver upon my return was extremely warm and welcoming. Great experience.

Zoey G.

Jan 05, 2018

Book ahead and you'll have no issues! We booked a few weeks before our trip and it was easy a pie. The gate attendant just confirms your information and a valet is available to take your car without you having to park it yourself. We got that done and the shuttle came within a few minutes. It's about a 10 minute ride to the airport.

Joey E.

Jan 05, 2018

Had to pay a little more cause any more than 4 people taking the shuttle in the same family is an extra charge, but I understand because it was quite busy and full in the shuttle. The driver took everyone's bags for us and unloaded them once we go to the airport. Nice operation here and I'll be using them again in the future.

Al D.

Jan 04, 2018

I arrived to Park by the Ports in a bit of a rush to catch my flight (not like I was scrambling to get onto my plane, but also didn't have much time to spare), and the lot attendants were swift in checking me in, confirming my information and having me on my way.

Shruti L.

Jan 04, 2018

Very impressed with the training the staff must have received. I find that in some parking lots very little care is shown to the customer and we are sort of just herded like cattle and all the staff see are dollar signs in us. Not with these guys, they treat you with courtesy and understood all my needs. They pressured my tires while also giving it an overall fluids tune-up for just a little extra.

Selena L.

Jan 04, 2018

The shuttle and valet are very nice! I travelled with my two young kids and while I was dreading it a little, it actually turned out to be very easy (who would have thought haha). Going out-of-state to visit family, we left our car here and caught a flight at the airport. Upon returning the shuttle got to us within minutes of us calling for it, and the driver was the same one who originally dropped us off. He was helpful both times with our luggage and when we got back to the parking lot the valet brought our car right up to the front for us and again our bags were handled. Very thorough service! Thank you.

Felicia F.

Jan 02, 2018

For pretty much 6 bucks a day you're getting a really nice parking area within a mile of the Fort Lauderdale airport. I think parking at the airport is like $40, so this is way smarter to use. We got here a few hours before our flight and the shuttle took us to our terminal. The driver helped with luggage and it didn't feel like much work at all when dealing with Park by the Ports. Just the kind of stress-free, easy dealings I had hoped for.

Godfrey C.

Jan 01, 2018

What can I say, the parking lot is well-maintained and the shuttle is on-time. Not much more you can ask for!

Tyler T.

Dec 31, 2017

Planned a half road trip, half cruise vacation for my family and I. This parking lot was absolutely perfect because we had drove over a couple states in our family RV and camped out a few nights along the way. We were able to do this because of the special oversized spots available in the park by the Port lot. There were a couple other busses and large vehicles parked here when we arrived but still lots of room. We left our RV here while we went on the cruise and it was a decent rate although it is more expensive than keeping a regular car there.

Patricia S.

Dec 31, 2017

For pickup at the airport, the Directions said white sign, but the sign was blue with white lettering. I had to call to confirm instructions. For a first time user it was good.

Casey T.

Dec 30, 2017

I booked here a few weeks in advance and apparently it was all sold out when I arrived. They seemed to be very busy but had time to help me with my bags. Very fortunate to have booked well ahead of time because it sounds like this is used often by many people and I can see why with the competitive prices and great service they offer.

Mario C.

Dec 29, 2017

My truck was push and scratch on the left side of the bumper. Also, the overhead mini console door is broken off.

Mario C.

Dec 29, 2017

My truck was push and scratch on the left side of the bumper. Also, My overhead mini console door is broken off.

Mario C.

Dec 29, 2017

My car was putch and scratch on the left side of the bump.

Anne T.

Dec 29, 2017

Got some detailing done to my car while I was away and it was very well done. I also got an overall check up/ tune up on my car so that when I left the lot upon returning it was nothing but peace of mind. There is always lots of room here just be sure to book in advance so that the whole check-in process is smooth sailing.

Muriel A.

Dec 29, 2017

No problem recommending you to my family and friends.

Meghan M.

Dec 27, 2017

The directions on the website are very easy to follow to get here. I took my parent's on a cruise and they were very helpful with handling our luggage for us. Travelling with an elderly couple can be a bit stressful with the care that they need, and the attendants surely understood this as they helped us out quite a bit. It was nice to see the great customer service on display and complete strangers showing the patience and care for my parent's. Thanks guys!

Ralson I.

Dec 27, 2017

Amazing parking lot, tons of space, complimentary shuttle service and mechanics on-site for any additional servicing you may want/need on your vehicle! Great flat rates. Two thumbs up.

Cory G.

Dec 26, 2017

Drivers were great on time and communication. Construction in the area made it hard but now that that is over I would recommend

Omar I.

Dec 26, 2017

My family got a thrill out of the shuttle bus! My kids found the ride to the airport even more amusing because of the shuttle that was available to us. The driver was very friendly and was actually the same one who picked us up when we returned. Either time we didn't have to wait long which is nice when you have kids.

Ray I.

Dec 24, 2017

I'll be using park by the ports again when I travel next simply because of the simplicity of it all. There were no crazy hidden fees or stress involved in the process. Everything was very organized and straight forward with coordinating shuttle times and exchanging information. The place is really well staffed.

Blake S.

Dec 23, 2017

I got my car an oil change for while I was away and it was pretty convenient to get done. They also filled my tires and offered valet service which saved me the hassle of finding a spot in the lot myself. I only waited a few minutes for the shuttle which was included in the already-cheap rate.

Divya S.

Dec 23, 2017

The helpful staff were really friendly and kind to my kids, who had big luggage bags and wouldn't have been able to lift them themselves. They were a huge help with directing us to where the shuttle would be and carrying out our luggage. The driver of the shuttle bus helped us put our bags in and also got out when he dropped us off. Very kind people who work here.

Nicholas M.

Dec 22, 2017

I would like to give this place 6 stars if possible. Honest and hardworking employees here that care about you and your car. It's in prime location for the airport as well as the docks for cruises and boats. I've used park by the Ports several times, and this time I'm headed onto a cruise. The vacation pretty much began when I rolled up the Park by the Ports with the valet service and all.

Kailey T.

Dec 21, 2017

The staff were all very kind yet quick with what they were doing. Handled my family's luggage carefully to and from the shuttle both times, and parking here was only 5.99 per day. You can't find that cheap of parking anywhere else in the area. Would definitely recommend parking your car here for any trips being taken out of Fort Lauderdale port area.

Isabella E.

Dec 21, 2017

It was raining when we arrived to the parking lot, and very thankful for the two attendants who hurried our things from the car to the shuttle for us. It made it so much easier for us and the valet was hardly in saving us some time too. Just be sure to have your confirmation of reservation on hand whether its printed off on brought up on your phone for the gate attendant to check you in quickly!

Alisha A.

Dec 21, 2017

Since the parking rate was so affordable I decided to get the oil changed on my car too here. It worked out great that I didn't have to take time out of my day at some other point to get this done. The mechanics here have a great reputation with me after tuning up my car while i was gone. Thanks Park by the Ports!

Ramon H.

Dec 20, 2017

The parking lot is really spacious and reserving a spot is really easy to do! We just had our confirmation information with us and checking in at the gate was really fast. The attendants were all very kind and helped with our bags without hesitation. The shuttle took a few minutes to get to us but can't complain when it's complimentary.

Evelyn T.

Dec 19, 2017

I will be recommending Park by the Ports to anyone travelling out of Fort Lauderdale airport. Dealing with them was a breeze and the best part was that when I returned to Fort Lauderdale, the shuttle was on-demand. I simply called the number given to me and it was there to pick me up in a matter of minutes to take m back to my vehicle.

Gabrielle L.

Dec 19, 2017

It's probably the most affordable lot in the area. My family has used this lot a couple times now and it's very clean and well-secured. I've also seen busses and RV's parked here so you know they have tons of room to accommodate for many different sizes of vehicles. The staff at this parking lot were all very kind to us and you can tell they care about their customer service. There are bathrooms and water fountains inside the building just for extra convenience which came in handy for my kids who we took on their first vacation.

Alyssa P.

Dec 17, 2017

I parked here just last week and when I arrived today, my car wouldn't start for some reason. The staff were so helpful and friendly; they actually went out of their way to jump my car with a booster set. Much better than having to call a tow truck. It's the little things like this that make a difference to a customer's experience. Thanks to Park by the Ports for looking out for me.

Marisol R.

Dec 15, 2017

$5.99 per day simply can't be beat in this area! It's within such close proximity to the airport yet so much cheaper than parking at the airport itself. You may as well park here since the shuttle is free and it's so nearby! I just suggest arriving here with plenty of time to spare before your flight so that you don't have to rush once you get to the airport.

Lauren R.

Dec 15, 2017

We chose to park here and got the valet service along with some additional services to the car itself while we were gone. It was quite convenient to have the oil changed while we were gone, and the employees there were extremely knowledgeable so I felt very relaxed when leaving my car there. They helped with our bags when we got there as well as when we returned from our trip.

Janelle M.

Dec 14, 2017

Great value here and a safe, clean lot. We parked here and couldn't have had it go any smoother. It's only about a mile away from the airport so the shuttle (which was included) was a really short ride.

Hazman G.

Dec 13, 2017

Much cheaper than the Fort Lauderdale Airport parking lots, I think it is $40 per day at the airport or something crazy like that! Here at Park by the Ports it's a flat rate of $5.99 per day and probably the cheapest in the area. We parked here and it came with a free shuttle that took us to the airport.

Rusty S.

Dec 05, 2017

30 minutes waiting for pick up at Fort Lauderdale airport I was slightly annoyed. Though considering 5 am arrival parking area was not fully staffed.

FRANCISCO P.

Dec 03, 2017

ALL GOOD ON TIME AT ARRIVAL, NEW PICK UP AND DROP OFF VEHICLES, NICE GUYS YOU CAN TRUST, THANKS

Eddy P.

Nov 29, 2017

Excellent service just not too happy with car condition when I picked up. Interior was filthy on drivers side. Didn't leave it lile that. And couldn't find anyone to clean it.

STEVEN V.

Nov 27, 2017

After the initial confusion of cruise parking now separate from airport parking they were fast and efficient. This was our 2nd time using the service and they seem to be much better organized and organized. Will without a doubt use their service again

Jawone S.

Nov 26, 2017

The staff was most friendly and efficient. I had no issues getting dropped off or picked up at the airport. I strongly recommend using Park By The Ports for airport parking in the future.

Allan K.

Nov 26, 2017

I called 3 times and waited 90 minutes and never saw your driver. I wound up taking a cab back to your facility so I could pick up my car and drive the 2 hours home. Taxi cost me $20. What a waste of time and effort. Next time I'll use one of your competitors lots. I saw everyone of their shuttles at least 8 times. Your system needs to be improved or totally revamped. You should also refund my fee.

Thomas M.

Nov 25, 2017

Everything was great except the driver dropping us on on cruise departing day gave us bad information on where we would be picked up. Dropped off at port 19 mid port and was told they would pick us up there did not happen

Jeffrey W.

Nov 14, 2017

Fast, Easy, Close and Cheap! What more can you ask for?
Best Price Guarantee!
Book Now
Free + Easy Cancellations