Park 'N Fly formally Executive Valet Parking Bradley
Park 'N Fly formally Executive Valet Parking Bradley 1186 South Street, Suffield, Connecticut United States 06078

Compare rates
Nearby parking lots

Location

1186 South Street, Suffield, Connecticut United States 06078

Area

Perimeter Rd
Bradley International Airport, BDL parking

Phone

Shuttle
Parking lot information
Park 'N Fly took over ownership in October 2019. We still have all the same great service and employees as we did when it was operated under Executive Valet.
FAQ's

What are your hours of operation?
24-7 we never close

What are your rates?
$13.95/Day, but if you prepay on Instapark you will reserve at a cheaper rate.

Do you have any other locations?
We have 17 other locations across the United States. You can see our locations at: www.parknfly.com

Does my prepaid voucher, prepaid card, or prepaid reservation ever expire?
No, all of our prepaids never expire.

Do you accept competitor coupons?
Yes, we accept all competitor valet rates. Simply present the coupon or advertisement on check-in.

When should I arrive ?
We advise that you arrive 2 hours before your flight from Bradley International Airport is scheduled to depart for any domestic flights.

How do we get picked up when we return?
Call us from the baggage claim, stand at the "Valet pick up" sign, the bus will be there within 5-10 minutes to pick you up and bring you back to your car at our lot.


Where is Park 'N Fly located?
1186 South St, Suffield CT 06078.

Vehicle snow & ice removal in winter and air conditioning in the summer
Your vehicle will cooled in the Summer months and snow and ice will be removed in the Winter season. Your vehicle will be ready to go upon your return.

Directions

ADDRESS FOR GPS DEVICES

1186 South St, Suffield, CT, 06078

DIRECTIONS FROM NORTH

Off I-91, Take exit 47W (Suffield).
Follow 190 and go over the bridge.
At light, turn left onto Route 159.
Go to the first traffic light., Turn right onto Thrall Ave.
At the end of Thrall Ave, turn right onto Bridge Street
At first traffic light, turn left onto Rt 75 (south)
Go approximately 2.4 miles and Executive Valet Parking is on the left , just before the Suffield / Windsor Locks line.
DIRECTIONS FROM SOUTH

Off I-91 take Exit 40 (Exit for Bradley International Airport-which is Route 20)
Take the 2nd exit, Route 75 Poquonock
Turn Right off of the ramp
Go 2.5 miles and Executive Valet Parking will be on your right
Find nearby parking in Suffield »
Key Details
Guarantee Your Spot Free + Easy Cancellations
How to park at this facility
ENTRY PROCEDURES
Upon arriving at the lot please present your InstaPark Receipt to the attendant.
EXIT PROCEDURES
When you return return from your trip please call PArk 'N Fly from the baggage claim area, 860-668-5272

Please stand at the "Valet pick up" sign.

The bus will be there within 5-10 minutes to pick you up and bring you back to your car at the Executive Valet lot.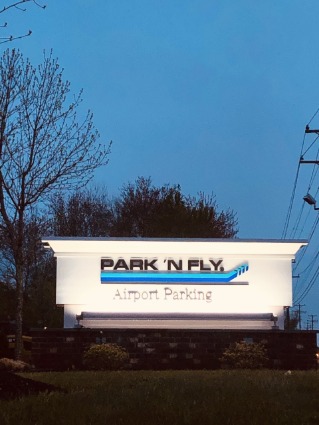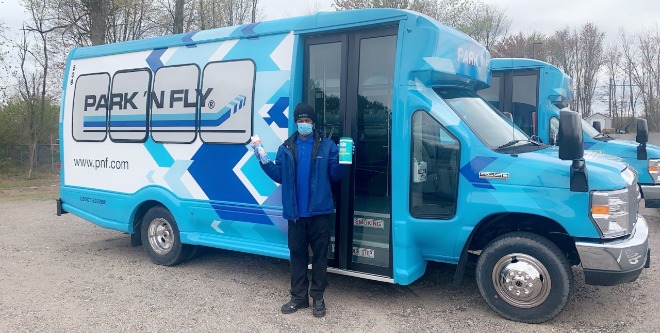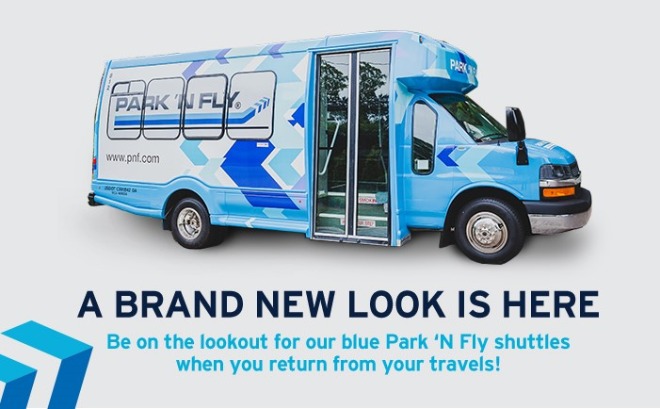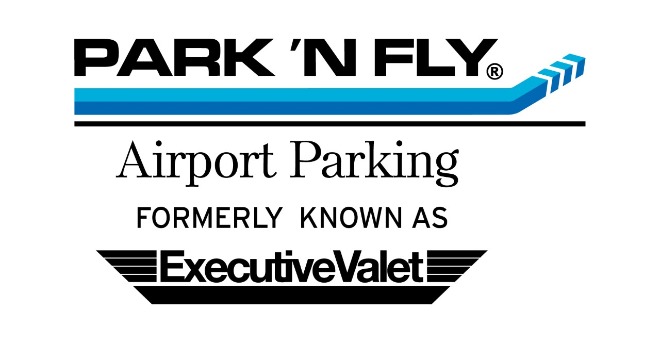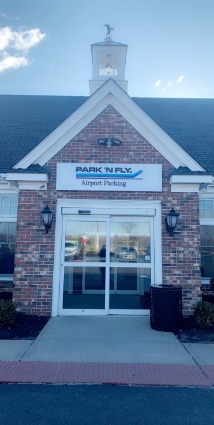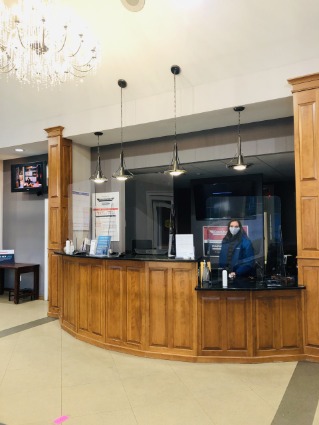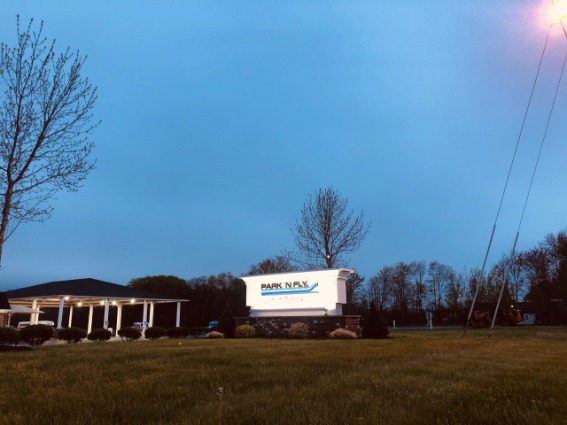 Services, Amenities, Features and Add-Ons
Running & Warmed up Engine
Electric Car Charging
Fuel Surcharge
Airport access fee
Parking location and directions
1186 South Street, Suffield, Connecticut United States 06078
Park 'N Fly formally Executive Valet Parking Bradley prices and rates
Daily rate
Day rate
$6.95 / day
Grace period: 0 hour
Add-ons
Running & Warmed up Engine
- no charge -
Electric Car Charging
- no charge -
Fuel Surcharge
$1.50
Airport access fee
+10.60%
Other charges
CT States Sales Tax
+6.35%
Customer Reviews
Customer Reviews (112)
Laura M.

Aug 11, 2020

I really appreciate the professional and friendly shuttle drivers I had. They were timely and helpful ; great service. I will definitely use Park 'N Fly again in my future travels.

Holly C.

Jul 07, 2020

This was the best parking experience I have ever had! Thrilled with this company and will be using them when traveling out of Hartford from now on.

Eamonn M.

Jun 23, 2020

Prepaid the night before, so I would have no issues at 4.30 am the next morning, I thought. When I arrived, the clerk told me there was no record of my reservation, even though I had a confirmation email, with a qwerty code attached. This held myself, and another couple next in line up, as the clerk searched for my reservation, with no success. Ended up leaving the car there, and instead of doing some prior planned work, I sent emails to the address on the receipt to try and resolve. I received a reply when I got to Seattle later that day, I was told to use a different 'bar code' when I picked my vehicle up. That went fine, so I guess it could have been worse, tho Ill have to check to make sure I wasn't billed twice on my card. Think I will in future just go back to parking at the other "Spot" place, a little more expensive, but closer to the terminals and no problems.

MICHAEL M.

Jan 27, 2020

Couldn't ask for better service!

Bruce H.

Oct 25, 2018

Friendly instantaneous service .... upon my return my car was waiting in the parking lot all warmed up and ready to go!

Melissa I.

Apr 20, 2018

Quick and hassle free, brightly lit lot and reception area, great prices, loved having our car warmed up and waiting for us when we got back from our long trip! Literally stress free, which we needed! Thank you!

Christina U.

Mar 29, 2018

when I arrived at the parking lot, it only took more than a few minutes to actually get to the airport…it was actually a bit unbelievable!! I've never received such quick and tight service from any other airport parking lot in this area. They are usually slow and agonizing

Nikki C.

Mar 28, 2018

When you get back to the airport from your trip, all you have to do is call the parking lot and they will come and pick you up. I like this because its guaranteed that your ride will be there when you want it to, and it also saves the environment. The shuttle isn't constantly running and picking up no one. It's a good way to save fossil fuels

Tiffany N.

Mar 28, 2018

When I first booked I didn't even know it was 24/7 but thank god it was. I went away not knowing that my return flight was a redeye… I didn't even think about it until I was on the plane coming home.

Blair T.

Mar 26, 2018

I don't think I'm going to ever be going to another airport parking lot again… seriously I love it here. Everyone is so nice and generous with their time. I felt so special coming here. Thank you for helping me with my bags and getting me on the shuttle safely

Brandy A.

Mar 25, 2018

why would anyone even think about going elsewhere? Hahahah I don't get it. There are so many amenities here… and lets face It, Suffield doesn't have the best of much… but I would be very surprised if there was a parking lot better than this in the entire country!!!

Allie Y.

Mar 24, 2018

Free valet parking??? Sign me up. This parking lot is so nice compared to others in the area. It is always clean and there are a lot of friendly people working. I would come back here anytime!

Joseph O.

Mar 23, 2018

I've never actually parked here, but I am always around getting my car washed, waxed, detailed, oiled and more. They definitely know me well in there. I just wanted to let the staff and everyone else know that I really appreciate these people. They take their time on every car they get in there, and that's very rare to find!!! thank you.

Randal J.

Mar 23, 2018

I don't know what everyone sees in this parking lot… haha I'm talking about the parking lot like it's the popular kid in school, but seriously! I don't get it.l.. It's big and it's always busy at the front which makes things a little more frustrating. It took a while for the shuttle bus to come too.. I was NOT impressed.

Andy J.

Mar 22, 2018

I feel quite safe leaving my vehicle here. Most of the time I do not like leaving my car in public long term lots… seems sketchy to me… This is more upscale and they have security and surveillance cameras for extra security!

Sandy L.

Mar 21, 2018

There is always so much snow here, and it's absolutely outstanding that there are services to make sure that your car continues running even through bad weather - for free!!!! Amazing. I don't think any other airport long term parking lots do that… You can tell that the people here actually care about you and your car.

Quinton A.

Mar 21, 2018

A really cool place to park! Will be returning on my next adventure away!

Whitney D.

Mar 21, 2018

I have an electric car and can sometimes be worried about the battery running now, and the last thing I would want is for it to just run out of battery… then what? Right? .. But at this location they have complimentary electric car charging… seriously? I've never seen this ANYWHERE. I am very very excited, if you can't already tell... I will be coming back every time I need a place to park!!

Pat E.

Mar 20, 2018

OMG this is literally the best parking lot I've ever parked at… I parked here last year and they have free snow handling services and running & warming up engine service… do you understand what this means?! I don't have to worry about my car not turning on when I'm back from vacation. I was very impressed with that.. great job to whoever thought that one up!!

Oswald O.

Mar 18, 2018

Everything went great when we first got to Executive Valet… the host took our car and we jumped on the shuttle bus! It was so quick and when we arrived home we had a similar experience. We called for the shuttle last minute (we forgot when we first landed) and it was at the airport within moments. It is always nice to drive home in your own car after a long trip, and I don't think I'll ever do it another way again.

Manuel I.

Mar 17, 2018

Having valet makes me feel like a movie star… and for the price, anyone can be a movie star! Not only do you have free valet, but everyone Is also very kind and accommodating. I am going to continue coming here and pretending that I'm not sitting in economy.

Shane K.

Mar 15, 2018

Excuse me? I don't think I heard you properly… Free valet parking? Whoever came up with this idea is an absolute genius!!! I would open my own lot, but I already know that it wouldn't be as good as this one…! I will be back for more of your great valet services

Sam J.

Mar 14, 2018

Staff are friendly, services are on point and the business in itself is ran smoothly. Can't get any better in the area.

Mike X.

Mar 13, 2018

You are seriously missing out if you haven't parked at this ariport parking lot! It is so much better than the others hahaha there is actually no comparison. Happy that I've found a spot to park for cheap and where I actually like the people working.

Peter S.

Mar 12, 2018

May as well close down all of the other BDL airport parking lots… they are SO not worth it… I bet the whole town could park in this lot comfortably,.. That's how big it is! Stop going to other lots just to get mistreated. They are also so much money too.

Jenny T.

Mar 11, 2018

I love the fact that I was able to get my car washed while I was away… Such a great surprise! I had no clue that they had a car wash here until I got there and added it onto my bill. It was so easy and quick that I was almost confused haha!

Brandon A.

Mar 10, 2018

Is this place for real??? It's so massive that I could hardly find my way around… You need a map in there to figure it out, but once you do, it's a great time (kinda like disney world or something like that)

Tristan B.

Mar 09, 2018

Great parking lot. Very happy with the service and great add ons!! So glad that I finally had the "time" to get my car detailed… I've been waiting to do so for quite a long while.

Walter L.

Mar 08, 2018

Every single member of the Executive Valet team was just wonderful to be around (even if it was only for 10 minutes in total)… They added something to my travel experience… A bit of goodness. Even the shuttle driver was very nice. It's funny because usually parking lots have a bunch of grumpy employees

Vivian G.

Mar 07, 2018

I came in the other day around 6AM and let me tell you, I've never seen such a large bunch of morning people in my life, haha! Everyone was running about like the day hadn't just started… I was a little bit jealous to be honest. My day never starts until I have like two coffees!

Ty F.

Mar 06, 2018

I'd like to believe that this is the least expensive hand car wash in Connecticut. I believe that hand car washe's are done even better than the drive-trust! Whenever I come to Executive Valet to get my car washed I'm always very happy with the outcome. Thank you for all of your sparkling hard work ;)

Akash U.

Mar 05, 2018

I have been hearing about instapark and their various lots around the states for a while now, and I'm proud to say that I have had my first experience today!!! It's actually quite unbelievable how wonderful the service is. I even got myself a wash/wax!! Such good value.

Ann I.

Mar 04, 2018

I am over the moon with how great this long term BDL lot is. I've been flying from Bradley for years now and haven't really found a long term lot that has stuck… I even stopped parking for a while because I was just so unimpressed with the service at all of these parking lots, and I just did not want to give my business to them anymore. I was told about this one by a friend and I don't think I'll ever go back to another...

Nicole G.

Mar 02, 2018

I expected more from an instapark long term lot to be frank. I have been to a few in different states entirely and every time I've been soo impressed, but I wasn't with this one. Looking at the other comments they may have been having an off day or something??? I don't know, but I probably wont be returning

April Q.

Mar 02, 2018

My day started off pretty rough, so maybe it had something to do with the fact that I didn't like this lot. Everyone was so happy and it was just making me even more upset. Haha. It was also very early in the morning… how are people such morning people? I'll never understand it.

Tiri W.

Mar 01, 2018

Please don't sleep on this lot. If you are flying from BDL international and are airport parking, make sure to check out this long term lot. It's worth every penny… and that's all it costs… pennies.

Dany K.

Feb 28, 2018

My friends and I were at the parking lot for no more than a few minutes… it was the fastest experience at a long term parking lot id ever had… Its definitely nice because you don't want to deal with much, especially little things having to do with parking when you're traveling. travel is already sooooo stressful!

Trey I.

Feb 27, 2018

Very glad with the way my visit went. Thank you to everyone who helped me figure out where I was going in this VERY packed lot. I was so confused when I first came in.

Tracey S.

Feb 27, 2018

My husband and I parked here for a few days the other week and it was quite the business if I'd ever seen one. Everyone was very helpful with any questions we had about the lot and how we had to go about certain things. I am just full of questions but none of them went unanswered and the girl helping us didn't get frustrated once haha!

Shanna J.

Feb 26, 2018

OK, I parked with u guys a few weeks ago and I really liked it. It was very elaborate for a parking lot which was pretty cool. I will probably be returning if I get another chance to go away.

Tim N.

Feb 26, 2018

After having so many parking lot blunders in my life, I have found you guys!!! Even though I've only parked with you once, there hasn't been any issues, and everything went well… for the first time ever haha. I will continue to come back until something messes up!

Syrus L.

Feb 25, 2018

All of the services were up to my standard. I liked it, but at the point I came into the lot there were a lot of people trying to get in as well. Other than that small traffic jam, everything went quite well

Stefan U.

Feb 24, 2018

Everything has changed. In the last few weeks alone I've found a new airline and new long term lot! Luck has been thrown my way… knock on wood. I was very surprised to see all of the great add ons associated with the lot .. I got a few things done and it was totally worth it... especially with the price you're paying for parking!!

Julian L.

Feb 24, 2018

Had a 5/5 parking experience fo sho!! I shall be returning on the next trip with my family.

Olivia L.

Feb 23, 2018

I'm ECSTATIC PEOPLE!!! I have seriously been looking for a suitable long term parking lot for a long time, and this one just flew past my expectations. (like my pun?;)) flew… airport… plane… fly? Haha, but seriously!!! I was parking at a lot down the street for about a year and ran into issues every single time I parked with them but I was too lazy (if I'm being honest) to look for a new one. I found executive valet and will never go to another. now this is my kinda parking lot!

Janice W.

Feb 22, 2018

I really can't imagine having a terrible time at this parking lot. It was a quick in and out and off to the airport I went. Woot woot! It took maybe a total of 15 minutes to get from my car in the lot to the airport.

Salum H.

Feb 21, 2018

This was the worst parking experience I've ever had… Honestly I will never go back to this lot. I got there at the recommended time (1.5 hours before my in country flight), and it was just a mess. I actually ended up missing my flight because of it and had to leave four hours later. The shuttle bus was late. Everyone was NOT nice about what was going on and had very "oh well" attitudes.They told me that if I was going to be late I could always call a taxi, but I wanted to take advantage of my free shuttle service... ugh... I can't believe how terrible my experience was. For having so many employees and amenities I was really expecting something else... WON'T be returning.

Meghan K.

Feb 20, 2018

I had a great time on vacation and was so overjoyed to find out that my car was not snowed in. I have had my share of bad parking lot experiences… Some in the area don't even get their lots plowed… Yes, you heard me right… I've seen employees shoveling the lots!!! Here your car gets the royal treatment in the snow ... and for like $8 a day, it is more than could ever be expected!

Jake J.

Feb 19, 2018

Thank god that you guys exist In this world!!! You have saved me so many times from being late… hahah and I'm the king of being late. With some miracle I always get to the airport on time with time to spare when I park with you guys!! Hahaha, its so strange to me, but I don't hate it. Thank you for having such quick and efficient service.

Emily W.

Feb 17, 2018

$6.95. That's what gets you the best park n' fly experience you'll can buy. I've used some sketchy lots in the past but they really felt executive like their title says. I feel like the valet is a hit with everyone cause who wants to wander a giant of a parking lot looking for a spot? They took all the annoyances away and sent me on my way to the best trip I've had! Came back to a warm car and even arranged to get the oil-changed while I was away. 2 thumbs up guys!

Rakush E.

Feb 15, 2018

Man, it was pretty sweet to have our car taken and parked for us right from the front of the Executive lot. We paid for the length of our trip (it was only 6.95$ a day which is a great rate for being so nearby to the airport) and hopped on the shuttle. Luggage was handled for us. Same thing when we got back, just EXECUTIVE. Would use them again.

May P.

Feb 14, 2018

Thank u for not making me complain, because once I start I have a lot of trouble stopping. I also tend to look for things that are wrong, but everything was up to par!! Just found my new airport parking lot

Serin P.

Feb 13, 2018

I don't get to travel often so I've never parked at an airport parking lot… everything seemed pretty good here. I don't really have any complaints.

Jennel H.

Feb 12, 2018

SAPPY COMMENT ALERT! I am totally in love with all of the staff here. Including the guys working on the cars, and the security guards. Everyone is very genuine and are just the best. I have only been to this parking lot a few times in my life and every time they remember me and are just very welcoming! never thought I would feel this way about a parking lot haha

Natasha C.

Feb 11, 2018

OH MAN. This is the best BDL parking lot ever… I used to park at the actual airport but the cost got a little ridiculous… I'm so glad that you guys only cost a few bucks a day… and you have great service too!!!.. It's crazy!

Val H.

Feb 11, 2018

IF I were to change back to my other airport parking lot, I would probably run right back to this one. I have had nothing but good customer experiences here and don't think I'd be able to switch back… ever. I was paying way too much to park before.. So much better now

Ben M.

Feb 09, 2018

I parked here last winter and I was completely shocked to find out that those working here did snow checks on every single vehicle to make sure that their batteries wouldn't die when customers got back from their trips.. That's Dedication!

Kate N.

Feb 09, 2018

VALET PARKING is the best… I never want to go back to self parking… I feel so completely awesome when I get to valet park. My cousins told me about this lot and it was everything they told me and more. I've never been so a long term lot where the staff were so nice haha. it's sad but truueeeeee

Allegra M.

Feb 08, 2018

This place is so much better than other airport parking lots!! It's so inexpensive…. Other lots honestly cost too much and I wouldn't want to park there because of it.. It's not worth it. But this is such a good spot that doesn't charge too much. LOVE IT.

Salma T.

Feb 06, 2018

Was a little overwhelmed when we saw that the lot was so large. Thankfully, their valet service took all the maze-work out of it! We dropped the car off, the staff were very professional and caring of our vehicle and luggage. Shuttle was great. We got back late and the service at 3 am was truly special.

Jacob S.

Feb 06, 2018

My family and I got in from a red-eye return flight from visiting family. Tired and honestly on our last legs (as parents of multiple young ones), I was dreading the process of going from plane to car and everything in between. While getting our luggage was an ordeal, as always, we left the arrival terminal with ease thanks to the Executive Valet parking shuttle. After travelling in a stuffy plane, the shuttle felt spacious and relaxing. The driver was very nice. Upon getting back to the lot, it took only minutes for our prized mini-van to appear infront of us, and away we went! With small kids, this lot saves a lot of trouble with their valet service. Very good value for their daily rate. Will be using again if we ever travel in the future.

Rosa S.

Feb 04, 2018

DEFINITELY USE THESE GUYS. Best parking service for a silly affordable rate. Very cheap for how awesome their service is. The attendants attitude was to deliver an "executive" experience and that they did with their valet and extra services. They handled my luggage with care and the shuttle driver was very professional as well. Recommend to anyone who is departing from Bradley International.

Rohan M.

Feb 03, 2018

My partner and I took a much needed trip to the Caribbean to escape the cold. Truthfully our escape began and ended with Executive Valet Airport Parking. We were respected and pampered in all facets of their service. The valet seems to be a unique offer that makes the parking experience much easier. We got the oil changed in our car swell as the detailing done, and it was well-worth coming back to a fresh, ready-to-go, warmed car.

Sofie D.

Feb 01, 2018

I really DON'T like when people are rude to me (as I'm sure a lot of people feel the same way)… and I find that no matter what parking lot I go to everyone is just rude!! Hahaha, but I'm really happy to have found these guys. GOD SENDS

Chris C.

Jan 30, 2018

Although there were many awesome offers for a fair price, I spent the minimum (6.95$/day) and still found the service to be AMAZING. The shuttle was a life-saver and the valet was very convenient. Did I mention this was for 6.95$/day?!? Honestly, not sure how you can find a better deal for travellers at BDL Airport.

Robbie H.

Jan 30, 2018

Great service! I chose this lot because they have complimentary car charging - something I think is a very unique advantage over other lots.. I have an electric car so this was a no brainer. Took great care of my vehicle and definitely put the executive in Executive Valet Airport Parking with the free valet and shuttle! Very happy with the service.

JR P.

Jan 29, 2018

My family and I flew late at night to save a few bucks and we weren't expecting much from the parking service in the middle of the night. We showed up and the staff acted as if it were the peak of day. Gotta say it even energized me. Their service was great. It wasn't too busy but very convenient that it was 24 hours. We felt likes executives with the care the staff had in our car and luggage. Valet and shuttle, with peace of mind parking for 6.95 a day. 10/10 would recommend.

Karlos P.

Jan 29, 2018

Got the deluxe wash & wax done as well as the oil change. The daily rate was so good I figured why not. Was a bit skeptical how good the car servicing would be, but it was obviously done by qualified people. The car looked amazing when I got back and ran smoothly with the new oil in it. Did I mention there was a valet service as well as an airport shuttle, both complimentary? AWESOME!!

Rita S.

Jan 28, 2018

So glad that Executive Valet Airport Parking offered oil changes… been so busy with work and life that little things like that fall through the cracks. Was nice to be away and not only have the car stored safely, but for it to be checked up on. For a great price, definitely use they lot when travelling from Bradley International.

Claudia M.

Jan 27, 2018

*RECOMMENDED FOR CAR-LOVERS* Well, I decided to give my baby a treat since I was going on vacation myself. My baby, you see, is my Chrysler 300; an only child (Ha-ha). I used Executive Valet Airport Parking simply because it had the best rate for airport parking, but when I learned about all their offers, I had to indulge! I got the works for my car with a wash, wax, detail and oil change. The trip with some friends was nice and all, but I haven't had a better experience with a parking service than this one. Loved coming back to my baby looking and feeling top-notch. Convenient, trusty service.

Pritesh A.

Jan 26, 2018

For 6.95$ per day this lot is hard to beat. I parked here for a trip during the winter and upon returning I was worrisome about dealing with all the snow that I heard had fallen. Upon getting off of the free shuttle, the attendants tracked down my Toyota, cleared it off of all snow, and drove it right up to the front for me. There's something to be said for a warm, defrosted car on a wintery day.

Lennon O.

Jan 25, 2018

Felt like a real executive with this service. Didn't have to roll through a maze of cars; instead, they have valet! How executive, am I right? The shuttle to the airport was very fast and clean too.

Marley C.

Jan 25, 2018

I was pleasantly surprised by the thoroughness of Executive Valet Airport Parking's. With the BDL Bradley airport nearby, this lot goes above and beyond as a "park n' fly" style lot with services available like wash, waxing, detailing and more. I chose to get the oil change which was fairly priced and ultra-convenient. They even parked my car and brought it back to the front for me once I returned!

Pierce E.

Jan 25, 2018

I love the shuttle bus driver, he was so cute and nice! Even helped me with getting my luggage on and off of the shuttle. Quite the gentleman if I've ever seen one. I hope to be coming back soon.

Paul D.

Jan 24, 2018

I have an electric vehicle and was worried about where to park my car while I flew. The Executive Valet BDL Bradley International Airport Parking seems to be with the times and had electric car charging at no cost. I would park here again for sure.

Jason D.

Jan 23, 2018

Came home late one night off a flight and was able to get my car at 2am. The lot is open 24 hours a day so that is convenient. I like the airport shuttle service, which is free. It was there exactly when I arrived. I've recommended this lot to my friends and family.

Aldin P.

Jan 23, 2018

Had to take myself and my 3 kids to the airport for a Thanksgiving flight to see the grandparents out west. This day was already going to be stressful enough so I needed the parking situation to at least run smoothly. The shuttle service fit all of us and our stuff. It was free and the shuttle arrived in 10 minutes after we picked up our bags. Good price at $6.95 a day and I booked in minutes online.

Vicky I.

Jan 21, 2018

I've got a Chevy Volt and was excited to see that the BDL executive lot has charging for electric cars at no extra charge. I was able to choose that option online when I booked my spot. The lot is large and has lots of space and they have a free shuttle service which you can book online too. It only cost $6.95 a day which is the best price I saw while shopping online.

Nyo C.

Jan 21, 2018

I've been using this parking lot for years and figured it was time to write a review. I use this lot about 12 times per year as I fly a lot for business. It's fast to book, easy to park, lots of spaces, free shuttle and more. It's feel safe parking my car at this lot.

Sandra S.

Jan 20, 2018

I'm a tiny 5'2 blonde who can sometimes not feel safe in large parking lots at night but I had a super sweet guy who worked there who made me feel safe. They were quick and had my spot booking ready and they even warmed up my car when I got back from my trip! Love these guys!

CJ T.

Jan 20, 2018

I feel like a Queen when I leave my car at the executive valet, I can drop off my car, hop on the shuttle and they'll wash it, change my oil, and even wax my car. The rates are great at only $6.95 a day and it was a piece of cake to book my spot online. They have free cancellations which is good for someone like me who can't make decisions. The lot is a little out of the way but totally worth it.

Stephen O.

Jan 19, 2018

19. I've got a flight to take around Christmas and just booked my spot online for a week. The price was great...only $6.95 a day and if it snows they will brush your car off and make sure there's no ice on it. I also added a free shuttle ride for my service. They seem to be ahead of the times in terms of some of their technology.

Kat M.

Jan 17, 2018

I never thought I would say this about a parking lot but...I'm in love! They have the best service, have so many great add ons that make you feel special. I love the free shuttle service and full valet service. If you've got an electric car, I've noticed that they have electric car charging stations now. They are open 24-7 which is awesome!

Josh S.

Jan 17, 2018

I don't know why you would use any other lot than the BDL exec lot. Booking online takes a few minutes and is easy. They have so many cool add on features that I enjoy taking advantage of including the full valet service, oil change, car detailing and a free shuttle service. The price is great at $6.95 a day.

Nelson I.

Jan 15, 2018

Had a super early flight and had to be at the airport by 4am. The BDL exec valet lot is open 24-7 which is convenient. The shuttle service on the way from the airport to the lot took only 10 minutes to arrive. I love the full valet service, it makes me feel important when they call me 'sir' I would book a spot here again.

Micah A.

Jan 14, 2018

I was skeptical about leaving my car in a lot long term but felt at ease once I realized my car was in good hands. I left my car in the lot for two weeks and scheduled to get a car wash while I was away. Lots of cool amenities and extra services that they provide, including a free shuttle and free valet service.

Omar B.

Jan 13, 2018

I've used this parking lot a few times over the past 6 months and I will continue to. I love the fast online booking, plus it's easy to book extras like the shuttle, a car wash or even an oil change. The shuttle arrives in 5-10 minutes after you call them and your car is warmed up in the winter or cooled down in the summer for when you arrive.

Morgan T.

Jan 12, 2018

The parking lot was easy to navigate and had lots of spots. I booked my spot online the day before and had no issues. The parking attendants were friendly, especially for 6am and they helped me find my shuttle, which was free. I would use this service often as I just started travelling for business.

Jake D.

Jan 11, 2018

Was coming back on a flight with my girlfriend. This was the first time she was going to see my car and luckily I was able to get it washed and detailed while my car was at the exec lot. She was impressed at how clean my car was. The shuttle service is convenient and the price was great! Only $6.95 a day. Booked online which was easy.

Patti H.

Jan 10, 2018

I usually get a friend to drive me to the airport but nobody was available to get me there on time for my early flight so I parked at the Executive Valet Lot which is open 24/7. I pre booked online which guarantees you a spot and then I took the shuttle service they had which got me to the airport with lots of time to spare. The rates were good at $6.95 a day.

Joyce P.

Jan 09, 2018

I didn't have time to get my car serviced before my vacation so I was able to have it done at the lot. I got an oil change, a wash and interior detailing all done for me while I was gone. You can add on these extras while you book online. They took good care of my car and had it warmed up for me when I came home.

Moana E.

Jan 08, 2018

Booked a spot online easily and it only took a few minutes. The spot is guaranteed and it's easy to cancel if you need to. They have a large lot and a free shuttle service that arrived in 5 minutes after we called them from the airport. Our car was warmed up and running. The attendants are friendly.

Michael G.

Jan 06, 2018

I was on vacation and heard it snowed back home so I was worried about the amount of snow that would be on top of my car when I arrived. When I returned I was pleasantly surprised to see that my car had been brushed off and looked great. I didn't have to do a thing. The rates are decent at $6.95 when you book online.

Michelle M.

Jan 06, 2018

Needed to park my car at the BDL Airport Parking and was impressed with the ample amount of parking for a great price of less than $7 a day. You can easily book online and add on any extras you want right there. I booked the shuttle service at extra charge.

Taylor O.

Jan 04, 2018

I didn't park with Executive Valet but I certainly got a wash and wax! I went for a walk around the block and had the cleanest car in all of Connecticut. Next time I fly out ill have to use you guys to park.

Brogan A.

Jan 03, 2018

woah does this parking lot have it all… If you are looking for a top notch kinda parking lot, this is the right one. There are so many amenities and add ons to choose from it's almost a little outrageous… I haven't tried any of them but they all look as if they'd do my car well

Lucy T.

Jan 01, 2018

I am not the best with computers, but booking with executive valet was easy as can be! Thank you for making things so easy for this old lady :) I will be making a return quite soon.

Kim P.

Jan 01, 2018

This parking lot is SO BIG… Honestly I didn't know what exactly to do with myself when I first got there, and since there were no parking spots near the front of the lot near the shuttle bus stop, I had to park further away. It was fine because I needed some exercise BUT still. I would have loved to park a little closer

Melissa I.

Jan 01, 2018

I wasn't sure what to expect because we had never used this particular service before, however we were so impressed and we'll definitely only go here every time we travel. The parking lot is well-lit, and well attended despite the fact that we arrived at around 4 a.m. It felt really safe and welcoming. They got us to the airport quickly and without any kind of hassle. However, the best thing was that they picked us up within 5 minutes of us arriving after we texted them, and the van was nice and warm, and then they brought us to our car which was running and warm as well! After traveling from Miami back to Connecticut on New Year's Eve that was a huge relief. I can't say enough about this company and as I stated we will definitely use them again in the future.

Jorge I.

Dec 31, 2017

I love not having to pay for the shuttle bus to the airport. It's another cost that I just do not need. It is really nice to know that there is a place I can park comfortably without having to worry about how much money I'm going to be spending

Kathleen H.

Dec 29, 2017

With all of the snow here, it can sometimes make me nervous parking in an outdoor parking lot at this time of year, but since they have free snow handling, it is nice to know that you wont have to brush all of the snow off of your way when you arrive back... because lets be real - who really wants to do that after a long trip??? not me.

Erin J.

Dec 28, 2017

So many amenities to choose from and so little time!! Well, in my case there were two weeks… but that's besides the point. I wanted a car was but was so flustered at the parking lot that I totally forgot to add it on. I ended up calling them while I was at the airport and they had everything figured out in a few minutes... great service!! and when I returned my car was sparkling fresh for only about $20!! so worth it

Yvonne C.

Dec 26, 2017

I think I was expecting a bit more seeing as there are so many cool services to choose from… I was expecting the whole shabam!! Depending on things, I may be coming back during my next trop away from home

Marcus T.

Dec 26, 2017

Everyone working at this instapark location is very warm and welcoming. It is such a great place to park when you are heading away on a long vacation because it has very trustworthy staff and it also seems very safe.

Steve F.

Dec 26, 2017

There hasn't been anything this exciting in suffield since… well, I'm not even that sure, haha! Sometimes I'll go in here just to get my car's oil changed. A lot of the other places who give services like these are scam artists who like to make you think that other things are wrong with your car when they aren't... I like that here you are told the truth and they only do to your car what you want them to do.

Dee W.

Dec 25, 2017

I brought in a flyer for a rate better than they were offering here, and they totally honored it without a fight… I ended up getting parking at a bit of a lower price than it already is… Such a great way to bring people in.I'm really happy with everything that you all have to offer!!! great experience!!

Malis E.

Dec 25, 2017

There are a lot of things that you can get done to your car here at executive valet, and a lot of them are free. You also receive free shuttle bus service just by booking with them. This is probably the most inexpensive parking trip I've ever taken!

Luc K.

Dec 23, 2017

I had no idea about this parking lot until a buddy of mine told me about it. My wife and I went on a trip last week and definitely took advantage of all of the amazing add ons! There is also full valet services for free… that's pretty crazy if you ask me... especially since the prices are so low and the service is so great.

Jerawl B.

Dec 22, 2017

I decided to park at Executive Valet BDL while I was away. There are so many awesome accommodations to take advantage of… I got there not knowing of any of these services and ended up getting my car washed and detailed!! I was so overjoyed when I returned home. my car looked amazing!!

Lawrence J.

Nov 30, 2017

Never a problem parking here! A little bit out of the way, but worth it!! Shuttle bus picks you up within 5 min of your call and brings to you your warmed up car with receipt in it!! No reason to go inside!

Lawrence J.

Oct 16, 2017

Shuttle was waiting when we arrived!

Sharon G.

Jul 14, 2017

Very easy process - driver was very courteous. My husband flew home earlier than I did and said when he arrived at the parking lot his car was waiting for him to jump in and drive off - great service!
Best Price Guarantee!
Book Now
Free + Easy Cancellations