ACE RENT A CAR MCO VALET PARKING
ACE RENT A CAR MCO VALET PARKING 5757 S. Semoran Blvd, Orlando, Florida United States 32819
Nearby parking lots

Location

5757 S. Semoran Blvd, Orlando, Florida United States 32819

Area

Hoffner Road
MCO Orlando International Airport

Phone

Shuttle
Parking lot information
Easy Airport Parking / ACE Rent A Car at MCO Orlando Int'l Airport


Easy Airport Parking offers free shuttles to and from the MCO airport terminals.

Easy Airport Parking Is secure!
Lots are fenced, well-lit and have 24 hour security.

Having years of experience in the Orlando market place gives us an edge in providing our clients with very best in rental rates, vehicle quality and customer service.

You should plan to arrive at the parking lot 15-20 minutes before you want to arrive at the airport terminal (most airlines recommend arriving between 1 and 2 hours prior to your scheduled flight).

Our Courtesy Shuttle will pick you up from the Ground Transportation level (1st floor of the Airport) which is one level BELOW the baggage level. If you have flown into Terminal A make your way to pick up area A12. If you have flown into Terminal B make your way to pick up area B12. Our shuttle vans run continuously to and from the airport. A shuttle will arrive at the airport pickup point every 10 to 15 minutes. If you require further assistance please call 407-469-5306

Sunday: 24 Hours A Day
Monday: 24 Hours A Day
Tuesday: 24 Hours A Day
Wednesday: 24 Hours A Day
Thursday: 24 Hours A Day
Friday: 24 Hours A Day
Saturday: 24 Hours A Day
Our cancellation policy: we require at least 24-hour notification prior to your scheduled parking arrival (date/time) in order to provide a full refund, this is because 24hrs we commit to the lot operator to pay for this spot and reserve it for you. If you need to cancel your reservation please notify us as soon as you can so that we can notify the lot operator and release your spot, and issue a refund.
Find nearby parking in Orlando »
Key Details
Guarantee Your Spot Free + Easy Cancellations
How to park at this facility
ENTRY PROCEDURES
Please show your InstaPark Pass to the attendant for validation
EXIT PROCEDURES
Upon your return the ACE Shuttle will pick you up from the Ground Transportation level (1st floor of the Airport) which is one level BELOW the baggage level.

Terminal A make your way to pick up area A12.

Terminal B make your way to pick up area B12.

Our shuttle vans run continuously to and from the airport. A shuttle will arrive at the airport pickup point every 10 to 15 minutes.

If you require further assistance please call 407-469-5306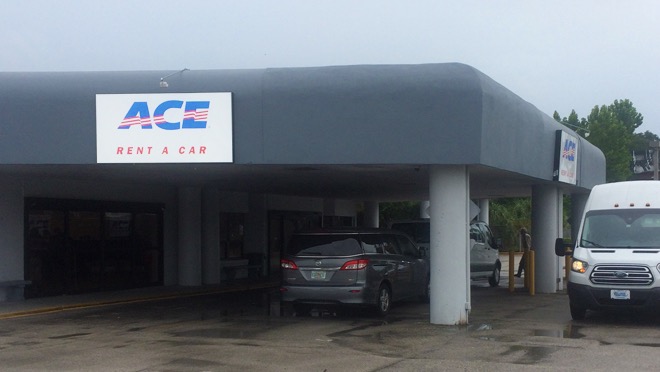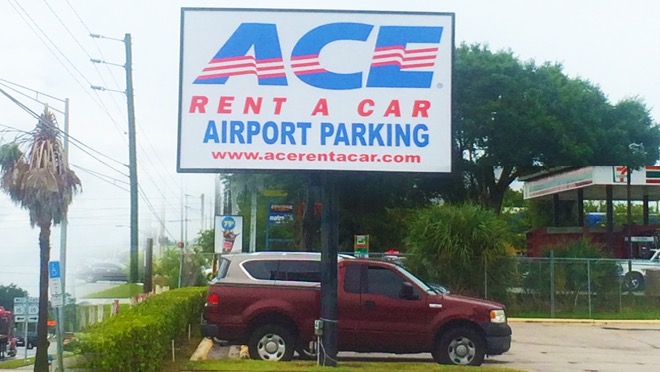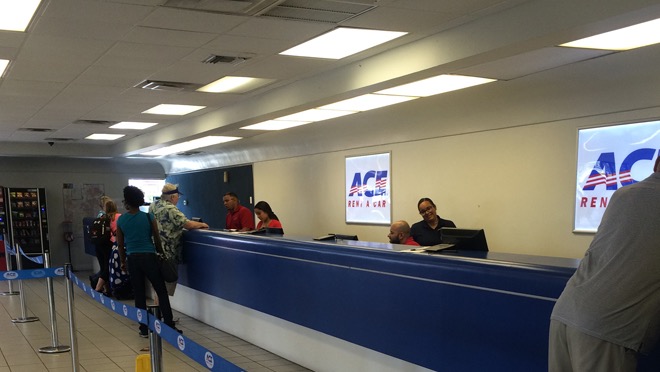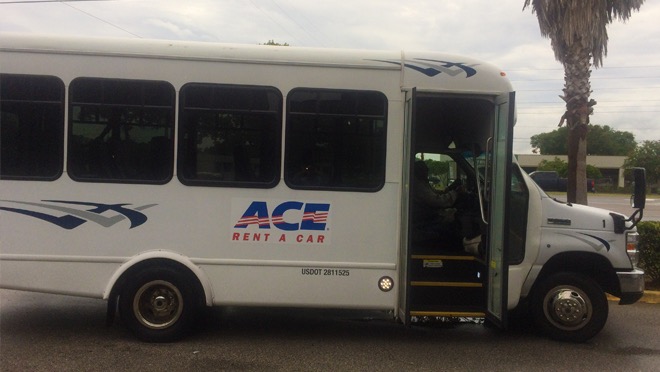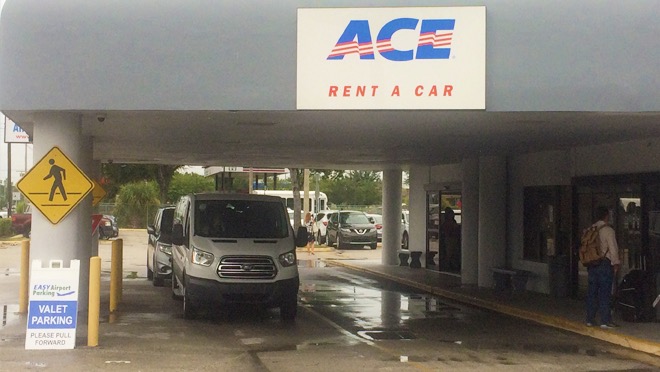 Services, Amenities, Features and Add-Ons
Security guard
Video surveillance
Offer day parking
Offer night parking
24 hour access
Parking location and directions
5757 S. Semoran Blvd, Orlando, Florida United States 32819
Directions
From 528 West
Exit (80) Keep left
Merge onto McCoy Rd
Continue straight
Turn left into 3255 McCoy Road
From 528 East
Exit (80) Keep left
Merge onto McCoy Rd
Continue straight
Turn left into 3255 McCoy Road
From 441 North
Merge onto 528 East
Exit (80) Keep left
Merge onto McCoy Rd
Continue straight
Turn left into 3255 McCoy Road
From 441 South
Merge onto 528 East
Exit (80) Keep left
Merge onto McCoy Rd
Continue straight
Turn left into 3255 McCoy Road
ACE RENT A CAR MCO VALET PARKING prices and rates
Daily rate
Day rate
$9.95 / day
Grace period: 0 hour
Add-ons
Security guard
- no charge -
Video surveillance
- no charge -
Offer day parking
- no charge -
Offer night parking
- no charge -
24 hour access
- no charge -
Other charges
Tax
+16.50%
Customer Reviews
Customer Reviews (171)
Marcelo L.

Mar 17, 2022

when I went to the site to leave my car, it did not exist and I called several times the numbers that appear on the parking confirmation and nothing. I almost missed the flight trying to contact them. in the end I had to pay another parking

Michel T.

Dec 29, 2021

I was sold parking by your company at ACE Rent a Car/Orlando airport, a company that do not offer this service!! Not only was the ACE address you sent me on the confirmation email a wrong address for ACE but when i found the ACE address on google and presented myself to ACE at their location at 4:30 am, they could not honor my reservation, since they don't offer parking service!!! I called your customer service today demanding immediate reimbursement, since selling me a service that doesn't exist is akin to fraud. I am waiting for your answer and immediate reimbursement. This is the least you can do.

John I.

Dec 25, 2021

First of all what you did was a total scam. The location DOES NOT EXIST. There is no ACE RENTAL Car at this location. It is a FOX Rental car location and they refused to accept my reservation, even though the address printed on my confirmation was the EXACT and CORRECT Address as the FOX Rental Car. I had to scramble to find another off airport service in which to park (it was December 21 can you imagine?) and I nearly missed my plane due to this delay. I called you customer service number upon my arrival to the FOX Rental Car location, informing them that my PAID confirmation was a scam, and your customer service put my on hold indefinitely and eventually I got disconnected. What a nightmare.

Dan G.

Nov 28, 2021

I was in a jam and needed a spot ASAP after parking at airport was all full. The website this was 3.4 miles away but was actually more like 13 miles away and 30 min. I didn't even make it to the parking spot or use this service because I didn't have enough time. Beware the terrible reviews!

Nadia A.

Feb 25, 2018

Airport Park MDW is just five minutes from the MDW Airport and for me that was a giveaway and a treat. I didn't want to park in a lot that was too far away from the airport. So that is why I chose Airport Park MDW - for the convenience, I guess.

Mischel H.

Feb 25, 2018

I agree that Ace should be the right choice because everything is so seamless, from booking the reservations to getting into that shuttle bus and driving to the terminal. The check-in attendants have always been professional when I used the lot. The valet parking person has always taken good care of my car. So I definitely will let my car stay at Ace when I go out of town.

Travis T.

Feb 24, 2018

I would support and encourage anyone who wanted to park at Ace cause they have earned a reputation of being very serious about installing as many surveillance videos as it takes to keep our cars safe. I have seen multiple cameras around the lot and I think that is so cool. In addition to the cameras, they hire a lot of security guards that drive around in carts, making sure that all the cars are secure. I love that!

Oswald L.

Feb 22, 2018

I have always had a good experience with Ace, but today, I went up to the attendant to check in and she was unusally impatient with me. I took that for no one coming to relieve her for lunch cause I heard her mumbling something like that. I was glad to get away from her, but the valet parker and the shuttle bus driver, even the security guard were all different. I guess, it was just one of those days. That won't stop me from parking at Ace! ??

Tracy P.

Feb 21, 2018

Ace is the best when it comes to efficiency and cheap daily rates. I used them two times and during those two times, I have met a nice check-in attendant who was so helpful. I also met a shuttle bus driver that when to lengths, making sure we got to our terminal on time for our flight. I would park at Ace whenever I have to go out of town.

Seymour R.

Feb 20, 2018

We stopped by the Oakwood Gun Range with some of our friends, just to hang out a bit doing something we all loved. Lucky for us the airport and parking lot was only 3.8 miles away. We arrive at Ace parking lot an hour before our flight and got quick access into the lot and on the shuttle bus to terminal B where our airline was.

Norris R.

Feb 19, 2018

The staff at Ace are so real, so nice and absolutely professional. I have never had any trouble with anyone being rude or less than courteous. The shuttle bus driver is so kind everytime to help us with our luggage and sometimes even the valet parker goes out of his way to help with luggage too when they both don't have to. I am sold on Ace. ??

Simone M.

Feb 18, 2018

Without a doubt, Ace wins the rate, tight security and quality customer service over all parking lots. At least, that has been my experience every time, I park my car at this lot. Ace keeps its prices below ten bucks all the time and it has tons of security guards and cameras and a friendly staff.

Hagen G.

Feb 18, 2018

My experiences with parking lots have been less than good. So, I didn't want to leave my car at any lot, but when my boss told me I would have to go to South Carolina, I knew I didn't want to drive all the way so I had to get a flight and I had to find parking for my ride. So I chose Ace because it was cheaper. I had been gone for 7 days and it only cost me less than $70.

Mandie N.

Feb 18, 2018

When we drove up, no one was at the desk to help us. We had to wait two minutes before someone came, but we learned that she was helping this old couple get on the shuttle bus. I thought that was really nice of her and forgot about the fact that I had waited on her. Sometimes, we need to just chill out! Ace, you have good employees.

Rick C.

Feb 16, 2018

One thing, I know for sure. Ace is my first choice of parking lots in the local area because of how close you can be to the airport when you park your car. That is my special preference. So when it came time to choose, I didn't have any problems making up my mind. This is gonna be my choice all the time.

Nan L.

Feb 15, 2018

I have parked my vehicle at a number of parking lots in the local area, but none of them add up like Ace does. Most of them are more expensive than the $9.95 rate that Ace charges and many of them don't offer valet parking either. Ace offers it for free.

RIck B.

Feb 15, 2018

I would recommend Ace to anyone who is not my mama. The rate speaks for itself and so does the service. You cannot beat a rate of $9.95 daily and you cannot beat the kindof service that offers valet parking and shuttle buses that come every ten to fifteen minutes. ????

Croy P.

Feb 14, 2018

The rate was good, but I felt the first time, I used Ace, the attendant was not that nice. I am glad I didn't use her treatment to judge the entire company because after that, I used them multiple times and got a better experience. I can only say good things about Ace.

Monika K.

Feb 12, 2018

I would put my money on Ace, if I had to bet that you would get amazing service and staff members who took their job seriously. Bob, the valet parking guy was one of the amazing ones. When I returned from my trip, my tire was flat and that guy helped me to put on the spare so I could leave to go pick up my son from day care. Thanks, Bob!

Jacinth G.

Feb 12, 2018

I would maybe not find this gem, if my cousin hadn't told me about Ace when I was planning to travel to Indianpolis to visit my long lost brother. Thanks cuz! The daily rate was a steal and the quality service was even much more. The shuttle bus driver was too cool, even though, he was an older man. He had me cracking up the whole time he was transporting us from terminal A to the parking lot to pick up our cars...lol!

Bruce A.

Feb 11, 2018

The check-in service at Ace was quick, simple and easy. The attendant, Rose seemed to be experienced at this, but she was also patient and helpful. She answered my husband's dumb questions and tolerated his scarcasm without batting an eyelash. You go girl! You can handle any jerk! Hats off to Ace's staff.

Crystal J.

Feb 10, 2018

Our airport pickup was on time. The shuttle bus driver was talkative, but very professional and made us feel welcome. He took only 3 minutes to get us to where we would get off. He helped to unload our bags and wished us a safe trip home. That was nice!

Sara N.

Feb 09, 2018

Ace has become quite a valuable asset to me, my friends and family because of how they treat us every time, we park there. My mom, for example had to get back from her flight alone. She was an elderly lady and the shuttle bus driver, she said was overly nice, helping her with her luggage and had the security guard take her to her car at that late hour. Thanks, Ace. ??

Reggie N.

Feb 08, 2018

Tara was the check-in attendant who validated our InstaPark pass. She didn't give us a hard time like the other agent had done the last time. I was very pleased with her professionalism and high level of customer service. We were fully satisfied and wil park at Ace parking lot again in the near future.

Jenny J.

Feb 06, 2018

I couldn't wait for the shuttle to come so I was glad that we had a number we could call to get immediate assistance and so I called 407-469-5306 and someone answered. I told them I had a sick mom with me and needed to get home as soon as possible. In less than 2 minutes, the shuttle bus driver was there and transported us directly in front of my car. We were able to get mom to the nearby hospital so she could feel better. Thanks, Mr. Tomkins!

Steve P.

Feb 06, 2018

From Sunday to Saturday, Ace parking lot is opened for business and not only that, they are opened all day long. That is what I like about the whole damn thing. I don't want to go to parking lot where the hours don't meet my needs. I can hop on a flight anytime and come back, knowing that I can get my car out of a lot no matter what time I show up.

Rhonda E.

Feb 05, 2018

I wouldn't have said a word about this particular lot, but my goodness, the service was way up there! I have never received such helpful service from a parking lot at all and I was so impressed that Ace goes overboard to make sure that the customer is pleased. From the check-in attendant to the shuttle bus driver, I must say that I received the kind of service you would find at a big corporation where employees received ongoing training. Well, maybe, Ace does train its employees. I don't know for sure, but they certainly act like it!

Matt I.

Feb 04, 2018

The parking lot is huge at Ace and so space is my pet peeve and that is the feature that sold me on this parking lot. Not that I have a big vehicle, but I don't like to know that another car is parked so close to mine so that they can scratch my car, which I don't like at all.

Janet E.

Feb 03, 2018

The Orlando International Airport was so close to Ace that it was the one reason that I chose this parking lot. I hate to have my car parked too far away from where I had to catch a flight and so I was a happpy camper to find how close the airport was to the parking lot. THis is going to my choice every time. ??

Rodney L.

Feb 02, 2018

Smooth sailing with Ace. Not all parking lots have such smooth, simple and easy service. The staff make it possible for you to have that kind of servce because they are so efficient. Patsy was the check in attendant when I got there first and she processed me quickly. The valet parking guy took my keys and unloaded my bags. Then, the shuttle bus came ten minutes later. So smooth! ????

Tatiana G.

Feb 01, 2018

We arrived two hours before our flight. Tammy checked us in after asking for our reservation receipt and finding everything in the system. We had booked online and got the cheap $9.95 daily rate. So we were already happy about that. We got the shuttle bus in 15 minutes after parking our ride. So, we had a smooth transition and were able to meet our flight requirements.

Drew B.

Feb 01, 2018

The courtesy shuttle arrived on the first floor as soon as I approached Terminal B12 where we are supposed to wait to get over to the Ace parking lot to pick up our ride. After a long flight, I was so happy to see the shuttle bus at that time. The driver took our luggage and loaded it on the bus for us and we just sat and enjoyed the ride.

Rod N.

Jan 31, 2018

Some parking lots don't open up 24 hours a day so I was glad when I found out that Ace did. I travel a lot on the red eye flight and so it is important to park my vehicle where I can retrieve it when I want to. I don't like to experience any type of inconvenience. At Ace, I don't. So I am gonna park here at all times.

Nancy T.

Jan 30, 2018

Nothing can stop me from parking my car at Ace cause I love the low $9.95 daily rate. I hope that doesn't change cause I love a discount that not only saves me money, but also comes with quality service such as valet parking and on-time shuttle bus service. This is where I will park my car from now on.

Mandy S.

Jan 28, 2018

Simple amazing! Ace adds up in all categories that mean something to me and that includes price, service and security. I got all three and I was pleased when I found that out. So my flight to Missouri for four days was pleasant because I didn't have to worry about my ride and I saved money in the end.

Viviene T.

Jan 27, 2018

You and I know that parking is a big deal and that your car is an instrument that we treasure and so choosing the right parking lot is important for different reasons. I was looking for a cheaper rate at first, but with $9.95 a day, I didn't expect Ace to also give me valet parking and a complete security system that worked together. Go Ace!

Greg L.

Jan 26, 2018

I love to see a well-lit parking lot because of my issues with security and Ace had that. It was well lit, with a high security fence, security cameras and security guards that work day and night to make sure that the lot was safe and that is impressive to me. So yes, I would choose Ace again and again!

Thomasina Q.

Jan 25, 2018

I just had an unfortunate situation where I butt heads with one of the check-in agent. I think her name was Lucy. She had a bad attitude and I just wasn't having it. I reported her to the manager and they did get rid of her. Since then, Ace has been great. One bad apple can spoil the whole thing but the fact that they were willing to make sure that she didn't spoil everything, I really take my hat off to the manager and that incident will not stop me from parking there. ????

Reuben T.

Jan 24, 2018

Ace was the safest parking lot I had ever thought about using in the city of Orlando. The other parking lots didn't have as many surveillance video cameras or security guards. So this was a plus for me when I thought about choosing Ace to leave my car while I took a flight to England.

Marion S.

Jan 22, 2018

I had to take 528 East from 441 North and merge onto McCoy Road and the whole thing only took five minutes to get to Ace parking lot. I loved that since I didn't want to be constantly late for my flights. So, I guess you would say location is the key for me as I am always running late for everything.

Qunicy A.

Jan 22, 2018

Don was the check-in agent and he was one of the best comedians I had ever met. He had me laughing the whole time that he checked me in. I told him that he was in the wrong line of work, but I take that back. Ace needs people like Don to make people like me feel special. I will definitely park there so I can see Don as many times as possible!

Edna O.

Jan 21, 2018

I felt that the first time I parked at Ace, it wasn't a good experience. It could be that I had arrived late and was rushing, but this time when I was flying out of Orlando International Airport, I made sure to leave my house in enough time and so my new experience at Ace was flawless down to the shuttle bus service, which was quick and efficient.

Sasha G.

Jan 21, 2018

I didn't want to bother my sister who had just given birth to a new baby. So I decided to drive my car to airport and park it at Ace, which I had done before and they offered the same high level of customer service they did the time before. I had misplaced my receipt and the check-in attendant looked up my name in their system and quickly processed me so I could go park and ride the shuttle bus to terminal B.

Irene A.

Jan 19, 2018

I was really blown away when I saw the $9.95 daily rate offered by Ace and I grabbed the chance to get that rate by booking online. Didn't want it suddently changed on me. I wish all parking lots offered such a cheap rate because then they would get more people like me to park there all the time. ???

Miranda J.

Jan 19, 2018

To each his own, but for me, the cleanliness of the parking lot was what impressed me at first and then I found out that the staff were also nice and helpful. And the parking lot was well secured with surveillance video cameras and lots of security guards to watch my vehicle while I was gone.

Al T.

Jan 19, 2018

Price is always what I use to make my choice of parking lot, especially in my neck of the woods. And so I was glad to see Ace parking lot offering a rate of $9.95 a day. I travel to Canada twice a week on business so that price did it for me. I also loved the fact that valet parking was offered, especially for me who is always on the go. ????

Iris P.

Jan 18, 2018

The parking spaces were spacious and wide. I felt that my truck could fit and it did. This is the first time I am finding a lot like Ace that could fit my truck. So from now on, I am gonna use this lot to park my truck when I go out of town. You should too!

Andy J.

Jan 18, 2018

I have used some shitty parking lots before and not until a friend told me about Ace did I think I was gonna find one that I was satisfied with, but Ace was the exception and did deliver the goods. I left my car for three days and came back and it had not one scratch. I was sold!

Merlene J.

Jan 16, 2018

The condition of the lot was clean. The staff was professional and helpful. The security cameras were obvious and so were the patrolling security guards. I know I could leave my car and feel safe. So that is what I did at Ace and when I got back, it was just the way I left it.

Claudia K.

Jan 15, 2018

Ace couldn't have done it better for me. The check-in attendant Monica was one of the nicest person and made me feel welcomed. The guy that took my car for the valet parking service was also nice. I don't remember his name. And Tom, the shuttle bus driver was amazing and quite a big help with our luggage. I would park here all the time. ????

Isabel K.

Jan 14, 2018

The video surveillance cameras were important to me when it came choosing a parking lot. But, also the fact that there were also security guards made me feel comfortable about leaving my car at Ace cause I have had my car stolen before at another lot. Thanks, Ace for making my car safe! ??

Charlton L.

Jan 14, 2018

Glad this lot offered night parking because my flight was at night and I had to go on this trip because my dad had died and I was going to the funeral. I was also glad that they had surveillance cameras to watch my car while I was away. I would park here at any time, night or day.

Edith C.

Jan 13, 2018

To get access to Ace parking lot, you need a reservation receipt, which I couldn't find the day I drove up to the parking lot. Natalie, the attendant was nice enough to search the system for my name and processed me in the fastest time ever so I could catch the next shuttle bus to terminal A.

Rufus P.

Jan 12, 2018

I liked how often the shuttle bus at Ace parking lot operated. Every 10 to 15 minutes was enough to get us to our terminal on time and allow us to catch our flight early enough. The same thing happened when we returned from Holland. We were able to get to our parking lot and home at a decent hour. ??

Tim G.

Jan 11, 2018

The shuttle bus came to pick me up at the waiting area at terminal A12 and the driver helped us to load our baggage into the bus, bringing us to the parking lot in less than 2 minutes since it was so close to the airport. All the time, the driver was talkiing to us, making us feel at home.

Paula R.

Jan 10, 2018

I reckon that the price was a joke until I booked my reservation online. The $9.95 daily rate was so appealing and almost unbelievable, especially for that area of town. But I was right and turned out to be a bargain for me. Just what I was looking for. Thanks Ace. I will park here over and over again! ??

Max E.

Jan 09, 2018

When I landed at the MCO Airport, I already knew to get to the pick up area at Terminal B12 to have the Ace shuttle bus pick me up and take me to the parking lot to get my car. I was right and the process was quick and simple. Charles was my shuttle guy and he put the luggage on the bus for me and was very friendly. I would definitely park here. ????

Lester S.

Jan 08, 2018

We had a fun night at the Sak Comedy Club and planned to leave and go directly to Ace parking lot, which was 7.1 miles away so we could catch the red eye flight to California. We go through the entrance and onto the parking lot as soon as we checked in and found a nice space for our vehicle, the jumped on the shuttle bus in minutes to go to the terminal B.

Amy M.

Jan 07, 2018

We weren't sure if the lot would accept our large SUV vehicle, but we were mistaken. The parking spaces and the lot at Ace were big enough. We kind of liked that cause other spaces at other lots are so much smaller and we always have problems and so this was a problem solver.

Edith T.

Jan 05, 2018

The service was off the chain and absolutely amazing! From the moment we drove in to check into the lot until we came back from our trip and had the shuttle bus driver help with our luggage and got us close to our vehicle so we could exit the lot, we thought Ace was the best thing that happened to us!

Leroy E.

Jan 05, 2018

Kim and I were going to Las Vegas and we were excited about the adventure, but we were also pleased that there was a parking lot that would keep our vehicle for the entire week at such a low rate of $9.95 a day. If we were going to blow our money in Las Vegas, at least, it was nice to be saving money at home! ??

Agnes D.

Jan 05, 2018

I was going to a funeral and it was my mom who had died. So I was probably in a sad mood and it showed. Maria, the check-in attendant noticed and tried to console me. I thought that was sweet. She also went ahead and called for a valet attendant to help me unload my luggage and park the car. She also called ahead to see where the shuttle bus was at. I think it was nice of her to go to those extremes. I woud love to park here again.

Krystal L.

Jan 05, 2018

I musta been having a bad day or I was just too impatience to see that the check-in agent Jackie was really trying to help me. I had lost my receipt and couldn't see why they couldn't just look in their system to see that I had paid. That was Jackie was trying to tell me the whole time, although, she tried to scold me like a child at first for losing my receipt. It is all good. Both of us were on edge I guess. But after starting off rough, we got through the check-in process and I had a great experience afterwards with the shuttle bus driver and valet parking attendant.

Sarah I.

Jan 04, 2018

One by one I kicked other lots off my list of choices until I found Ace. The price was right. At $9.95 for a day of parking, I started to pay attention right away and then I saw the valet parking, which was free with the daily rate and the lot was opened all day long. I will keep parking here for as long as I can enjoy all these things!

Anna W.

Jan 03, 2018

Aint no stopping Ace cause of the rate. Man, $9.95 a day is a real bargain to people like me on a fixed income. I look for the best deal and that is why I went with Ace in the first place. There is nothing like stumbling upon a real discount and enjoying all the perks that come with it such as valet parking.

Markham W.

Jan 03, 2018

I loved how this lot was opened 24 hours every day and so hat is why I chose Ace. I didn't want to come on a late flight and not be able to get my ride. So, this was one of the features I looked at when I made the choice to go with Ace parking lot. ????

Dale J.

Jan 01, 2018

When I pulled up in the parking lot at Ace, there was an attendant to greet me. I thought that was really nice cause I hadn't seen anything like that before. I asked a few questions and got them answered politely. I carried on to find a parking space, which was easy and the shuttle bus came ten minutes later to transport me to the terminal. Good going! ????

Colleen C.

Jan 01, 2018

We were coming from the Airport Lakes Park where the kids and I love to hang out and it took us only 0.4 miles to get to Ace parking lot where we were leaving our car for four days to catch a flight to Canada. Everything went smoother than we thought because of the incredible service that we received from the staff.

Davina C.

Dec 31, 2017

I checked into Ace parking lot at 10:30AM to catch a flight at noon. It took the check-in attendant, Pam only a minute to get me in. It took the valet guy only 2 minutes to help me get my luggage out of the car and drive it to the parking space. The shuttle bus driver came in five minutes and so I had a lot of time left to get to the airport checkout counter. ??

Madison L.

Dec 31, 2017

I booked a parking space for 3 day so it only cost me less than $30, which was pretty cool for me since I was working with a tight budget and I still had to make the trip to Arizona to see my sick dad. It worked out great for me and I would certainly park there again.

Chloe E.

Dec 29, 2017

The parking lot facility at Ace was clean as a whistle, well taken care of and highly maintained. It was impressive when I walked up in there. Even the office was well organized, it seemed and that struck me as odd for a parking lot office, especially from the ones I had seen in the past.

Johnathan N.

Dec 29, 2017

Was leaving from the Shills Spa and Wellness Center to the MCO Airport, which was just 0.3 miles away from Ace parking lot. So, I decided to take my time and get the full spa service. I am glad I did cause I reached over to the parking lot and got to the terminal on time. The shuttle bus driver showed up on time and the check in process was fast.

Lambert I.

Dec 27, 2017

I chose this parking lot only because of their advertised rate of $9.95 a day. I didn't know that the quality service I got came along with that low ball price. But, I was in for a surprise cause all the staff were nice including Josh, the valet parking guy and Orville, the shuttle bus driver. Would park here when I need to!

Carole S.

Dec 26, 2017

Ace, you are my new best friend. I had the chance to park here and Victoria was so professional when I checked in. She answered my questions about how I would get my car back when I returned. She attended to all the details up to the fact that the shuttle bus would take me over from the airport in minutes and the valet guy would take care of my car when I got back.

Joan F.

Dec 26, 2017

Nothing makes me more happier than to stumble upon a bargain and this parking lot really got me booking my parking space online before the price went up at more than the $9.95 a day that they now charge. But, hopefully, they will keep this rate for a long time because I am a frequent user and it is working out for me now. ???

Cathy J.

Dec 26, 2017

You definitely get a lot of value for your money. I noticed built-in security cameras and security guards patrolling the lot. I was ot going to leave my ride in a lot without those two things. I am all in for safety of my vehicle when I park it anywhere. This one adds up!

Lee Y.

Dec 25, 2017

Help me understand why someone wouldn't choose Ace? Well, I don't know about anyone else, but I loved the idea that it was cheaper and I like the valet parking service for when I am late for my flight and can't park my car on my own. I like the fact that there is shuttle bus service too.

Cassandra J.

Dec 25, 2017

I aint joking and I aint feel bad at all saying the low price was the reason for me to choose this parking lot. I aint ashamed of my game! I love bargains and this was it. I couldn't find any lower price as this when I did some research. So this is my choice...period!

Lancelot B.

Dec 24, 2017

The ride on that shuttle bus was not quite comfortable, but as long as it got me to where I had to be for my flight, I didn't care. The shuttle bus driver was nice though. He tried to have conversation with me so I didn't feel so bad and I appreciated that.

Joshua A.

Dec 24, 2017

Check this baby out! I am still so excited. This parking lot is just across the street from the MCO Airport. That means, I didn't have to drive very far to catch my flight. And on top of that, they got shuttle bus service so I didn't have to drag my luggage across the street. Pretty cool, if you ask me. ????

Basil E.

Dec 24, 2017

When I look for a parking lot, I try to find one that is clean and well-maintained. That is what I discovered at Ace. I want to park my car on a lot that is obviously clean cause it says a lot about the company and the effort they put into being impressive and caring about their look.

Jenna H.

Dec 22, 2017

$9.95 a day got me paying attention! I didn't want to know anything else. I was looking for something that matched my budget of $50. I had to fly out of the Orlando Airport for five days and so this parking lot helped me to keep within my budget. How can I not love them for that! ???

Jeanette W.

Dec 21, 2017

CAR DAMAGED!!!! Please read your contract they will not assume any responsibility if someone damages your car while parked!!! Very Very disappointed:(((((

Kirk D.

Dec 21, 2017

You get a lot of bang for your bucks! I found that out quickly And even with that, you still get the best service at the Ace Rental Car and Airport Parking lot. Glad I chose this one because my friend Sally was telling me to go somewhere else. I probably would have regretted it.

Eunice W.

Dec 21, 2017

I had to literally go into the office to book my parking because I didn't have a computer at home. But, I am glad I did because I was well taken care of. Patty helped me to get the best discounted rate and answered all of my questions. The day I arrived on Ace Rental Car and Airport Parking Lot, everything ran smoother all because of it.

David I.

Dec 20, 2017

I didn't use the valet parking service at the Ace Rental Car and Airport Parking lot cause I wanted to park my car to see which was the best place so I can easily grab my car after getting off a long flight. I was able to park close enough and the shuttle bus came shortly after, getting me to the terminal on time. Would certainly park here anytime.

Irvin K.

Dec 19, 2017

The price is not something I see all the time. $9.95 a day seemed reasonably cheap to me! And I was right cause when I researched other parking lots compared to Ace Rental Car and Airport Parking, I discovered that other places charged way higher. So I am stuck here for good!

Carolyn Q.

Dec 18, 2017

Location means a lot to me. So I was glad when I found out this parking lot was this close to the Orlando Airport and that is my reason for parking there all the time. I wouldn't want to use a lot that was far away from where I had to catch my flights. It just works better for me at the Ace Rental Car and Airport Parking lot.

Horace F.

Dec 17, 2017

I am not too gong ho about parking my ride just anywhere, but I would park here cause of how easy it is to check in, park and get where you are going. That's been my experience since I started parking at the Ace Rental Car and Airport Parking lot. I know you will feel the same too!

Cecilia I.

Dec 16, 2017

Thanks to the efficient staff at the Ace Rental Car and Airport Parking Lot, I didn't miss my flight to Conneticut, which would have been hard for me since I was going to see my granddaughter being born. I would park here because of how helpful they are in making sure that you get on your flight.

Issac C.

Dec 15, 2017

I felt everyone went out of their way to help me the Ace Rental Car and Airport parking lot. The valet parker, Andre made sure I felt comfortable about where he was leaving my car. The shuttle bus driver, Fred helped me to get my bags on and off the bus quickly so I could go check-in for my flight.

Amos G.

Dec 15, 2017

The staff made me feel so comfortable and trusting. They did everything for me and answered all my questions. I got a taste of good customer service from Cindy at Ace Rental Car and Airport Parking on my way to a flight at the MCO Airport. Cindy made sure that I was on time. She processed me quickly through the gate and called for a valet parking guy and had the shuttle bus pick me up in time.

Eleanor E.

Dec 15, 2017

Ace Rental Car and Airport Parking lot is on the top of my list and the only place I use for parking. I went there a month ago and was quite impressed with the valet park service. I did't have to go park my own darn vehicle myself and I felt special. I don't care if they do this for everyone. Lol! I felt good about the convenience itself!

Marshall D.

Dec 14, 2017

A lot of other parking lots in the same local vicinity like Ace Rental Car and Airport Parking lot were tons higher in price. $9.95 a day was the cheapest I had found and so it was the price that attracted me here in the first place, but when I experienced their customer service, I was hooked. ???

Michelle L.

Dec 13, 2017

When I think about Ace Rental Car and Airport Parking, I think about high quality with everything, from the price to the shuttle bus drive time. The price is what first got my attention and then when I used the service, I found out it was so much more than that. The entire staff is amazing with their service!

Graham L.

Dec 12, 2017

I felt from how clean the Ace Rental Car and Airport Parking lot was would indicate that they would go to lengths with keeping my car clean as well. I did come back to find my car clean like the way I left it, wihtout dings or scratches and stil intact. This was impressive to me.

James H.

Dec 12, 2017

Price was good, There not the speediest or most organized when you come in. Car was not ready up in front when I got to the offsite location and no one there when I arrived. Charged another $1.51 for some airport fee but still, 3 days for $19 and my truck was is good shape. So I'm happy!

Betsy F.

Dec 11, 2017

I was worried I would miss my flight but the staff at Ace Rental Car and Airport Parking lot made the process faster. They collected my reservation confirmation receipt, got me to a parking space and on a shuttle bus in less than 5 minutes. I was off the shuttle bus with the driver Alan unloading my bags for me. I made the flight on time all because of the extra help from the staff.

Alvin C.

Dec 10, 2017

I guess until you have a bad experience with a parking lot, you will learn to appreciate Ace Rental Car and Airport Parking lot for how different they are. Valet parking is part of the $9.95 a day. The shuttle bus pick up and drop off offers convenience. The security cameras kinda sealed the deal for me!

BettyAnn T.

Dec 09, 2017

I am absolutely sold on using Ace Rental Car and Airport Parking lot for my parking needs cause they have lived up to their reputation of cheaper prices, better service and helpful staff. I remember coming back from my trip to New York and I couldn't get the car started. It was the security guard that came to help me and stayed with me until my mechanic showed up.

Henry T.

Dec 08, 2017

If you can believe a parking lot charging only $9.95 a day with valet parking and other add-on service, then you will choose Ace Rental Car and Airport Parking lot like I did. Yes, I got to experience quality service at its best. After checking in at the gate and having someone take my car and just allow me to hop on a shuttle bus to the airport is enough for me to use this service all day long! Simple! ??

Floyd T.

Dec 06, 2017

I am not so fond of valet parking. I prefer to park my own car where I want to park it, but I have to lift my hat to Jeff, the guy who parked my car at Ace Rental Car and Airport Parking lot. He asked me where I would want to park it and acommodated me. I loved that. Valet parking is OK.

Joy M.

Dec 05, 2017

The shuttle buses to the Orlando Airport from Ace Rental Car and Airport Parking lot run in minutes of each other. So it was easy to get on and off a shuttle bus, no matter if you are catching a flight or coming back from one. Coming back is especially important since after a long flight, you want to get to your car fast.

Nischelle I.

Dec 05, 2017

I like how the Ace Rental Car and Airport Parking lot is opened 24 hours a day and their security is tight. They have high security fences and lots of security cameras and secuirty guards. I felt that my car was safe when I left it there to catch a flight out of the Orlando Airport. Would park there every time.

Albert I.

Dec 03, 2017

Parking wa a breeze at Ace Rental Car and Airport Parking lot. I went in that day, parked ina valet lane and went inside to get a claim check, then I boarded the shuttle bus in minutes and I was a my terminal gate in no time. Couldn't be any easier for me than it was that day and so this will be my 'go to' the next time around.

Emily I.

Dec 02, 2017

Ace Rental Car and Airport Parking lot was suggested by a friend when I was going to fly out of the Orlando Airport to Denmark. I was sure glad for the suggestion because it saved me time from going out of my way. Yes, the lot was must minutes where I lived off McCoy Road ad I was looking for that kind of convenience.

Sharon F.

Nov 28, 2017

I would have preferred to park my own car, but the staff was efficient. Not too excited to have my new car parked in the grass. It would have been cheaper to book directly with the company. Instapark is a rip-off.

igor z.

Nov 27, 2017

Great service overall !!! Definitely recommend

Haroon C.

Oct 03, 2017

When I returned from my trip I was told that I owe money as ACE didnt had any record of my payment. I had to show them my bank account transaction and also the email for my booking and had to pay extra 00.89 cents.

Rayna Y.

Feb 23, 2017

Checking in anywhere is sometimes so complicated but all I needed was my reservation confirmation and they let me know where I could park. After that the staff helped me get my bags out of my trunk and even helped me get them onto the shuttle bus to head over to MCO after. I knew I was cutting it close time-wise so I was a little bit worried at first but I made it over there with tons of time to spare which was really awesome.

Allan K.

Feb 20, 2017

Incredible service from this place. I couldn't have asked for anything more!

Carmen T.

Feb 20, 2017

This was by far the best customer service experience I've had at one of these lots. The staff here is incredible.

Rory R.

Feb 17, 2017

I got a great first impression of this place when I saw just how clean it was so that was definitely a great start! I figured they would probably take care of my car the same way they take care of the lot space and they did. Handled it with car and I didn't have to come back to any surprises like scratches or dings like I have in other lots!!

Courtney K.

Feb 16, 2017

Never thought I would get such close parking for just $6 for the day, so many of the other places I've seen and passed on my way were so much more than that. Really good value for your money!

Merissa H.

Feb 12, 2017

Shuttle bus was quick, efficient and the driver was friendly! Great thing to have in a lot like that, that's so close to Orlando airport.

Jaelynn P.

Feb 10, 2017

I knew the lot was close, but not this close!! I would see the airport out of the window of my car as soon as I pulled up so I knew I was super close which was really cool.

Shaun S.

Feb 09, 2017

Checking in to the lot was really simple and it made everything else run so smoothly knowing I just had to show my receipt from the website then go find a place for my car. They were really helpful with getting my bags out of my car and then showing me where I needed to go for the shuttle and it was so much simpler from there. I'm overall really glad that I chose this spot to park at and it was a really good experience overall!

Casey F.

Feb 06, 2017

I ended up having to book my spot over the phone when my internet stopped working and it was just as easy as the online process probably was. The guy who answered the line was really helpful and pleasant so that helped a lot for sure! I got my spot booked and I was ready to do, the only thing I didn't have was a receipt but

Omari A.

Feb 06, 2017

AMAZING price, I probably wouldn't have found a much better deal at any other lot. You get a lot of value for your money at this lot, and for $6 a day you're getting A LOT. Built in security, cameras and being able to park at any time of day (I had a red eye flight!) are all things I would have thought would be way more expensive to get.

Rebeka D.

Feb 03, 2017

For sure parking here again. Such a top quality experience!

Luka G.

Jan 29, 2017

If you use MCO airport more than a few times a year, this is the lot you should be parking in to make things easier for you! I travel a lot for business so using this lot just makes sense and it's been working out extremely well for me so far! No complaints at all over here!

Krista K.

Jan 27, 2017

Do I wish the lot was inside and underground? Yes. But that didn't stop me from booking it and I'm glad I still used it anyway. The only underground parking I found anywhere even remotely close was a few miles away and much more expensive!

Tia I.

Jan 22, 2017

Lot was in tip top shape and it let me know they knew how to take care of a space!

Jamila D.

Jan 18, 2017

Definitely the best price for any of the lots in the vicinity! Best service for sure!

Francis T.

Jan 17, 2017

Shuttle bus ride was a bit on the bumpy side but it got the job done and got me over to MCO in no time flat.

Taylor F.

Jan 15, 2017

I knew the lot was close to the Orlando airport but I didn't realize it was RIGHT ACROSS the street! SO close and it made everything so much easier!

Theresa B.

Jan 12, 2017

Glad I found this place!! Coming back next month when I have to fly out of MCO!

Craig P.

Jan 12, 2017

Service was impeccable and everyone was pretty helpful along the way!

Hilda R.

Jan 09, 2017

I picked this lot mainly because of the great price and I'm glad that I found it before picking a different one.

Kyle I.

Jan 04, 2017

I was so happy that attendant helped me with my bags because one was definitely way too heavy! They were so nice about it too it was pretty great.

Barry E.

Jan 04, 2017

Got here a little bit late but the staff still helped me out and helped me park! I was lucky the lot wasn't super packed because I might have missed my spot!

Julie B.

Jan 03, 2017

One of the safest places I've had to leave my car and I don't like leaving my car ANYWHERE. This place has cameras and a pretty big looking security so I knew my car wasn't going to get tampered with at all. Came back to it just how I left it!

Joelle N.

Dec 30, 2016

The staff was so nice and polite they were easily my favorite part of the experience!

David F.

Dec 29, 2016

When I came back to get my car, they had it ready for me outside the lot and that made things just a bit easier. After a long trip, you just want to hop in your car right away and head straight home and they made that so much easier.

Mark M.

Dec 24, 2016

BEST price I've found for a lot like this anywhere in Orlando. Parking in this city is so hard sometimes and the closer you get to the airport, the harder it get. So glad I found this one.

Adam L.

Dec 22, 2016

This is absolutely one of the safest places I've brought my car and I'm really glad that I picked this location over another one that I was also considering. This lot has security on staff to make sure everything runs smoothly and there are also plenty of cameras so that it's much easier to keep an eye on everything and everyone. I asked beforehand about them and made sure they work and they assure me that they do! Always great to have cameras on a parking lot. I asked them about any previous issues they've ever had and in the years they've been open they haven't had any problems at all so that was another selling point.

Mary A.

Dec 20, 2016

Don't waste time parking at any other lot next to MCO! This one already is right across the street and will bring you as close as you can get to the entrance.

Dre I.

Dec 18, 2016

This was a really safe lot for my car and that made me so much happier one I realized that. I haven't used one of these lots in years so of course I was a little bit apprehensive. I booked online but wasn't 100% sure if I was going to head over. Once I got there, I started asking a million and one questions to get a better feel and once I did I felt way better about it all. I was really glad that manager was willing to come out and answer some of the questions I had as well. This made me feel way better than when I first got there, and it was awesome to have found a place that fit into my budget yet was so close to the airport sand had such great service. Sometimes with budget services, the staff don't both going "above and beyond" but they definitely did at this place. One of the best parking experiences I've ever had to be honest.

Shad F.

Dec 18, 2016

Have been sharing with everyone that they need to check this lot out. If you're flying out of Orlando airport this is definitely the lot that everyone should use!

Trey G.

Dec 14, 2016

GREAT lot. Perfect location, very safe and they definitely keep it clean. Awesome!

Abdul L.

Dec 11, 2016

Everything from the booking process to parking and getting onto the shuttle bus was so seamless and easy! I really appreciated how easy and stress-free everything was.

Peter R.

Dec 09, 2016

Staff here was so nice to me and of course helpful too. They put me at ease and I felt great leaving my truck here!

Donald T.

Dec 05, 2016

So happy that the lot is this close to the Orlando airport!

Matty K.

Dec 04, 2016

I only wish the shuttle service was on demand because when I was pulling up, there was a shuttle bus leaving and there was no way for me to tell them to stop or wait - I had to simply get out and unload my bags and luggage and wait for it to come back about 10 minutes later. I wish there was a way that I could call them specifically to come when I'm ready to head over to the airport.

Tina I.

Nov 29, 2016

The price was perfect!! That's the biggest reasons I booked this place to begin with. It's hard to beat $6 a day, and if you do it's going to be a lot that's way farther from the airport than this to the point where it won't even be worth it!

Gisellla N.

Nov 27, 2016

I was so happy that I found this lot because it had amazing reviews, was super close to MCO and of course the price was amazing. I booked my spot online and printed my receipt right away. I pulled up and wasn't all the way sure where to park at first but the staff took my confirmation receipt and helped me out. I picked a great spot and they helped me get my bags out of the car which was pretty awesome and helpful. Then they called the shuttle bus for me since it was taking a little bit long to make its way back. Once it arrived, they made sure to help me get all my bags on there and helped me in. The shuttle ride was really fast - a bit bumpy but super quick. I got to the airport in minutes and even had some extra time to spare This was a really good choice of lot for me and I know for a fact they kept my car in perfectly safe condition because when I came back my car was just the way I left it. My only complaint is that there isn't a valet service available when you pull up. That's something they should really consider incorporating. I've been telling almost everyone I know that they need to use this parking lot, especially if they use MCO on any kind of regular basis. Definitely an awesome experience and I will be parking here again in the future.

Justin X.

Nov 26, 2016

Really good service from everyone here!

William S.

Nov 22, 2016

The lot was just so clean! They definitely could have let it get pretty messy and dingy but it was in great shape!

Terrence L.

Nov 20, 2016

$6 a day for this amazing lot was almost hard to believe! Super great price and definitely worth the money.

Dion F.

Nov 16, 2016

The shuttle bus ride over was really quick and simple. I was so happy that the lot was so close to the airport because I was off that shuttle bus within 5 minutes of getting on with my stuff! Fast & efficient!

Aniyah G.

Nov 12, 2016

The lot was really close to MCO which is why I picked it! I knew coming back I would want to get to my car and home as quick as possible, so I picked a lot I could get back to quickly when it was all said and done.

Marissa J.

Nov 09, 2016

I pulled up to the lot and wasn't all the way sure about what I was suppose to do but someone on staff greeted me and let me know where I could park and it kind of went from where. They helped me with my bags, helped me onto the shuttle bus and the shuttle bus even dropped me off at the entrance the closest to the gate I needed to go to which was really great. I got there with a lot of time to spare, which is funny because I was worried about being late. I was certain the whole parking lot process was going to take way longer, but it was efficient so I was in and out of there really fast.

Hillary K.

Nov 08, 2016

Had to call to make a slight change to my reservation and surprisingly it was a pretty pleasant experience! It's usually such a nuisance to have to call but the agent on the phone made it really quick and painless. I pulled up to the lot and everything was all good, I just let them know about the change that was made and they helped me find a spot. It was really great.

Sydney K.

Nov 07, 2016

Really great price and I'm so glad I found this place online before I booked anywhere else. This is definitely one of the best values I found so close to the Orlando airport. Parking anywhere in this city can be a headache sometimes, so coming across this was such a big help. It was a little trick to find at very first but I found my way and everything was all good. I knew I needed a lot that was safe and really close to the airport and I definitely found it here. It's probably the best decision I made in a while!

Omar L.

Nov 07, 2016

I've been tell everyone about this place! I will be coming back for sure in the future when I'm flying out of MCO.

Eva C.

Nov 06, 2016

Super fantastic service from this place! 5 Stars for sure.

Gideon P.

Nov 05, 2016

I was so disappointed in this lot, I expected it to be a lot bigger considering it was in a hotel parking lot. I was so annoyed that the shuttle bus wasn't bigger also. Just because the trip is short, that doesn't mean it's okay to cheap out on the bus you send for people! My car was fine when I got back but I was still annoyed by it.

Karissa G.

Nov 04, 2016

The staff here were all really incredible and helpful to me during the whole process! They made me way more comfortable than before I got there.

Emerson R.

Nov 03, 2016

I was so happy to find that they offered monthly parking because so many other lots don't and I knew my trip was going to be a pretty long one. Definitely made me pick this one instead of the other ones in the area.

Alena E.

Nov 02, 2016

One of the best prices I've found for MCO airport parking lots!!

Jaeden S.

Oct 31, 2016

Definitely a safe spot to leave your car. Book early though!

Angela M.

Oct 27, 2016

OUTSTANDING service here!! Would park here again for sure.

Zachary T.

Oct 22, 2016

The safety of my car was off the utmost important so I made sure I carefully chose a lot that I knew was going to be more secure than other ones I've used in the past. Made a great choice because I know for a fact that my car was in great hands

Paulina E.

Oct 21, 2016

I was actually relieved that the parking was outside in a well-lit area because it was easier for the security to see and for the cameras to see. I felt good knowing that the space was bright enough so the lot would be a lot more secure and taken care of.

Marquis D.

Oct 21, 2016

This lot was really clean and I think it had a lot to do with the fact that's attached to a hotel and they're usually pretty clean. Ace Rent A Car Orlando park was a really good experience and it was great because I could literally see the airport from where I parked my car. That's how I knew it was super close. The attendant helped me get my luggage out of my car and onto the shuttle bus so I couldn't have to carry heavy bags on my own which was great. I was literally on the shuttle for a few minutes before finally getting to the airport with lots of time to spare.

Myles L.

Oct 16, 2016

Usually the online booking process can be so annoying but with MCO airport parking it was really quick and easy. All I had to do was put in the dates I wanted to drop off my car, the date I wanted to come pick it up and then it let me put in my credit card information after that. They didn't charge my card until I went back to pick up my car afterward and they had my car ready for me outside when I was ready. They brought the receipt at the same time and were ready to go over it with me if I had any questions, but everything looked pretty normal so I hopped in my car and left! It was such a good experience and I've been telling everyone that I know that they should park here instead of one just a few miles south that I used to use. This one was just so much better, felt a lot safer and just a lot better maintained than that one. AWESOME experience and this is somewhere I would definitely park again in the future whenever I need to go to MCO.

Karlie I.

Oct 13, 2016

The staff here was absolutely lovely and a pleasure to deal with. They knew what they were talking about and were actually happy to be there. When I had a whole bunch of questions, they had no issues answering a whole bunch of them without making me feel like I was bothering them. I had a lot of apprehension about leaving my car for so long since I was going to be gone for a month, but them helping me out made me feel much better about it all and made it easier. I knew my car was going to be in great hands and it was! Came back to my car just how I left it so no complaints here.

Judith W.

Oct 12, 2016

The lot was so close to the airport I could see it! It was really great to know that it was so close to where I was going to be, it made it so much easier for me to pick it in the first place. I'm really glad that I stumbled across this place, it made everything so much easier.

Nikolas W.

Oct 09, 2016

I was worried I wouldn't able to take advantage of the shuttle bus because I came late at night but it runs 24 hours! I was over at MCO in minutes!

Anabel J.

Oct 06, 2016

One of the best prices I've seen for a lot this size anywhere in the city. Parking in Orlando can be really hard sometimes so it was refreshing to find this place and be able to get such great service here! It was a great experience and everyone here made me feel really comfortable with everything. It was really awesome.

Leandro C.

Oct 01, 2016

This lot was super safe, might be the safest one I've used in Orlando. It was right across the street from the Orlando airport and I could see there was cameras all over the place so I knew my car would be just fine! Coming here again!
Best Price Guarantee!
Book Now
Free + Easy Cancellations